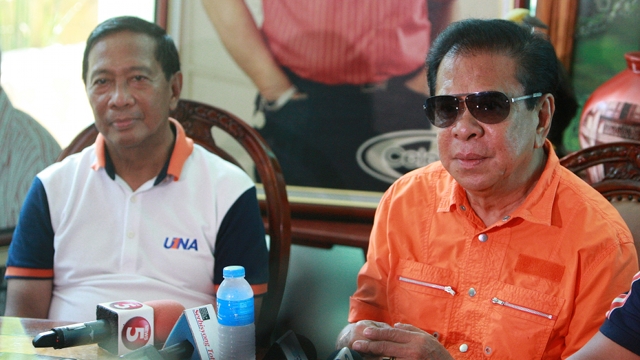 DELIVERING VOTES. Vice President Jejomar Binay says Estrada's ally-turned-rival-turned-ally again Ilocos Sur Gov Chavit Singson will help deliver votes for UNA. Photo from OVP Media
MANILA, Philippines – Two scenes caught the eye of politics and history buffs over the weekend.
One involved the son of former President Joseph Estrada, San Juan Rep JV Ejercito, who was photographed beside Ilocos Sur Gov Luis "Chavit" Singson in a press conference in Singson's Baluarte compound in Vigan.
The other was a lunch gathering of Ilocos Norte Gov Imee Marcos, and Cagayan Rep Juan Ponce "Jack" Enrile Jr and Sen Gregorio Honasan II in Laoag.
The two occasions, which happened on the sidelines of the opposition United Nationalist Alliance's (UNA) campaign in the Ilocos region, piqued observers' interests because of the personalities' history.
Once Estrada's kumpadre (close friend), Singson turned his back on the former President when he testified against him during his impeachment and plunder trials. In his exposé, Singson called Estrada "the lord of all jueteng lords," accusing him of accepting payoffs from the illegal numbers game.
Now, Singson is endorsing the senatorial candidacy of Estrada's son, even clad in what Ejercito called an "Erap orange" shirt.
The Ilocos Norte meeting was a reunion of sorts for characters tied to Martial Law and EDSA 1. Imee, eldest daughter of the late President Ferdinand Marcos, hosted Honasan and the son of her father's Defense Minister Juan Ponce Enrile. The two plotted a foiled coup against Marcos, and took part in the EDSA Revolution.
Unlike Singson, Imee Marcos is not endorsing UNA and told reporters she was just there for "old friends."
Still, Vice President Jejomar Binay and UNA hailed their hosts' hospitality. Binay said animosities are a thing of the past.
In Singson's residence, Binay exclaimed, "Wow, para bang you're going against history ah. Kapag binack-up-an [ang UNA] ng Singson family dito, wow. Do I have to say more?" (It's like you're going against history when the Singson family backs UNA here.)
Why is UNA willing to forgive and forget?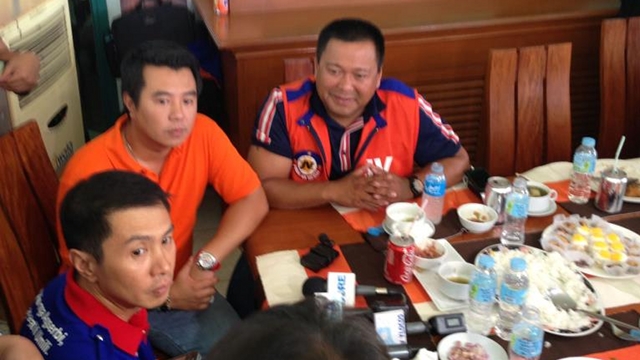 SONS TOGETHER. San Juan Rep JV Ejercito posted this photo on his Facebook page with the caption, "Press time with the Singson brothers, Gov Ryan and Cong Ronald."
Last year, Chavit a 'turnoff'
In the Saturday, April 20, press briefing, Singson vowed to support most of UNA's senatorial bets, naming Ejercito, Honasan, resigned Sen Juan Miguel Zubiri, and Nancy Binay as his chosen ones.
Singson said he had ties with the candidates he named. Yet Estrada's son was special.
"Kay JV, bubugbugin kasi ako ng tatay niya eh," Singson quipped. "Kung anuman ang pagkukulang noong araw, hindi naman ako nagbubuhos kay JV." (His father will beat me up. Whatever shortcomings I had, I will make it up to JV.)
The joke and the endorsement added a new twist to Singson's relationship with the Ejercito-Estrada family.
Singson started out as the former President's ally, endorsing his 1998 presidential bid in Ilocos Sur, a province he leads as governor for over two decades. Estrada then scored a landslide victory in Singson's bailiwick.
Yet after the so-called "juetenggate," ties turned sour. As late as last year, Ejercito said he wished Singson will not tail Sarangani Rep Manny Pacquiao in UNA sorties.
"I hope that Chavit does not join our sorties with Manny because of his negative image. He will surely turn off a number of voters," Estrada's son was quoted as saying in April 2012.
Now, 'powerful, influential Chavit'
A year later though the two are already on good terms. Ejercito even said Saturday that his dad and Singson call each other. Quoting the former President, Ejercito said, "Ako na bahala doon." (I will take care of him)
Singson backed this up, saying he and Estrada already reconciled when he visited the wake of the former President's mother, Doña Mary Ejercito, in 2009. Estrada is also known for forgiving former critics and rivals, especially those who left him during EDSA 2.
As for Binay, the vice president said, "Kahit papaano magkaibigan naman kami ni Gov Singson …. Mababakla pa kami kapag nagyakapan kami kanina." (We are friends somehow. We will even look gay if we hugged each other earlier.)
UNA admits the good relations between Singson and its leaders will prove beneficial for the polls.
In a press statement, the alliance said, "The opposition party and its senatoriables are drawing the support of the powerful and influential Governor Luis 'Chavit' Singson no less."
Binay was more straight to the point. "This is one instance where you'll admit it. They (Singsons) really deliver votes."
Singson in turn promised support all the way to 2016.
"Wala na siguro ibang presidente bukod kay Vice President Binay." (There will probably be no president other than Vice President Binay.)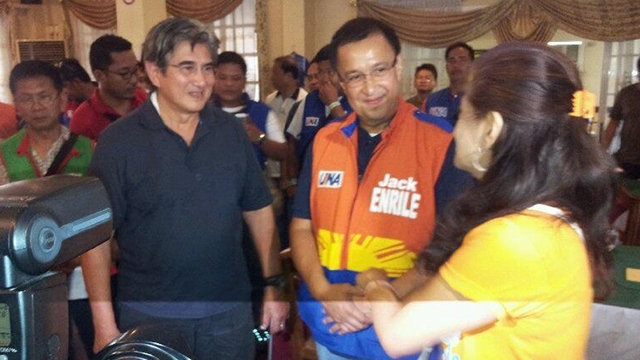 EDSA REUNION? Ilocos Norte Gov Imee Marcos hosts Sen Gregorio Honasan II and Cagayan Rep Jack Enrile for a meal on the sidelines of UNA's campaign in Laoag. Photo from Honasan's Facebook page/Renel Matthew
The Marcoses and the Solid North
While Gov Imee Marcos was clear that she cannot endorse UNA, the candidates still hope to get her family's support.
Marcos is a member of the Nacionalista Party (NP), which is allied with the ruling Liberal Party (LP) in the national level.
Yet Rep Enrile said he is still courting the support of the governor and her mother, former first lady Ilocos Norte 2nd District Rep Imelda Marcos. He said the Enriles and Marcoses have long "buried the hatchet."
Honasan explained why UNA seeks the support of the Marcoses and Ilocandia.
"Historically, if you look at the Solid North, it has significant impact on the votes. It can make or break candidacies or candidates," Honasan told reporters in reference to the famed Ilocano vote.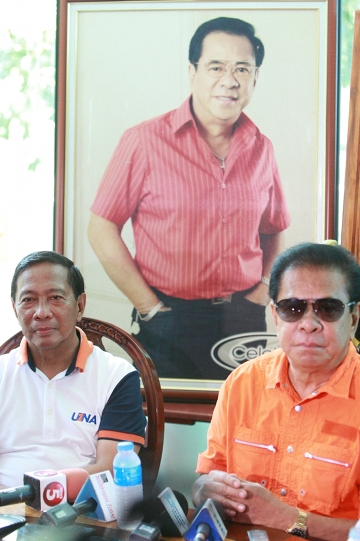 2016 PRESIDENT. Singson pledges support for Binay's presidential ambitions, saying, "There will be no president other than Vice President Binay." Photo from OVP Media
Inclusive or practical politics?
Criticism of "strange bedfellow" politics is not new for UNA. A year before the polls, the opposition drew flak for accepting ex-allies of former President Gloria Macapagal-Arroyo, what eventually gave birth to the "UNA-rroyo tag." The label is similar to the "Villaroyo" tag in 2010, which hurt the candidacy of then NP presidential bet Sen Manny Villar, the then bitter rival of LP's Benigno Aquino III.
Binay's allies have defended him from the "strange bedfellows" charge, saying he is just being an inclusive leader, and an astute politician.
They admit alliances are about practicality.
UNA campaign manager Navotas Rep Tobias "Toby" Tiangco told Rappler in a previous interview that UNA should not be singled out for glossing over the past.
The opposition has often pointed to LP leaders' former ties with Arroyo.
"It's not only this campaign and it's not only our coalition …. Kahit tingnan mo 'yung Team Unity nila GMA noong 2007, ang daming strange bedfellows doon diba?" (Look at GMA's Team Unity in 2007, didn't they have many strange bedfellows?)
Tiangco added, "Ganyan ang pulitika." (That's politics for you.) – Rappler.com