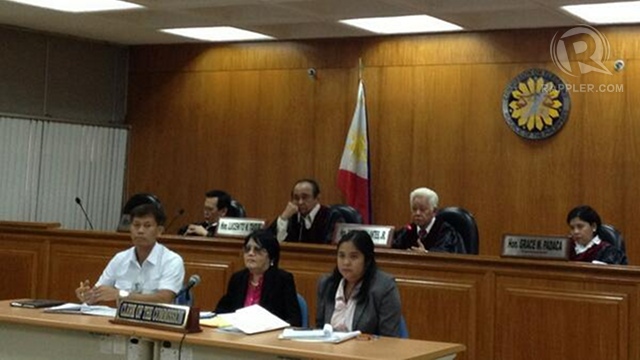 'DIVULGE FUNDERS.' Comelec decides to order survey firms to divulge their funders. File photo by Paterno Esmaquel II
MANILA, Philippines (UPDATED) – In an unprecedented move to promote transparency, the Commission on Elections (Comelec) compelled survey firms to divulge their funders, poll chief Sixto Brillantes Jr said Tuesday, April 23.
In an interview with reporters, Brillantes said the Comelec resolution covered all survey subscribers, not only politicians among them. But the chairman gave assurances: "what is given to us will be kept in confidence."
Those who will refuse or fail to comply will face criminal charges, Brillantes added. (Watch more in the video below.)
In a resolution promulgated Tuesday, the Comelec directed the Social Weather Stations (SWS), Pulse Asia, and other survey firms to submit, at most 3 days after receiving the resolution, "the names of all commissioners and payors of surveys published from Feb 12, 2013 to the date of the promulgation of this resolution."
"The submission shall include the names of all 'subscribers' of those published surveys. Such information/data shall be for the exclusive and confidential use of the commission," the Comelec said.
The Comelec said all surveys, after the resolution was promulgated, "must be accompanied by all the information required in Republic Act No. 9006, including the names of the commissioners, payors, and subscribers."
UNA's complaint

The Comelec tackled this issue after Navotas Rep Toby Tiangco, secretary general of the United Nationalist Alliance (UNA), complained about the refusal of a survey firm to divulge its funders.
The survey firm, Social Weather Stations (SWS), on the other hand, argued that the law doesn't require them to disclose who funds their surveys.
SWS made a distinction between commissioners of and subscribers to a survey. (Read: Why pollsters should divulge funders.)
Subscribers do not necessarily commission a survey, and non-commissioned surveys do not require disclosure, according to the SWS.
Even in past elections, various groups had raised questions on whether those who commission surveys or pay for rider questions get to influence the results of surveys.
The law requires it

Brillantes, however, explained: "A subscriber is the one that pays for, or at least pays for part, of the survey. So if they don't divulge, we will apply the provision of [RA] 9006 that says there's a violation, an election offense."
The law that Brillantes refers to – the Fair Elections Act, or RA No. 9006 – makes itself clear on surveys. It says any firm that publishes a survey during the election period should publish "the name of the person, candidate, party, or organization who commissioned or paid for the survey."
What if survey firms run to the Supreme Court again? Brillantes said: "Okay lang sa amin 'yon." (That's okay with us.)
The Supreme Court has lately reversed at least 4 Comelec rulings: the winner of the 2010 mayoral race in Imus, Cavite; what kinds of groups can participate in the party list; prohibiting the Team Patay posters of the Bacolod diocese campaigning against certain senatorial candidates; and the lifting of airtime limits on campaign advertisements. – Rappler.com