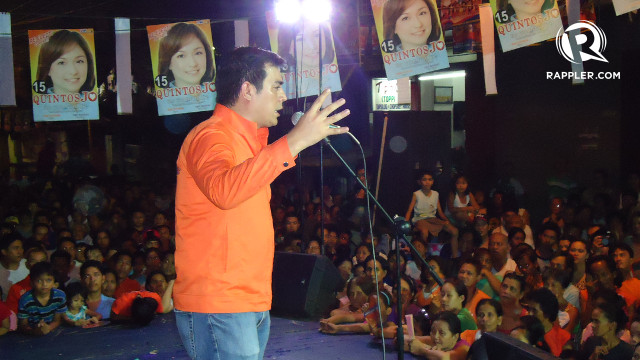 'NANG-AANGKIN.' After his "nganga" rhetoric, re-electionist Vice Mayor Isko Moreno calls Mayor Alfredo Lim "nang-aangkin" for taking credit for hospitals he did not build. Rappler/Jerald Uy
MANILA, Philippines - Re-electionist Manila Vice Mayor Isko Moreno took a swipe at his former political ally, Mayor Alfredo Lim, for taking credit for hospitals he did not build, during a campaign rally on Saturday, April 27 in Sampaloc, Manila.
Calling the incumbent mayor "Lolong" after the country's largest "buwaya" (crocodile), Moreno said that Lim was "nang-aangkin" or he was stealing credit for projects that weren't his.
Moreno said there were only two hospitals, not 6, that were built in the city when Lim served as mayor in 1997 and in 2009. He said there had been no significant advancement in healthcare for the residents after that.
"Gat Andres Bonifacio Hospital. Sino nagpagawa? Si Lolong. Palakpakan natin siya. Lakasan ninyo nang magising, tulog na 'yan. Kailan niya pinagawa? 1997. O, 'di ba binoto na natin siya? Bayad na, babayaran ko na naman?"
(Gat Andres Bonifacio Hospital - who had it built? Lolong. Let's give him a round of applause. Make it louder, wake him up, he's sleeping. When was it built? 1997. We voted for him at the time right? It should have been paid for, now I will pay for it again?)
"Pangalawa, Oston - Ospital ng Tondo sa District 2. Eh, si Mel Lopez nagpagawa 'nun eh. 'Di ba naging mayor natin si Mel Lopez? Elementary ako 'nun eh. Nang-aangkin."
(Second, the Oston hospital in District 2, Tondo. It was Mel Lopez who had that constructed. He's (Lim) stealing the credit.)
Prior to this, Moreno has used "nganga" (mouth opened) in his speeches to refer to the city's decaying state. He said the city has lagged behind Taguig City, Quezon City and Pasay City in terms of development. - Rappler.com