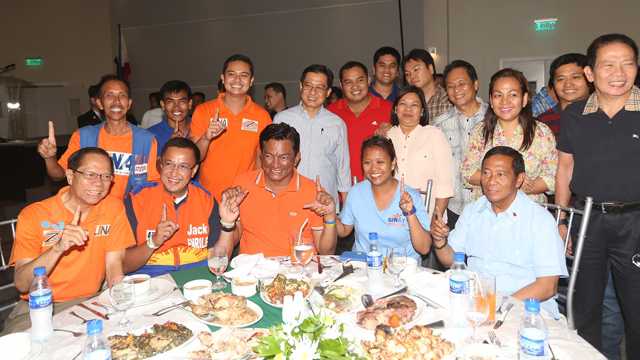 LP STILL. LP's Albay Gov Joey Salceda flashes the LP sign while UNA leaders and candidates with him pose with their own sign. Photo from OVP Media
MANILA, Philippines – Is he yellow, orange or yellow-orange?
The loyalty of Albay Gov Joey Salceda was put to question after he joined Vice President Jejomar Binay and opposition senatorial candidates during a lunch press conference, and a lot distribution in his province.
Salceda, regional chairman of the ruling Liberal Party (LP), welcomed the United Nationalist Alliance (UNA) to Albay on Sunday, April 28, and even raised the hands of its candidates Nancy Binay and Cagayan Rep Jack Enrile in the press briefing.
The governor is running for re-election unopposed under the LP.
Clad in UNA's orange color, Salceda also attended the lot distribution event in Legazpi with Binay and made a revelation about the vice president's daughter.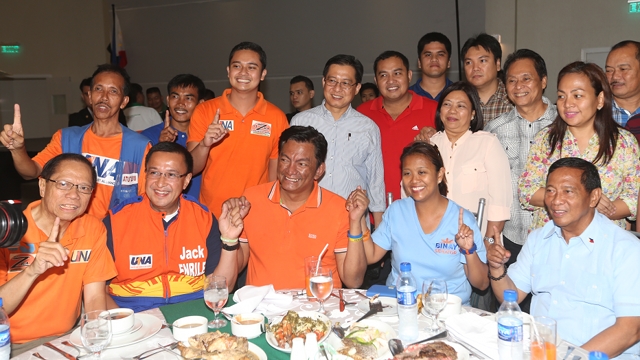 JUST HOSPITABLE. Albay Gov Joey Salceda of the Liberal Party says he was just being hospitable in meeting and dining with Vice President Jejomar Binay and UNA senatorial bets. Photo from OVP Media
"I'm not about to endorse Nancy directly. I always wear my heart on my sleeves. Certainly, she has my vote," Salceda said.
The governor though did not join UNA's rally Sunday night.
Still, the meeting sparked a loyalty check of sorts just two weeks before the May 13 polls. Salceda's actions did not sit well with Team PNoy bet and fellow LP member former Sen Ramon "Jun" Magsaysay Jr.
"He is a mature leader and a mature man. He does not need to be sanctioned but he should explain himself. That's his conscience," Magsaysay told reporters while campaigning in Quezon on Monday, April 29.
Where does Salceda's loyalty really lie?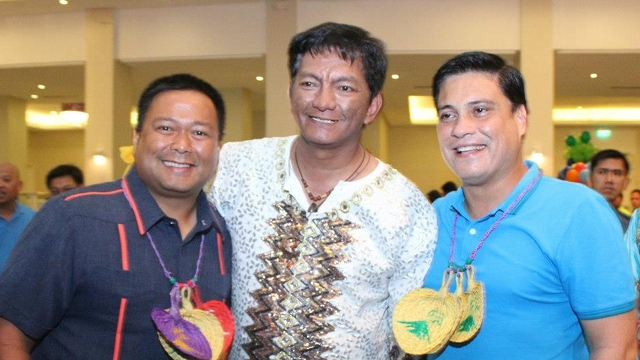 'IT'S 10-2.' Despite reports of LP sample ballots showing a 6-5-1 ticket, Albay Gov Joey Salceda reiterates the province will support a 10-2 slate in favor of Team PNoy. He said the two opposition bets will likely be San Juan Rep JV Ejercito and Migz Zubiri. File photo from Ejercito's Facebook page
'6-5-1 not LP sample ballot'
Albay delivered 61.77% of votes to Aquino in 2010 compared to just 13.94% for Sen Manny Villar. The province has 732,785 voters.
Yet even before UNA visited Albay over the weekend, Salceda had already said a 12-0 sweep for Team PNoy will not happen in his province.
"Without the Sabah issue, I can give you 12-0 but the Sabah issue ruined my strategy. Sabah was a big headache for me. People here are very patriotic. It's an elephant in my room," he said in March.
Salceda did not say who from Team PNoy Bicolano voters will junk but said the province will likely go for UNA's San Juan Rep JV Ejercito and resigned Sen Juan Miguel Zubiri. He said Zubiri's mother is from Albay while he has ties with Ejercito.
During the press conference Sunday, Vice President Binay said that Salceda is actually supporting 4 to 5 UNA bets.
A day later, UNA said in a press statement that it saw advance copies of LP sample ballots showing a 6-5-1 combination for Team PNoy, UNA and an independent candidate, respectively. UNA did not name the candidates on the sample ballots.
Salceda though told Rappler that he has not wavered in his support for Team PNoy candidates.
"[It] must be a sample ballot of UNA, not LP. Still 10-2 for us," the governor said in a text message.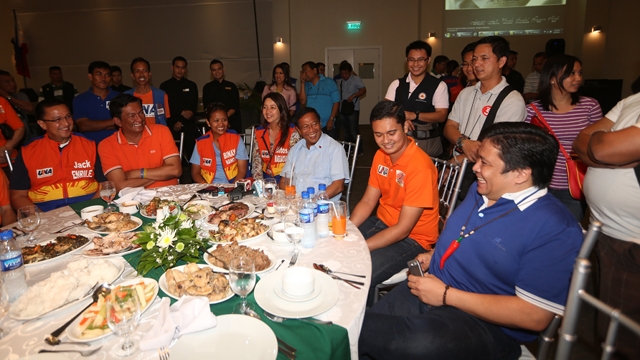 'NO DIFFERENCE.' Albay Gov Joey Salceda sees nothing wrong with meeting with UNA, saying the opposition is supportive of the administration and there is no difference between the two. Photo from OVP Media
Hospitable non-host
Salceda sought to downplay his appearance with Binay and UNA candidates.
Asked why he was in orange, he told reporters Sunday, "Tingnan mo naman magye-yellow ako para namang ipapamukha ko sa kanila na, parang hindi Pilipino yun. Ang Albayano is very hospitable. We will go all the way just to make sure our guests are very comfortable and they feel welcome to the place." (If I will yellow, that will be disrespectful and uncharacteristic of a Filipino.)
"Everybody is welcome here in Albay, regardless of party, organization, religious affiliations. It's an Albayano trait to be hospitable and friendly," he added.
Salceda also said UNA visited the street dance on the biggest day of the Daragang Magayon Festival while Binay attended the lot distribution event.
He clarified, "'Di ako ang host. Si Wilbert ang may-ari ng Oriental Hotel," he said in reference to the venue of the lunch press conference. (I was not the host. Wilbert owns Oriental Hotel.)
While he sought to play down his involvement with the opposition, Salceda said he found nothing wrong with being with UNA leaders and candidates.
"Wala naman iyan eh. Her majesty's loyal opposition naman eh. Give me one policy where they disagreed. Give me one policy where they are very different. From the start naman daw UNA was going to support the President. That is why we welcome them to Albay," he said in the press conference with Binay.
(It's not a big deal. They call themselves her majesty's local opposition.)
"I don't know but I cannot see where they differ," Salceda added.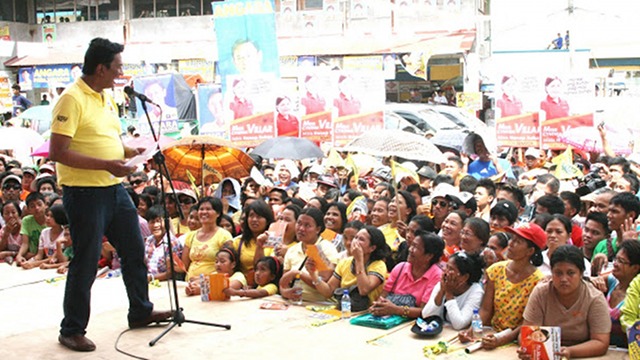 LP PITCH. Albay Gov Joey Salceda urges Albayanos to vote for Team PNoy during an administration sortie in March. File photo courtesy: Philippine News Agency
Aquino classmate and 'like Binay'
Salceda has not always been an LP leader. In 2010, he bolted the then ruling Lakas-Kampi-CMD to join the LP and campaign for Aquino, his Ateneo classmate.
Former President Gloria Macapagal-Arroyo's economic adviser became controversial in 2008 for calling her a "lucky bitch." After apologizing and saying it was a "bad joke," Salceda got away with it.
Besides his ties with Aquino, the governor said that he and Binay also have many things in common. He hailed the former Makati mayor as "an exemplar of what LGUs (local government units) should be doing."
Binay also revealed that in 2010, Salceda openly defied Arroyo's instructions not to meet him while campaigning in Albay.
The governor is also not the first LP member to express support for UNA bets. In February, Quezon City 3rd District Rep Jorge "Bolet" Banal drew flak for saying he will support Ejercito.
UNA believes these kinds of expression of support and LP's problems with its coalition partners in the local level will work to its advantage.
"Election is local. National elections highly depend on the local machinery, and the command votes are not in the hands of national officials. Sample ballots are critical in this stage because local officials are the ones who deliver the votes," said UNA campaign manager Navotas Rep Toby Tiangco.
How are other local leaders playing their politics and come election day, who will they really support? – with reports from Rhaydz Barcia/Rappler.com