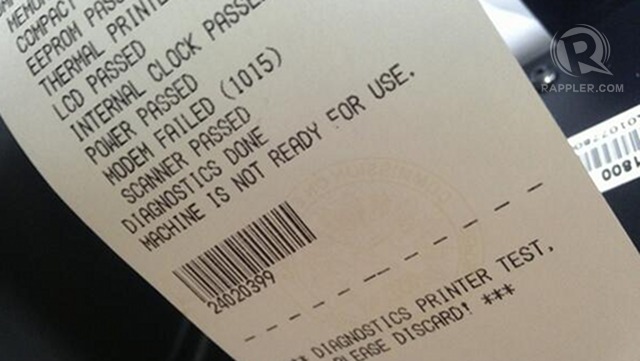 'NOT READY.' In Davao City, a PCOS machine displays this message during the FTS on Monday. Photo by Karlos Manlupig
MANILA, Philippines (UPDATE) - The final test on ballot-counting machines held Monday, May 6, began with a few glitches while the Commission on Elections (Comelec) and watchdogs have yet to release an overall report on the process.
The Comelec on Monday holds the final testing and sealing (FTS) of precinct count optical scan (PCOS) machines, the final dry run before the elections on May 13.
In Matina Central Elementary School in Davao City, an initial test indicated the PCOS machine "is not ready for use." A compact flash (CF) card and model also failed.
Later, a PCOS machine there shut down while printing. A thermal printing error reportedly caused the shutdown.
Election inspectors in other areas admitted they got poor training.
In Fairview Elementary School in Quezon City, teachers said their trainining excluded operating the PCOS battery. They claimed that during their hands-on training, they only had one chance to operate the PCOS machine.
In Balele Elementary School in Tanauan Batangas, barangay watchers complained that only one police officer arrived for the FTS. The election inspector also called for improvements in the school's lighting facilities, in time for the elections on May 13.
The FTS in Pulo National High School in Laguna, on other hand, finished with no major glitches. Paper jam, however, slightly disrupted the process.
In Leyte, the FTS has also gone smoothly so far.
In Calbayog City, one machine reportedly broke down, with a poll watcher saying smoke came out of the PCOS.
At the UP Integrated School in Quezon City, Kontra-Daya reported the BEIs decided not to follow the PCOS testing process due to the machines arriving already sealed.
Testing was delayed when officials thought twice about operating the sealed machines due to lack resealing equipment. They later decided to break the seal and proceed with the final testing and sealing (FTS) of the PCOS.
The PCOS I-button is returned but the machine was not resealed, a violation of the FTS protocol. The unsealed machines were noted in the BEIs' minutes of the FTS.
At around 1 pm, Comelec chair Sixto Brillantes Jr will hold a press briefing on the FTS throughout the country. Watchdogs will also release their own reports later on Monday.
How was the FTS in your area? Tell us about it through the comments section below, or through Twitter using the hashtag #PHvote. – with reports from Karlos Manlupig, Ace Tamayo, Eric Ray Burgonio, Milken Cutamora, Bonn Troy Boñola, and Josa Salazar/Rappler.com