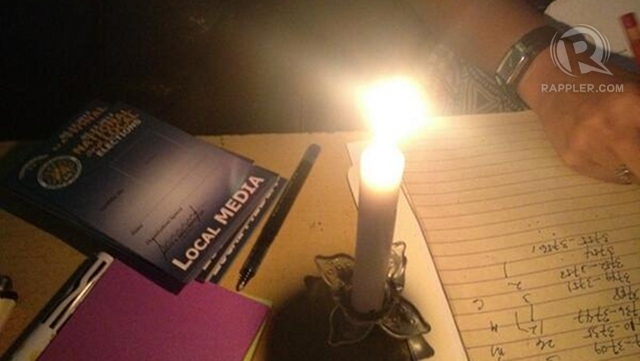 COMELEC AFFECTED. Power outage also hits the poll body's main office, as an officer works on media IDs for May 13. Photo by Paterno Esmaquel II
MANILA, Philippines – The poll body's main office in Intramuros, Manila experienced it first-hand on Wednesday, May 8: a power outage 5 days before the second automated polls, raising fears it could lead to failure of elections.
But Commission on Elections (Comelec) chair Sixto Brillantes Jr, who was at the Supreme Court (SC) during the blackout, said the Comelec is ready for this situation on election day, May 13.
He said precinct count optical scan (PCOS) machines will run even without power during the voting period. (Watch more in the video below.)
The voting period on May 13 is from 7 am to 7 pm.
"Doon natin makikita kung gaano kaganda ang PCOS. Kahit mag-blackout, tumatakbo pa rin," Brillantes told reporters in an interview. (That's how we will see how good the PCOS is. Even if there's a brownout, it is able to run.)
Voting at night
Energy Secretary Jericho Petilla on Wednesday made the same assurance. He noted PCOS machines can run on batteries for 16 hours, and come with extra batteries. The only problem he foresees, Petilla said, has to do with sources of light – especially if people will vote at night.
Brillantes added: "Mabuti ngayon nag-brownout, hindi sa araw ng eleksyon." (It's good that the blackout took place today, not on election day.)
On Wednesday, a widespread power outage hit areas "within the franchise area of Meralco" due to power generation issues in 6 power plants in Luzon. National Grid Corporation of the Philippines spokesperson Mutya Alabanza said: "We have no definite time when the powerplants will be back online."
The power outage paralyzed affected areas, including train lines and even the High Court, before which Brillantes was set to argue about the PCOS. – Rappler.com