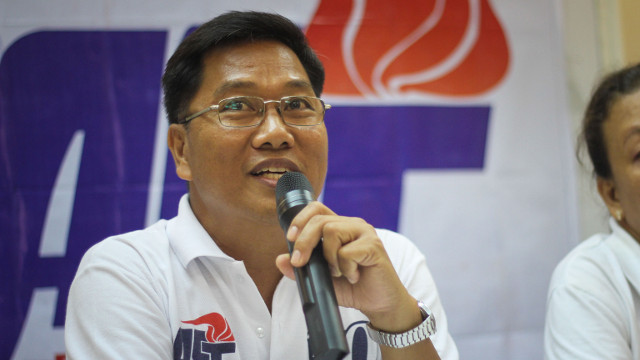 TEACHERS SPEAK. Elenito Escalante, president of Alliance of Concerned Teacher-Davao Region, demand an apology from Comelec. Photo courtesy of Karlos Manlupig
DAVAO CITY, Philippines - Teachers in Davao City are demanding a public apology from an election officer who commented that the board of election inspectors (BEI) who are having problems in operating precinct count optical scan (PCOS) machines are either "forgetful or stupid."
READ: Comelec official: 'BEIs either forgetful or stupid'
"Its either they are forgetful or they are stupid," said Attorney Aimee Perolino-Ampoloquio, election officer in Davao City.
Elenito Escalante, president of the Alliance of Concerned Teacher (ACT)- Davao Region, said teachers are dismayed over the statement made by Ampoloquio.
"This pronouncement is incredibly offensive to our teacher-BEIs and extremely unprofessional coming from a fellow government employee. Even if Atty. Ampoloquio was speaking of her own volition, we have yet to hear any disavowals or apologies from the Comelec for her unfair and degrading characterization of teacher-BEIs," Escalante said.
Department of Education Region 11 spokesman Dodong Atillo said the entire regional office is also appalled over the statement.
"We are very disheartened to what this woman uttered. It would be better if she would issue a public apology," Atillo said.
Atillo remarked that Comelec should consider finding other sources of manpower if teachers would continue to receive demeaning comments.
"It is very painful for us to hear these things from a government official who we're helping. They might as well think about tapping other government agencies if they would continue to think about us this way," Atillo said.
However, Atillo said teachers would still serve without any conditions in the upcoming elections.
"We assure the public that we will continue to provide our best service," Atillo said.
Scapegoats?
Both Escalante and Atillo agreed that Comelec is using the BEIs as scapegoats to cover up the issues being confronted by the poll body.
"Why would they blame us for their defective machines?" asked Atillo.
Escalante said Comelec is already poised to blame the BEIs if ever there would be major problems during the conduct of the elections.
"It is extremely saddening that the people they are poised to blame are the same people in the frontlines who have done nothing but their best to ensure that every Philippine election is smoothly carried out," Escalante said.
He added that Ampoloquio's statement is "symptomatic of the overall irresponsibility and unpreparedness" of Comelec.
"Worse, this is symptomatic of the very low regard the Comelec has for our teacher-BEIs, notwithstanding the historical fact that our public school teachers have, time and again, proven their credibility, integrity and dedication in protecting the votes of the nation, sometimes at the cost of their lives," Escalante said.
Escalante also expressed his worry that the comment of Ampoloquio would greatly affect the credibility and image of the teachers.
"If people during the previous elections have ignored order, I cannot imagine what would happen if they would believe that teachers are stupid," Escalante said.
Teachers from various public schools are gearing up for a protest action outside the office of Comelec in Davao City on Thursday afternoon, May 9.
Several teachers said they would boycott the elections if Comelec and Ampoloquio will not publicly apologize. - Rappler.com