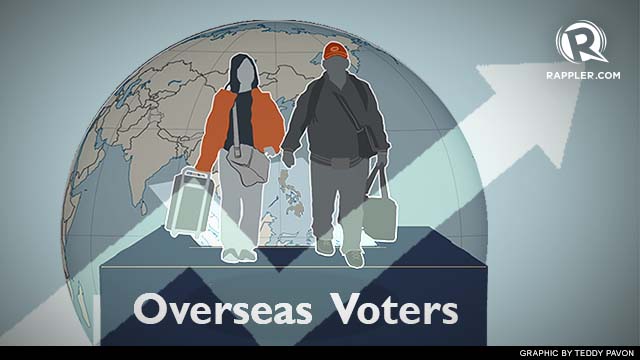 MANILA, Philippines – Overseas Filipino-American voters were reminded by Ambassador Jose Cuisia Jr to cast their votes before 7 a.m. on May 13, the last day for the absentee voting.
In a statement, Cuisia said that the Embassy will accept ballots from voters in the Washington D.C. and nearby areas this weekend, May 11 and 12, from 9 a.m. to 5 p.m., and on Monday beginning at 6 a.m. in the United States.
Registered voters are expected to turn in their ballots either by mail or by personally casting them at the Embassy, as per Comelec resolution 9653. They will be voting only for national posts of senator and party-list representative.
No ballots shall be accepted after the Monday morning deadline.
For this year's midterm elections the Commission on Elections (Comelec) is expecting a 60% total turnout in overseas voting, which is comparably higher to the 25% in 2010 and 16% in 2007.
Comelec reported that there are 975,263 Filipino voters outside the country who are eligible to participate in the elections.
The total number of overseas voters nearly doubled since 2010, according to the Comelec's Committee on Overseas Absentee Voting.
The Filipino voters' population in Hong Kong is the largest group worldwide, followed by those in Riyadh, Saudi Arabia, Dubai, UAE and Jeddah, Saudi Arabia.
In the United States, the city of Los Angeles is most vote-rich, with 31,348 registrants.
The voters are given a month to vote, counting from April 13.
Choose wisely
In a video message released on Friday, May 10, Ambassador Cuisia further encouraged the voters to choose candidates who can help the President and the country achieve economic growth.
"I urge you to choose your candidates wisely and to choose those who will assist the President in achieving the objectives he has set to improve the lives of Filipinos and to propel the country to higher economic growth in the years ahead," he said.
Rodel Rodis, the president of the San Francisco-based US Pinoys for Good Governance (USP4GG), had said that the midterm elections will be important in bringing the right people to lead the country.
"We'd like to get good people in, and kick bad people out. So to the extent that we can have some influence in changing the candidates or those who win, we'd like to be involved in that," he told Rappler in an interview on February 28. - Rappler.com
---
Visit #PHvote, Rappler's coverage of the 2013 Philippine elections.

Get to know the candidates through our comprehensive profile pages and help spread the word about these candidates by answering our poll.
Check out our fun timeline to find interesting trivia on the candidates.
Help us monitor violence & vote buying! Report them through #VoteWatch and our tool will automatically map your report.
Share this page and pledge to #votesmart by clicking on the button below.