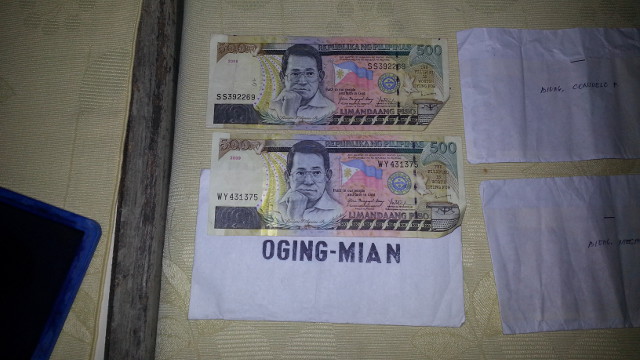 VOTE-BUYING? Envelopes labelled with the nicknames of brothers running for governor and congressman were distributed among police officers in Pintuyan, Southern Leyte. All photos courtesy of Eva Tomol
MANILA, Philippines - Police officers at the Pintuyan town precinct in Southern Leyte reportedly received envelopes containing P500 bills that mayoral candidate Rustico Estrella reportedly distributed at 8 a.m. on May 8, according to reports that reached Rappler.
In an interview with Rappler on Saturday, May 11, Pintuyan lawyer Eva Tomol said Estrella started the cash distribution by announcing, "I have something to make you happy from Oging, Mian and Berting!"
"Oging" is the well-known nickname of Roger Mercado, the incumbent congressman of Southern Leyte who is running for governor under the National Unity Party (NUP) in the 2013 mid-term elections.
"Oging Mercado" is how his name will appear in the ballot.
"Mian" is the nickname of Damian Mercado, brother of "Oging" and current governor of Southern Leyte. He is running for a congressional seat under NUP.
"Berting" is the moniker of Dr. Roberto Lagumbay, an incumbent Sangguniang Panlalawigan member running for Southern Leyte vice-governor in the 2013 elections.
Tomol received this information from a police officer present during the distribution. He added that the envelopes were labelled "Oging" and "Mian."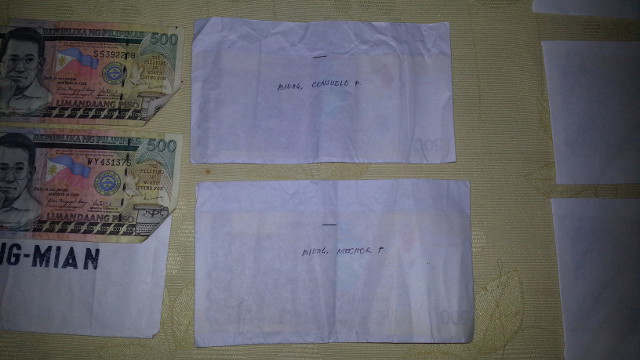 LABELLED. A barangay official surrenders envelopes containing P500 bills and labelled with names of voters to the former governor of Southern Leyte. Photo courtesy of Eva Tomol
Guilty conscience
At 5:40 p.m. on May 11, Tomol also reported that a teacher named Melchor Diong approached former Southern Leyte Gov. Rosette Lerias to show her two envelopes he received from a barangay official.
The envelopes had his and his mother's name on it. Inside each envelope contained a P500 bill.
Earlier that day at 2 p.m., Barangay Councilor Evelyn Pedrera walked into Lerias' house crying and carrying 15 envelopes.
She had been asked to distribute them but Tomol says her conscience could not stomach the instructions. Each envelope is labelled with a name of a voter in the area. - Rappler.com
Visit #PHvote, Rappler's coverage of the 2013 Philippine elections.

Get to know the candidates through our comprehensive profile pages and help spread the word about these candidates by answering our poll.
Share this page and pledge to #votesmart by clicking on the button below.
---
Is your bet leading in the 2013 elections?

Mirrored from Comelec 2013 election results data, we bring you latest numbers fresh from the server!

Check out these links to see results from:

See how fast the Comelec election results data is transmitted through the PCOS Transmission Status Map!
---
Feeling nostalgic? Watch how the May 13 elections unfold through Rappler's hourly #PHvote livestreams:

For overall live updates on the aftermath of May 13 and stories leading up to Decision Day, check out our extensive 2013 Philippine elections coverage!