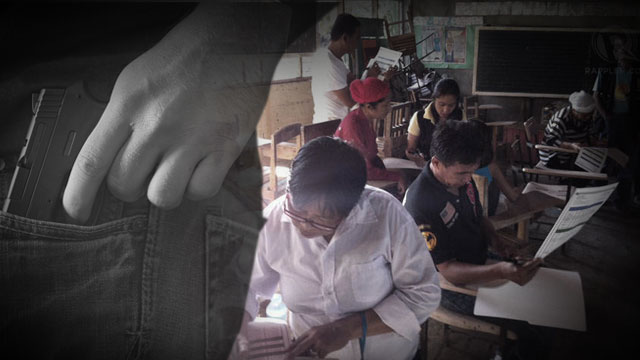 MANILA, Philippines - The Philippine National Police (PNP) has arrested more than 3,000 individuals and confiscated over 3,000 firearms as of Sunday, May 12.
PNP Public Information Office Police Chief Supt. Generoso R. Cerbo Jr. told reporters that there were 3,161 persons arrested and 3,084 firearms confiscated as of Sunday.
"As of today, our accomplishments were very substantial. We were shocked that it exceeded 3,000. If we trace, it only started last January 13 when the election period started. But, nonetheless, we will still implement the (gun ban) during and after the election period. The campaign by PNP will still continue for loose firearms," Cerbo said.
The persons arrested included:
Civilians - 2,912
Security guards - 135
PNP personnel - 44
Armred Forces of the Philippines personnel - 20
CAFGU - 4
BJMP - 3
BFP - 1
LEA - 1
Apart from the firearms that were confiscated, there were other weapons and ammunition seized by the PNP. This included:
Bladed weapons - 959
Other explosives - 499
Grenade - 206
Airgun/airsoft gun/firearm replicas - 153
Ammunition - 26,497
Major arrest
The PNP said one of the major accomplishments was the arrest of 5 individuals by the San Francisco Municipal Police Station of the Quezon Police Provincial Office. The group conducted a checkpoint operation at Bgy. Sto. Nino on May 11 at around 10:30 am.
The PNP said the group was onboard a black Toyota Hilux that was allegedly owned by Mayor Ernani Castillejo Tan of San Francisco, Quezon. They were flagged by Police Senior Inspector Reynaldo Reyes at the checkpoint.
"(They) noticed a protruding muzzle of M16 rifle placed at the left side of the driver's seat when the driver voluntarily opened the vehicle window. The driver and the other passengers were commanded to unload and for the violation, the PNP personnel then conducted thorough search inside the vehicle and discovered the aforesaid items," the PNP report stated.
The persons arrested bearing, carrying, or transporting firearms included:
Frederick Aragon, 37, Lucena City
Rodrigo Anyayahan, 50, Quezon
Melchor Navarro, 39, Mandaluyong City
Edmund Villanueva, 47, Lucena City
Gregorio Lorena, 48, Lucena City
The PNP confiscated the following from the suspects:
8 firearms - M16s, pistols, extra long magazines, short magazines
3 boxes of cal 5.56mm live ammo
1 Batangas Knife
1 firefly mobile
102 live ammo for magazines
The arrested suspects and the confiscated firearms and ammunition are now in the custody of San Francisco, Quezon Police Office for further investigation. - Rappler.com
---
Wonder what the headlines are for the past hour? Watch the replays here!
Visit #PHvote, Rappler's coverage of the 2013 Philippine elections.