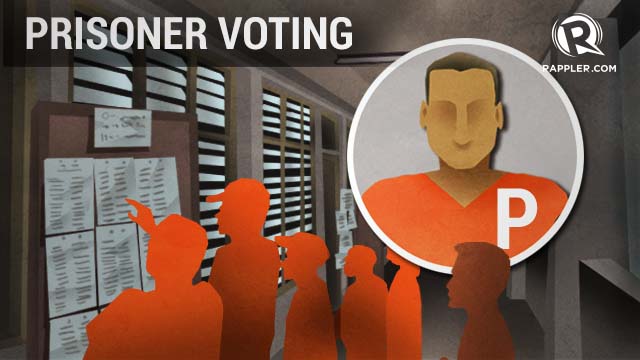 MANILA, Philippines - Nearly 44,000 prisoners all over the country will cast their vote on Monday, May 13.
Commission on Elections (Comelec) Commissioner Lui Guia said the decision of the agency to allow the non-convicted prisoners to vote is a way to preserve their right to suffrage, Interaksyon reported.
"(In the case of) prisoners with no final judgment from the court, the right to suffrage is preserved because they are not yet convicted, they were only charged. The Comelec gave them the right to vote," Guia said on Sunday, May 12, according to the report.
The prisoners will be under the supervision of the Bureau of Jail Management and Penology (BJMP) during the voting process.
Voting process
In coming up with the decision, the Comelec distinguished jailed voters into two categories:
For jails housing above 50 voters - Comelec will create a Special Board of Elections Inspectors (SBEI) to facilitate voting and establish a special voting place in the detention facility. But no PCOS machines will be used.
For jails housing less than 50 voters - Inmates will be escorted to the polling precincts by the BJMP with assistance from the police upon obtaining a court order regarding the matter
About 41,000 prisoners will be able to vote inside their detainment facilities while around 2,900 prisoners will be escorted to the polling precincts by the BJMP.
These prisoners come from 212 detention centers from 140 municipalities around the country.
The Comelec also allowed inmates to vote in the 2010 elections in accordance with Resolution No. 8811.
The number of voters required for inmates to vote inside their facility, however, was reduced, from above 100 to above 50 this election.
Start of voting for the inmates will commence at exactly 7 a.m. and will close at 3:00 p.m. Ballots of the prisoners will be counted last by the mother precinct. - Rappler.com
Wonder what the headlines are for the past hour? Watch the replays here!
Visit #PHvote, Rappler's coverage of the 2013 Philippine elections.