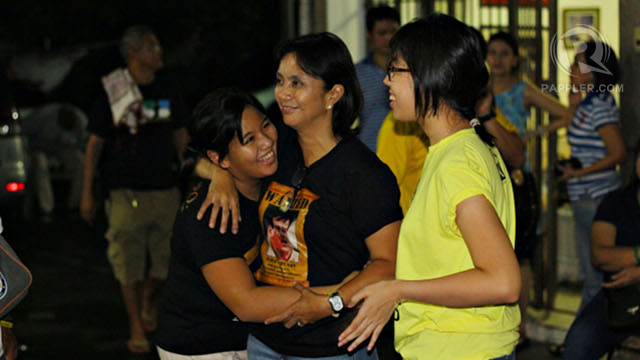 VICTORY? LP bet Leni G. Robredo (center) shares a relaxed moment with her children Trisha and Jillian Robredo at their residence in Naga City as early poll results show she leads by a large margin vs opponent Nelly Villafuerte. Photo by Rappler/Allan Camata
MANILA, Philippines - Camarines Sur congressional bet Leni Robredo pulls ahead in the early results against opponent Nelly Villafuerte in one of the most-watched local race in this mid-term elections.
Robredo, the widow of former Interior Secretary Jesse Robredo, is up against a member of a political clan that has ruled the region for years.
READ: In Camarines Sur, it's the Villafuertes' show (Part 1)
Camsur among the poorest, with no new choices (Part 2)
As of 11:30 pm on Monday, May 13, initial and unofficial results show Robredo, who is running under the ruling Liberal Party (LP), dominates with 75,004 votes, way ahead of Villafuerte's 21,640.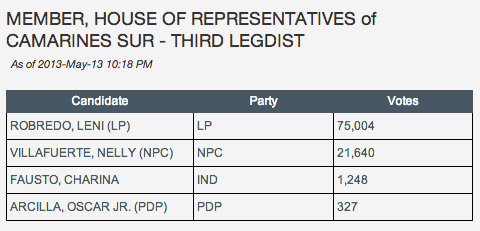 Another closely watched race in Camarines Sur is the gubernatorial race where the son of incumbent governor Luis Raymund "LRay" Villafuerte, Migz, is running against his grandfather and former governor Luis Villafuerte.
Early results show Migz garnered 103,797 votes, way higher than Luis' 82,789.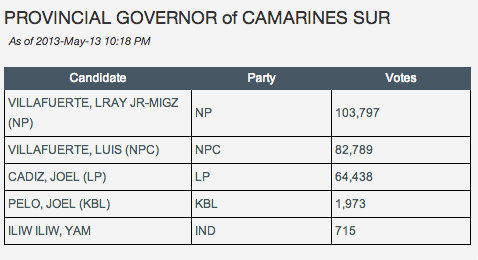 Camarines Sur is home to some of the longest-serving political dynasties in the country. - Rappler.com
Is your bet leading in the 2013 elections?
Mirrored from Comelec 2013 election results data, we bring you latest numbers fresh from the server!
Check out these links to see results from:
See how fast the Comelec election results data is transmitted through the PCOS Transmission Status Map!
Feeling nostalgic? Watch how the May 13 elections unfold through Rappler's hourly #PHvote livestreams: