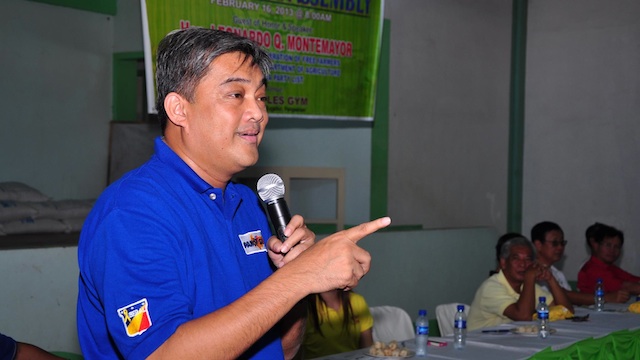 PANGASINAN, Philippines - President Benigno Aquino III personally campaigned for him. Former President Fidel Ramos also endorsed him. But the Liberal Party's (LP) candidate for Pangasinan governor Hernani Braganza lost in his own territory, Alaminos City.
Official Commission on Elections (Comelec) results show Braganza lost to re-electionist Gov Amado Espino Jr by a big margin -- 4,904 votes -- in the city where Braganza is mayor.
Braganza, the incumbent mayor of Alaminos City, got 15,805 votes. Espino got 20,709 votes.
It's a double defeat for Braganza whose son Lean also lost the mayoral race (in Alaminos) to Espino's ally former Rep Arthur Celeste. Celeste got 15,373 votes. Lean placed second with 11,606 votes, based on official results.
Newly elected Alaminos City Mayor Arthur Celeste was proclaimed by the city board of canvassers 10 a.m. on Tuesday, May 14, a day after the polls. The city has transmitted its results to the provincial canvassing center, city election assistant Renato Prado told Rappler.
Elections had been tense in Alaminos City. Three rivals in the mayoral race united in favor of Espino and against their fellow Alaminos City resident. (READ: Rivals in Braganza town back Gov Espino)
There was also an altercation between Braganza and Celeste supporters the night before the elections, where Braganza said they were caught buying votes. (READ: Braganza 'jails' Espino allies for alleged vote-buying)
The Espino camp has claimed victory, citing their own parallel count. Espino has not spoken to the media but his media officer Butch Velasco said Espino thinks of it as "poetic justice." Velasco said the governor is "relieved" that the elections are over.
Based on numbers shown to reporters Tuesday morning, Espino was leading Braganza by about 440,000 votes. (READ: NPC to hold own quick count in Pangasinan)
The Comelec count in the gubernatorial race had been slow. Around noon on Tuesday, only 27 towns and 2 cities out of total 44 towns and 4 cities were able to transmit results.
Comelec provincial election supervisor also cited problems with 10 CF cards that malfunctioned on the night of election day. The PCOS machines were still able to print the election returns but the results could not be transmitted. Salas said they have asked the Comelec warehouse in Cabuyao to supply them with new CF cards.
Based on unofficial election results electronically sourced from the Comelec's Transparency Server via the Rappler Mirror as of 1:06 p.m. Tuesday, Espino has a lead of 339,329 votes with 52% of the official results transmitted. Espino has 530,539 votes compared to Braganza's 191,210.
But about 600,000 more votes have not been transmitted. Pangasinan has 1.651 million total voters and an 80-percent voter turnout, according to Comelec provincial election supervisor Marino Salas. That is equivalent to about 1.32 million votes cast. - Rappler.com