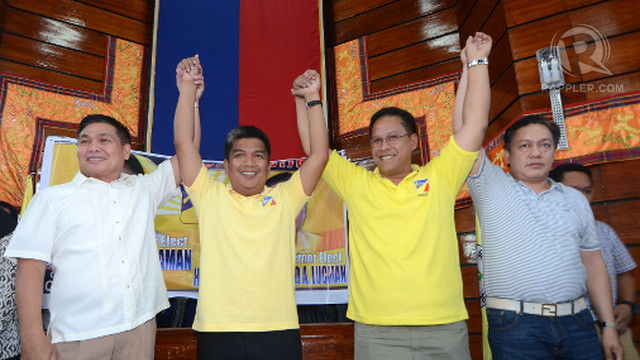 Regional board of canvassers chief Atty. Ray Sumalipao and ARMM COMELEC regional election director and state prosecutor Ramy Guiling proclaim Mujiv Hataman(2-L) and Haroun Al Rashid Lucman (2-R) as governor and vice governor of the Autonomous Region in Muslim Mindanao. Photo by Ritchie Tono
MANILA, Philippines - Mujiv Hataman stays as governor of the Autonomous Region in Muslim Mindanao (ARMM).
The ARMM Regional Board of Canvassers (RBOC) on Friday, May 17, proclaimed Hataman as the winner of the 2013 gubernatorial race in the region's first synchronized elections with the rest of the country.
Garnering a total of 446,227 votes, Hataman beat his closest rival independent candidate Pakung "Pax" Mangudadatu by over 200,000 votes. Mangudadatu received 231,721 votes.
The RBOC decided to proclaim Hataman's victory even as election returns from Basilan have yet to be transmitted. The island province only has 136,833 voters. Basilan is a known bailwick of Hataman, who hails from the province.
A report by ABS-CBN shows Hataman won big in Sulu, where he received 108,229 votes as opposed to Mangudadatu's 14,493 votes, or a gap of over 90,000.
Hataman's running mate also mustered an overwhelming victory. Haroun Al Rashid Lucman received 472, 417 votes, over 300,000 more than his closest rival Mustaqbal Manalao, who only garnered 102,804 votes.
Aquino's bet
Appointed by President Benigno Aquino III as caretaker for ARMM in 2011, the President pushed hard for Hataman's candidacy in the recently-concluded polls.
It was Aquino himself who convinced Hataman to run despite the President's earlier assurances that Hataman will not seek the gubernatorial post in 2013.
Before being appointed as ARMM OIC governor, Hataman served 3 terms as representative of the Anak Mindanao party list, sharing two terms with Aquino.
He is one of the youngest to bag ARMM's top post and is the first to hail from the Basilan region. - Rappler.com