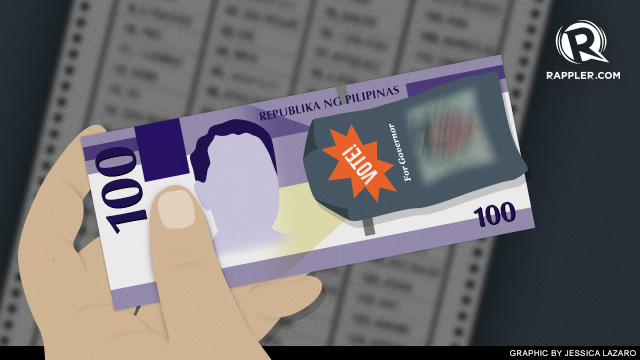 DUMAGUETE, Philippines --"Kahit saan naman siguro meron talagang vote-buying." (There are cases of vote-buying anywhere you go.)
This was what acting Provincial Election Supervisor Atty Juvenal Tuale said in an interview. He added that with the issuance of the money ban, vote-buying can be minimized.
Vote-buying reports have reached the Parish Pastoral Council for Responsible Voting (PPCRV) as volunteers gathered for last minute preparations. According to anonymous sources, rates vary from P100 to P5,000 in certain areas.
PPCRV volunteer from Tugas, Tanjay reported that during campaign sorties families by the dozen were offered a range of P1,000 to P2,000 depending on which deal they chose: P1,000 is given to voters who choose to give up their right to vote, P1,500 to those who choose to vote but void the ballot, and P2,000 to those who will vote for the candidates.
A parishioner from Siquijor said that his family of seven received P5,100 per voter just to block vote a set of candidates for the national and local elections. The parishioner said he accepted the money but will vote according to his conscience.
While the money ban affects direct vote-buying, it does not affect other methods such as the promise of scholarships and hoarding. One student from the Negros Oriental State University stated that a politician from Nationalists' People Coalition (NPC) offered a free ride to her hometown 25 km away from the city just to vote for their candidates.
"Nag-iiba na ang mga pamamaraan ng mga pulitiko ngayon. Pero nakakahanap pa rin naman sila ng paraan (The methods of candidates have evolved but they still find their way around.)," Monsignor Julius Heruela of the Diocesan Electoral Board said in a voters' education seminar last April. Huruela urged voters to vote wisely.
Even though numerous reports have been received by the citizen arm, Tuale said that vote-buying in Negros Oriental is done very discreetly.
"Hindi yan kagaya ng pagbibili ng grocery kung saan makikita mo. Yung mga nag-ooperate nyan, sila lang ang nakakaalam," he said. (It's not like going to the grocery where you see the buyers. The operators are the only ones really on the loop.)
Dumaguete is the largest city in Negros Oriental. It is home to 73,270 registered voters with 17 voting centers.
Tuale urged the voters to be vigilant and report vote-buying so that necessary measures will be undertaken. – Rappler.com
Therene Quijano is a Rappler Ambassador from Dumaguete.