This is AI generated summarization, which may have errors. For context, always refer to the full article.
Supporters say the massive project will bring much-needed jobs and investment to the city, but critics decry the haste and detrimental effects of the venture
Environmental scientists, youth groups, and residents are raising alarm over a proposed 174-hectare reclamation project in Dumaguete City.
In a statement released on Saturday, July 10, eight prominent Dumaguete scientists and academics warned that the project will directly affect 4 Marine Protected Areas (MPA) in the city, including the destruction of the habitat of "more than 200 species of fish" where local fisherfolk depend on for livelihood and subsistence.
According to a copy of the joint venture (JV) agreement obtained by Rappler, the P23-billion project will be funded under a public-private partnership (PPP) scheme, at no cost to the city.
The 5G-equipped "Smart City" island is envisioned to be a mixed-use commercial and residential area, featuring malls, condominiums, hospitals, business hubs, a docking port for a planned Dumaguete Yacht Club, ports for fishermen, and esplanades. (Editor's note: An earlier version of this story said the Smart City island would be "parallel to scenic Rizal Boulevard." Based on existing maps of the project and reports, the view of Rizal Boulevard will not be obstructed.)
Supporters of the project say that this will bring much-needed investment and jobs to Dumaguete, making it competitive with other urban areas such as Manila and Cebu that had also reclaimed land from the sea.
Caught by surprise
On July 7, the Dumaguete City Council gave Mayor Felipe Remollo authority to sign a JV agreement with E.M. Cuerpo, Inc. (EMCI) for the proposed reclamation project.
According to the developer's website, EMCI is a 20-year-old design and construction company which has worked with the government and private sector on different building projects, including the Basco Batanes Airport, the Clark International Airport, and the Maritime Industry Authority.
Alia Abadia, co-convenor of Kabataan Para Sa Karapatan – Negros Oriental, said advocates were surprised at the announcement of the project. They only learned of the venture through a local Facebook community news page.
"We were amazed because it's not that easy to grant such authority, especially for a massive project like this. We began questioning the process," Gary Rosales, co-convenor of the No to 174 Dumaguete Islands, shared a similar sentiment in a mix of English and Filipino.
In the opposing group's newly-created Facebook page, some residents have also sent a formal letter to Remollo objecting to the proposal given the lack of community consultation.
"If the project pushes through, Dumaguete City will renege on its commitment to do its part in marine conservation for the province, region and country. It will be a disgraceful act considering that the MPA movement in the Philippines, known throughout the world for its successes in the past 40 years, has its roots in Dumaguete City at Silliman University," the Dumaguete experts' statement read.
Signatories of the statement are former environment secretary and national scientist Angel Alcala, Silliman University (SU) president Betty McCann, former SU president Ben Malayang III, and academics Hilconida Calumpong, Rene Abesamis, Enrique Oracion, Janet Estacion, and Robert Guinoo.
Joint venture agreement concerns
Based on the draft JV agreement, EMCI first submitted an unsolicited proposal to the Dumaguete local government on November 25, 2019.
Negotiations between the project proponent and the city government took place in February 2020. After the recent Swiss Challenge, wherein no other private entities submitted competitive bids, the local government issued a Notice of Award to EMCI on June 23, 2021.
Under the Philippine Reclamation Authority guidelines, a JV is a "recognized modality" for PPPs in which the government and the private sector exchange resources toward "achieving better quality of life for Filipinos and serving the public good."
Councilor Manuel Sagarbarria of the majority bloc told local reporters on July 7 that the signing of the JV agreement "is just a start" and "not the end" of consultations and processes prior to the signing of a final contract.
"Pero before pa nga moabot ana, daghan pa kaayo na'g proseso. Hinumdumi, naa pa biya ta'y ENRD, naa pa ta'y kanang mga environmental problems, naa pa ta'y, kaya ba'g reclamation? Kaya ba'g supply? Mosugot ba pagdawat sa mga publiko? So daghan pa kaayo na," he said.
(Before it reaches the [final contract], there are still a lot of processes to go through. Remember, there is the [Environmental and Natural Resources Division], there are the environmental problems, there are questions on whether we can do the reclamation, is there supply [for the reclamation?] Will the people agree? So there's still a lot.)
Councilors in the minority, however, are saying that once the JV agreement is signed, public consultations on the project will be "informative" rather than "consultative" in nature.
Councilor Agustin Miguel Perdices cited Section 4.3 of the JV agreement, in which both the city and the contractor are obliged to "conduct public information campaign and consultations to promote acceptability of the Project and its implementation" and "protect and support the Project against any objection, negative propaganda, litigation, and similar opposition from third parties."
"Mapunggan na ta ana, dili na puwedeng mangonsulta sa taumbayan. Ato na lang ibaligya ang project nila pa mo-uyon sila. Pero ug naa'y moreklamo, ayaw na paminawan kay object ka, sorry, okay, noted, object ka. Pero wa na'y effect imong objection kay wala'y mopigil 'no sa implementation kaning project. That is very clearly stipulated sa joint venture agreement," Perdices told local reporters on Friday, July 9.
(We will be constrained by the agreement, we can't consult with the people. We will only sell the project so that we can get their approval. But if someone will complain, they will not be heard. You object, sorry, okay, your objection is noted. But your objection has no effect in stopping the project. That is very clearly stipulated in the joint venture agreement.)
Lawyer Liza Osorio, non-profit group OCEANA's legal and policy director, emphasized the access to information and public participation are among the public's constitutional rights. These consultations are also required under the local government code and the environmental impact assessment law pertaining to reclamation efforts.
In a message to Rappler commenting on the current state of PPP reclamation projects in the Philippines, Osorio said, "LGUs are not taking into account the ecosystem services and the benefits that these ecosystems provide such as resilience to climate change. My question is: Have they taken the massive environmental and social costs into account?"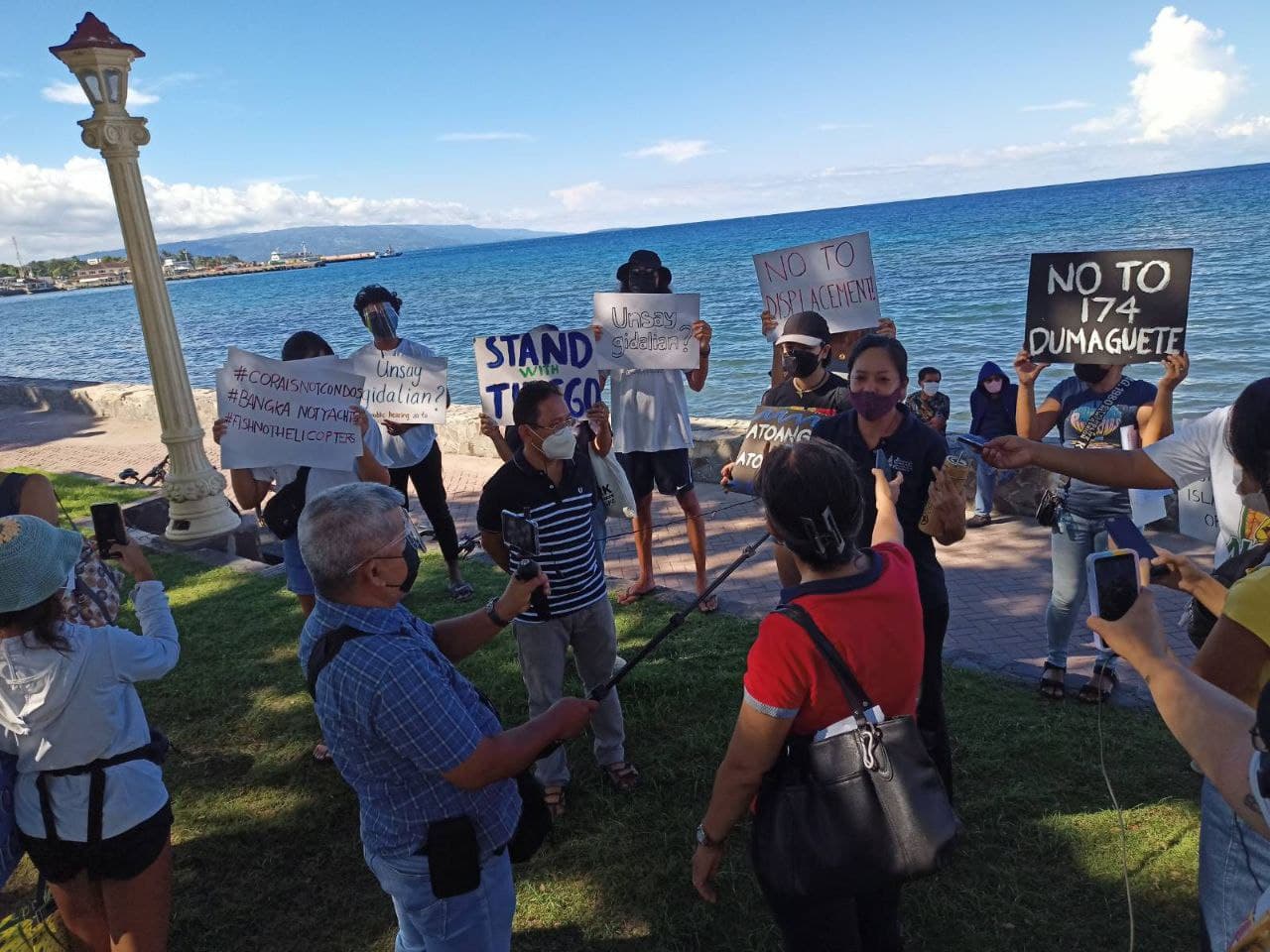 Building a movement
Since the titanic project's public outing, local scientists and advocates have been rapidly organizing to raise awareness about the multi-faceted issues.
Dumaguete-based youth groups launched a Change.org petition on the evening of July 10, asking the city government to stop all reclamation projects. More than 4,700 people have signed the online petition as of 6:00 pm of July 11.
Abadia added the reclamation will only "create another set of problems" for the city and adjacent municipalities, such as more waste from the new commercial area, flooding, and displacement of communities.
"Yun 'yung kailangan talagang maintindihan ng public na regardless of where you are, these developments will make an impact on you, on the flooding that may happen, on the waste problems that your barangay may have," she told Rappler.
(This is what we should understand: that regardless of where you are, these developments will make an impact on you, on the flooding that may happen, on the waste problems that your barangay may have.)
On July 11, residents and advocates staged a protest, too beside Pantawan 3, another controversially-reclaimed area in Dumaguete's famous Rizal Boulevard since 2019.
In a race to protect their hometown, the environmental groups hope to gather more support to stop the impending signing of the JV agreement. – Rappler.com