Receipts suggest Corona charged to the SC his wedding gifts, barongs and meals
MANILA, Philippines – The prosecution panel has requested the impeachment court to subpoena the Supreme Court (SC) resident auditor, more court officials, and representatives of business establishments to testify on the reimbursements that Chief Justice Renato Corona sought for himself.
The prosecution's 6-page request for a subpoena enumerated receipts suggesting that the Chief Justice charged to the Supreme Court his wedding gifts, barongs, and meals.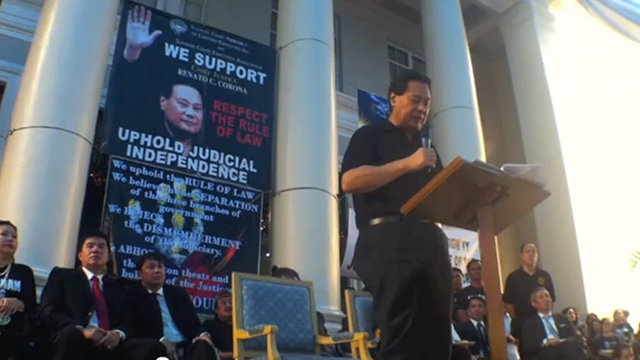 "Respondent has been reportedly using the judicial fund as his own personal expense account, charging to the judiciary personal expenditures," said the impeachment complaint.
The Chief Justice is, however, entitled to a special allowance equivalent to his salary, which is P91,000 a month; a representation and transportation allowance amounting to P22,000; personal emergency relief amounting to P2,000; and "extraordinary and miscellaneous expenses" equivalent to P292,000 annually.
Legal
Section 28 of the 2010 General Appropriations Act specifies that "extraordinary and miscellaneous expenses" include, but are not limited to the following expenses:
(a) Meetings, seminars and conferences;
(b) Official entertainment;
(c) Public relations;
(d) Educational, athletic and cultural activities;
(e) Contributions to civic or charitable institutions;
(f) Membership in government associations;
(g) Membership in national professional organizations duly accredited by the Professional Regulations Commission;
(h) Membership in the Integrated Bar of the Philippines;
(i) Subscription to professional technical journals and informative magazines, library books and materials;
(j) Office equipment and supplies; and
(k) Other similar expenses not supported by the regular budget allocation.
Witnesses
Among those the prosecution wants to summon to the witness stand are the following:
Authorized officer of Rustan's Commercial Corp from the Shangri-La Plaza, EDSA to show that the branch received from the Supreme Court P61,740.73. Presumably, it has something to do with the 60th wedding anniversary of James and Julie Dy.
The owner or manager of Design Exchange Corp, a barong-seller, to testify about two transactions involving the amounts of P20,400 and P25,000.
Supreme Court officers Atty Gorgonio Elarmo Jr (Chief Justice Staff Head) and a certain Michelle Mangubat to testify on at least two cash advances amounting P100,000 and P34,525. The first for approving cash advances, and the latter for taking the cash advances in behalf of Chief Justice Renato Corona through an authorization letter. According to the request for subpoena, the P100,000-cash advance was used to "purchase Christmas gifts of the Chief Justice." The second cash advance was supposed to be charged against the discretionary funds of the Chief Justice.
The deputy clerk of court and chief of the Fiscal Management Bureau Office Corazon Ferrer-Flores to testify and present disbursement vouchers on the gasoline allowances paid to the Chief Justice from June 1, 2010 to the present.
Supreme Court resident auditor, from the Commission on Audit, to authenticate the reimbursements of the Chief Justice.
The request for subpoena also lists the following supposed reimbursements for meals. It includes an expense of P15,000 for a meal in Century Tsukiji and a reimbursement for something as cheap as P132 from McDonald's.
 

Amount

Date

Name in Receipt

Holy Cow ChopHouse Inc.  My Thai Restaurant

P 2,430.00

June 7, 2010

 

 

Manila Pavilion Hotel

P 3,733.67

June 9, 2010

"Renato C. Corona"

Manila Pavilion Hotel

P 3,671.80

June 9, 2010

"Renato C. Corona"

Burgoo

P 2,436.90

June 13, 2010

"Mr. /Mrs. Corona"

Wagyu Stonegrill

P 5,323.40

June 13, 2010

"Mr./Mrs. Corona"

Old Vine and Kuse

P 1,852.87

June 14, 2010

"Renato Corona"

Manila Hotel

P 3,454.31

June 19, 2010

"R. Corona"

Century Tsukiji

P 15,362.37

June 20, 2010

"Renato/CRISTINA Corona"

Makati Shangri-La

P 3,399.10

June 29, 2010

 

Melo's Home of Certified Angus Beef

P 1,279.26

June 30, 2010

"Renato Corona"

Manila Mandarin Hotel, Inc. – The Tivoli

P 4,365.52

July 2, 2010

 

Sofitel Philippine Plaza Spiral

P 1,884.41

July 30, 2010

 

Sofitel Philippine Plaza Spiral

P 2,275.24

July 30, 2010

 

McDonald's Golden Arches Development Corp. TM Kalaw

P 132.00

Aug. 18, 2010

 

North Park Noodle House

P 270.00

July 14, 2010

 
The witnesses will testify in support of Article 3 of the impeachment complaint, which alleges that the Chief Justice committed culpable violation of the Constitution and betrayed public trust by failing to meet and observe stringent standards under Art. VIII, Section 7 (3) of the Constitution.
The impeachment complaint states: "Respondent reportedly dipped his hands into public funds to finance personal expenses."
"Numerous personal expenses that have nothing to do with the discharge of his official functions, such as lavish lunches and dinners, personal travels, and vacations, and fetes and parties have reportedly been charged by the respondent to judicial funds," it added. – Rappler.com
Subpoena Reimbursements