Suicide incidents rose by 25.7% in 2020 compared to the previous year
Cases of deaths due to self harm increased in the Philippines, as the economy struggled to reopen amid a failed pandemic response.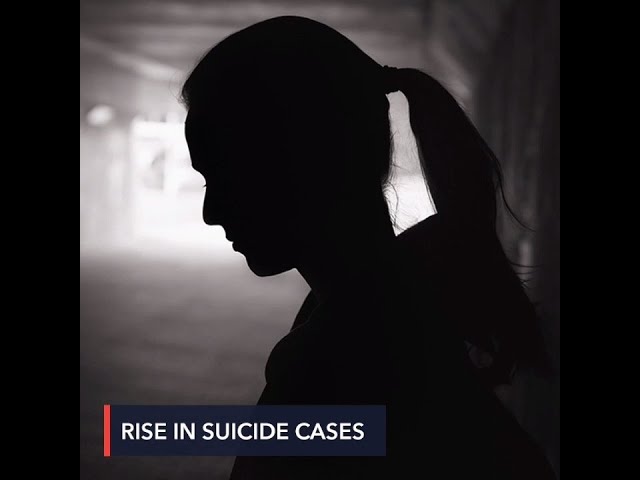 Latest figures from the Philippine Statistics Authority (PSA) showed that suicide incidents rose 25.7% in 2020, making it the 27th leading cause of death in 2020 from 31st in 2019.
Some 3,529 cases of intentional self-harm were recorded in 2020, which was higher than the 2,808 deaths recorded in 2019.
From 2015 to 2020, the average number of deaths caused by suicide was at 2,630.
Government officials earlier appealed to churches and spiritual leaders in the country to provide counsel and guidance to their followers to ease their anxiety and help save them from "self-destruction" during the pandemic.
However, mental health groups and advocates criticized this call.
"The calling for religious leaders to mainly address this issue is downright insulting to mental health professionals in the country, especially when these very religious institutions have created a long-held malicious narrative about mental health," Samahan ng Progresibong Kabataan (SPARK) said in a statement last August 2020.
According to the group, religious institutions have contributed to the stigma against mental illness, as many followers believe that those who commit suicide are sent to hell.
"In order for the deaths to stop, we do not need religion, we need action. We need free mass testing, social programs, unemployment insurance, increased subsidies for the poor; we need accessible programs to help those with mental illness. We need hope," SPARK said.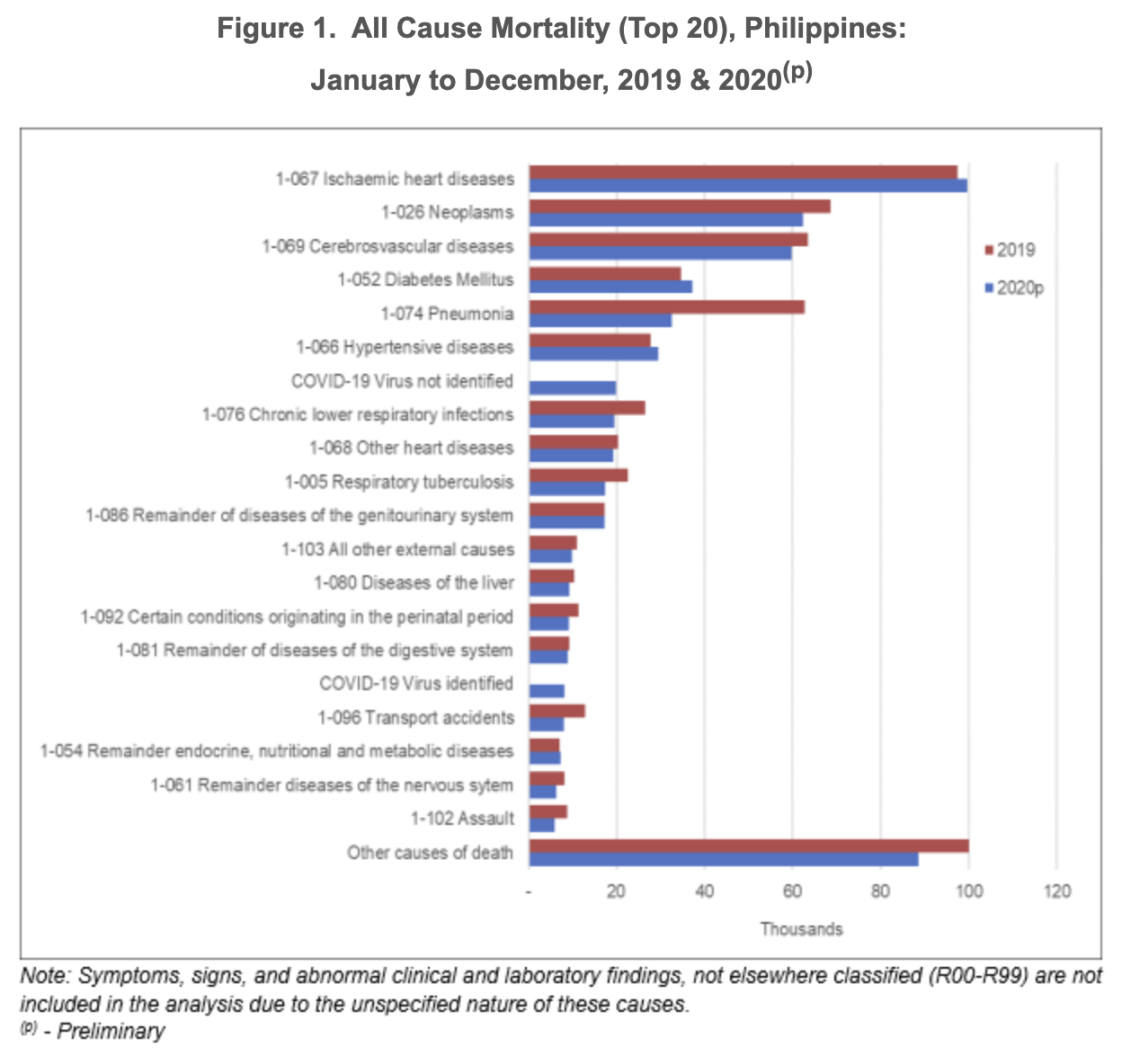 COVID-19
Registered deaths due to COVID-19 accounted for 27,967 or 4.9% of the total registered deaths in 2020. This made the highly-infectious disease the 7th leading cause of death in the country. (READ: Frontliners to gov't: Stop blaming people for COVID-19 surge)
However, the PSA noted that some 19,800 deaths that have been reported as COVID-19-related were tagged as "virus not identified," indicating that these cases were not reported by the Department of Health (DOH).
Deaths that were tagged as "virus identified" by the DOH stood at around 8,200.
"Figures in this release, specifically for deaths due to Coronavirus disease 2019 (COVID-19), may differ from the one released by the Department of Health (DOH). Data from PSA are based on the descriptions written on the medical certificate portion of all death certificates received which were certified by the Local Health Officers, while data from the DOH were collected through a surveillance system," the PSA said.
"Furthermore, COVID-19 deaths in this release refer to both confirmed and probable cases as of registration, whereas figures released by DOH were deaths from confirmed cases only. Coding of causes of death is based on the International Statistical Classification of Diseases and Related Health Problems revision 10 (ICD-10), which is governed by the World Health Organization (WHO)."
The DOH pegged COVID-19 deaths at 12,848 as of March 16, 2021.
Among the 17 regions, the National Capital Region (NCR) posted the most deaths due to COVID-19 in 2020 with 12,582 or 45% of the total fatalities due to the virus.
The most number of deaths due to COVID-19 in NCR was reported in Quezon City, with 2,566 or 20.4% of the total COVID-19 deaths in the region.
This was followed by Manila and Pasig with 1,810 (14.4% share) and 1,447 (11.5%) COVID-19 deaths, respectively.
Calabarzon ranked 2nd among regions with 6,914 deaths (24.7% share), while Central Luzon came in 3rd with 2,576 (9.2% share).
Other regions that registered over a thousand COVID-19 fatalities were Central Visayas and Western Visayas, with 1,863 (6.7% share) and 1,080 (3.9% share) deaths, respectively.
Meanwhile, the Bangsamoro region reported the least number of registered COVID-19 deaths with 37 or 0.1% of the total.
The top 3 causes of death in the country in 2020 were ischaemic heart diseases, neoplasms or cancer, and cerebrovascular diseases.
In 2020, ischaemic heart diseases were the leading cause of death with 99,700 cases or 17.3% of the total in the country.
Cancer came in second with 62,300 deaths or 10.8%.
Cerebrovascular diseases were the third leading cause which accounted for 59,700 deaths or 10.4% of the total. – Rappler.com
The Department of Health, through the National Center for Mental Health, has a national crisis hotline to assist people with mental health concerns. The hotline can be reached at 1553, which is a Luzon-wide, toll-free landline number, 0917-899-8727 and 0966-351-4518 for Globe and TM subscribers, and 0908-639-2672 for Smart and Sun subscribers.