(6th UPDATE) BOOKMARK: This page will carry real-time updates as the President delivers his sixth and last State of the Nation Address
President Rodrigo Duterte delivered his sixth and last State of the Nation Address (SONA) on Monday afternoon, July 26.
This was Duterte's second SONA to be done hybrid, with some guests physically present, and some joining through video calls. He delivered his speech against the backdrop of the local transmission of the more virulent COVID-19 Delta variant, yet 350 people were at the plenary hall of the Batasang Pambansa – seven times the number in 2020.
Here were quick notes on the important points mentioned during the SONA:
Duterte: Less visions now, more remembrances
"To offer free education – it's there already. The universal health care, andiyan na po. The fight against illegal drugs, criminality, and corruption."
"Today, as I approach…my end of my term, I have less visions, but more remembrances. But mine is not to rue or to second-guess what might have been, but to bear and respond with the urgency of the unforeseen events as they unfold.
Duterte: Economy growing until COVID-19 'stole everything'
"Our economy, with investor confidence, was poised to leapfrog into the company of the world's fastest-growing economies until [the] COVID-19 pandemic stole everything."
Duterte calls for passage of military pension reform bill
"In 2018, we raised the salaries of our military and the uniformed policemen…to a level commensurate to the critical role they play."
He then asks Congress to pass the military and uniformed personnel pension reform bill.
Duterte wants free legal assistance for soldiers, police
Duterte calls for a law on free legal assistance for members of the Armed Forces of the Philippines and Philippine National Police "to help them from charges arising from incidents related to the performance of their official duty."
Duterte lauds NTF-ELCAC
"With the creation of the National Task Force to End Local Communist Armed Conflict (NTF-ELCAC), we have made great strides in addressing the root causes of this conflict…. We have worked towards the sustainable rehabilitation of communities where communists used to operate."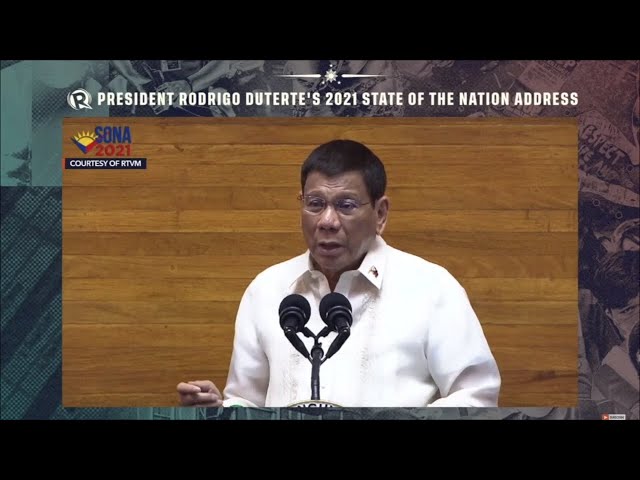 Duterte on communists: 'Kindly shoot them dead'
"My orders to you: If you see them walking around, kindly shoot them dead, and I will be happy. Anyway, you're only charged in the ICC together with me, so what is the problem of adding another one, another idiot Filipino who has caused great damage to our country?"
Duterte says Sotto can become 'good VP'
Duterte on Senate President Vicente Sotto III: "He is a good man, he can become a good vice president."
Duterte orders completion of Marawi rehabilitation
"Our victory in Marawi is also a testament to how the Filipinos' patriotism is far stronger…. There is no room for lawlessness in this country."
"Rebuilding a better Marawi remains, today, still not completed. To Task Force Bangon Marawi, we need to race against time and you have to finish the necessary work to rehabilitate the war-torn city and bring its families back home."
Duterte again talks about his 'drug war'
"Our unyielding campaign led to the surrender of millions of drug dependents and neutralization, capture, and prosecution of thousands of drug personalities."
Duterte on MRT3: No more 'misery of public commuting'
Duterte says the comprehensive tax reform program "enabled us to fund critical infrastructure programs."
"Today, we can see the tangible results. MRT3…was a horror for the daily commuters to endure in the past."
"The waiting time between trains has been significantly reduced…. We have taken away the misery of public commuting."
Duterte cites infra projects in provinces
"Beyond Metro Manila, we are pursuing several high-impact projects."
"We have brought equitable development."
He cites the Sorsogon City Coastal Road: "Mahal ko ang Bicolano."
"Why is Davao last? Sabi ko, unahin ninyo ang buong Pilipinas… I told the economic managers and the DPWH, pati si Art Tugade sa [Department of Transportation], unahin ninyo ang Luzon at ibang areas sa Mindanao…. To the Davaoeños, you must understand, we cannot really – kasi taga-diyan ako eh…. Sabi ko, 'Make Davao the last priority.'"
Duterte mentions Ease of Doing Business Act
"We also sought to make long lines a thing of the past by streamlining government processes."
Duterte: 'You cannot stop corruption'
"'Yung pastillas [scam] sa airport, there were 43 personnel involved. I fired them all. Talagang pinaalis ko sa gobyerno." (This is not true.)
"Corruption is endemic in government. You cannot stop corruption. Nobody can stop corruption unless you overthrow government completely."
Duterte: 'We will assert what is rightfully ours'
"In [the] international arena, we have rigorously pursued an independent foreign policy, centered on the promotion and protection of our core national interest."
"We continue to work with all nations and seek partnerships that work."
"To our friends in ASEAN and around the world, thank you…. I assure you the Philippines will remain a responsible member of the international community and we will work with you to achieve our shared objectives."
"But make no mistake, gone are the days when the Philippines decides and acts in the shadows of the great powers. We will assert what is rightfully ours and fight for what is rightfully due to the Filipino people."
Duterte insists Hague ruling may lead to war with China
"Ito bang arbitral ruling…. America and some Filipinos, brilliant Filipinos I would say, keep on pushing for something which I do not know…. Ano ba ang gusto ninyo? What will I do with a document that does not bind China because they were never a part of that arbitration?"
"Ano gusto nila, makipag-giyera, do something? Do you want war against China?"
Duterte: Coconut farmers to benefit from coco levy fund
"My administration has worked with Congress to pass the Coconut Farmers and Industry Trust Fund Act. We have returned also the coco levy fund to its true and rightful owners, our coconut farmers."
Duterte recalls gov't row with water concessionaires
Duterte said he used his political capital to "fight vested interest" in the water sector.
"Kung malugi sila (water concessionaires), babayaran pa natin (government)?"
"How many of Filipinos' money are with them for nothing?"
"Talagang inupakan ko sila. Sabi ko, 'Ayaw ninyo? You do not want it? I will just confiscate your system and call the military to operate it. I will…expropriate all of your assets here.'"
Duterte claims ABS-CBN owes gov't billions in taxes
"Wala akong problema sa ABS-CBN. They got my money, they wanted to return it…but they printed all the garbage, including my daughter as a drug trafficker. Nilamon ko na lang lahat 'yun…. But itong ano, they are cheating government, billions in taxes, and they still want that frequency because 'yan ang pinag-aawayan. I will give it to a Filipino na gustong mag-gawa ng tama and will pay."
Duterte: PH ramped up COVID-19 testing, facilities
"We ramped up our testing capacity. We now have more than 260 accredited laboratories nationwide which are capable of conducting at least 50,000 tests daily. All regions now can conduct their own COVID-19 tests."
"We established over 9,000 temporary monitoring and treatment facilities across the country."
"For our severe COVID cases, our tireless health workers will continue to ensure that you are provided with the best care round-the-clock."
Duterte seeks patience from Filipinos waiting for vaccines
"I ask for patience from those who are next in line…. More COVID-19 vaccines are arriving and you will soon have your turn."
Duterte: 'We cannot afford more lockdowns'
"We have spent enormous amounts of resources to build our capacity to overcome this pandemic. We cannot afford more lockdowns."
Duterte mentions threat of COVID-19 Delta variant
"Today is my last State of the Nation Address, but this is by no means my swan song. I will never cease to implore Congress to pass vital and critical legislation."
"It is necessary for us to overcome the crippling fear and anxiety caused by the threat of the COVID-19 virus. But I really do not know what to do. I have to listen to the task force…. Sila ang magsabi. We're just waiting for word, I am referring to the COVID-19 [variant], Delta. It's rampaging now in Indonesia, Thailand, India, and many parts of Asia. Ang sabi doon sa western medicine, it is far more aggressive, far more dangerous, and it can cause death easily than the COVID-19 original…. If something wrong happens, I have to be strict…. Maybe we just have to pray for salvation."
Duterte vows to exert effort to restore livelihood
"Rest assured that we will exert every effort to restore the lost livelihood of our countrymen."
He added that the government will work to "increase employability" of Filipinos and "help hardest-hit sectors."
Duterte asks Congress to amend several laws
The President mentioned the Foreign Investments Act, Public Service Act, and Retail Trade Liberalization Act as laws that need to be amended.
Duterte asks Congress to create disease prevention, virology agencies
"We hope to pursue the creation of… the Center for Disease Prevention and Control and the Virology and Vaccine Institute of the Philippines." – Rappler.com