(1st UPDATE) A survey from the Social Weather Stations shows that 33% also believe that their lives will improve in the next 12 months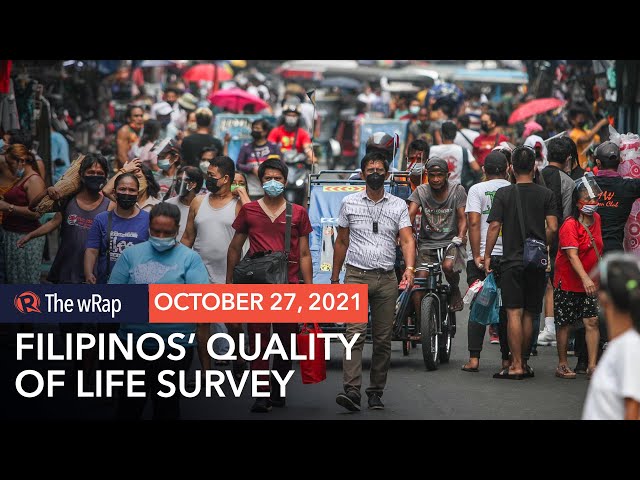 Nearly 6 in 10 people or 57% of Filipino adults believe that their quality of life got worse compared to the same period last year, according to the results of a Social Weather Stations (SWS) survey released on Tuesday, October 26.
The survey was conducted from September 12 to 16 using face-to-face interviews. It asked 1,200 Filipinos nationwide aged 18 and above: "Comparing your quality of life these days to how it was 12 months ago, would you say that your quality of life is better now than before, same as before, or worse now than before?"
The Third Quarter 2021 Social Weather Survey found that only 13% of Filipino adults got better off, while 29% stayed the same. The SWS categorized those who said they got better off as "gainers," and classified those who feel they got worse off as "losers."
Net gainer score in NCR 'catastrophic'
Subtracting the gainers from losers, the net score was at -44, which the SWS classified as "extremely low." This is worse than the previous net score recorded in June 2021, which was classified as "very low" at -31.
The survey said the net gainers worsened in all areas. It classified Metro Manila as "catastrophic," and the rest of Luzon, Visayas, and Mindanao as "extremely low." Catastrophic and extremely low are the lowest and second-lowest classifications, respectively.
The survey also found that net gainers also worsened for all education groups except college graduates.

'High' net optimism score nationwide
The same survey said that although the majority of Filipino adults feel they got worse off, 33% believe that their quality of life will get better in the next 12 months. Meanwhile, 45% said they feel it will stay the same, 7% said it will worsen, while 14% did not give an answer.
The net optimism score nationwide, or the score after subtracting the percentage of those who believe their lives will be worse from those who said that it will get better, is +26. Though the SWS classified this as "high," it is 4 points below the "very high" score of +30 recorded in June.
Both Metro Manila and the rest of Luzon are reclassified from "very high" to "high" after both areas recorded a 10-point drop in personal optimism. However, it rose from "high" to "very high" in Mindanao, while Visayas stayed "fair."
The net optimism score is distributed in this order, from highest to lowest: excellent, very high, high, fair, mediocre, low, and very low.
The SWS pegged the error margin at +/- 3% for national figures, and +/- 6% for Metro Manila, the rest of Luzon, the Visayas, and Mindanao.
On September 11, a day before the survey was conducted, the Philippines recorded 26,303 new COVID-19 cases, its highest number of daily cases since the pandemic began. The country is now only starting to see a decline in COVID-19 cases after the record-breaking surge in infections driven by the highly transmissible Delta variant.
The SWS has been conducting this survey since April 1983. The highest percentage of losers was recorded in May 2020 at 83%, during which many areas in the Philippines were under strict lockdown due to the COVID-19 pandemic. – Rappler.com