US Defense Secretary Lloyd Austin III and President Rodrigo Duterte hold an 'open and frank' discussion in Malacañang
Philippine President Rodrigo Duterte got his first visit from a Cabinet member of the United States' Biden administration on Thursday, July 29.
He received Defense Secretary Lloyd Austin III in Malacañang where they had an "open and frank discussion" on Philippines-US ties, according to a Palace statement.
The meeting, lasting an hour and 15 minutes, comes as the two countries commemorate 75 years of diplomatic relations and the 70 years of the Mutual Defense Treaty.
Austin, on his official Twitter, described the meeting as "productive."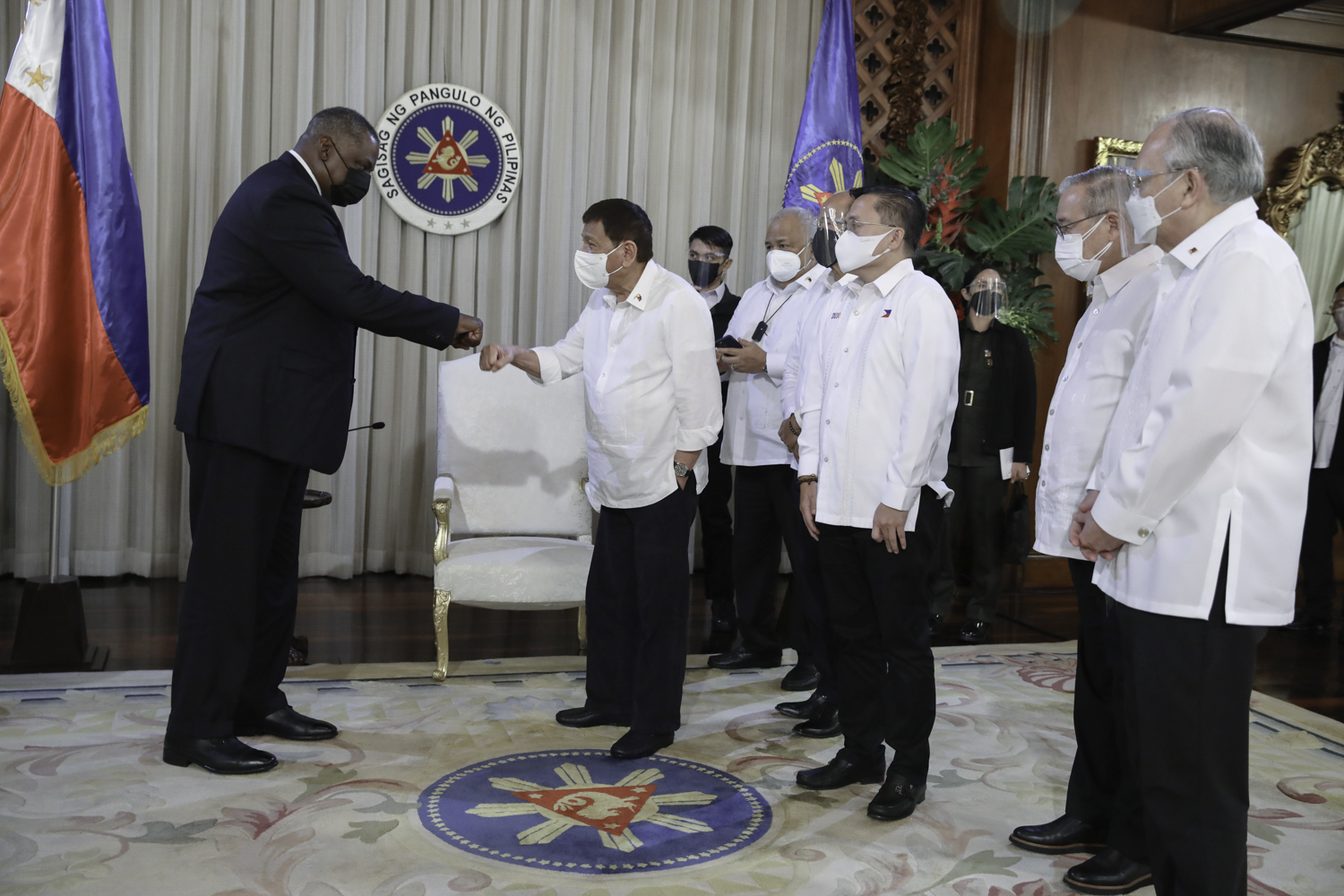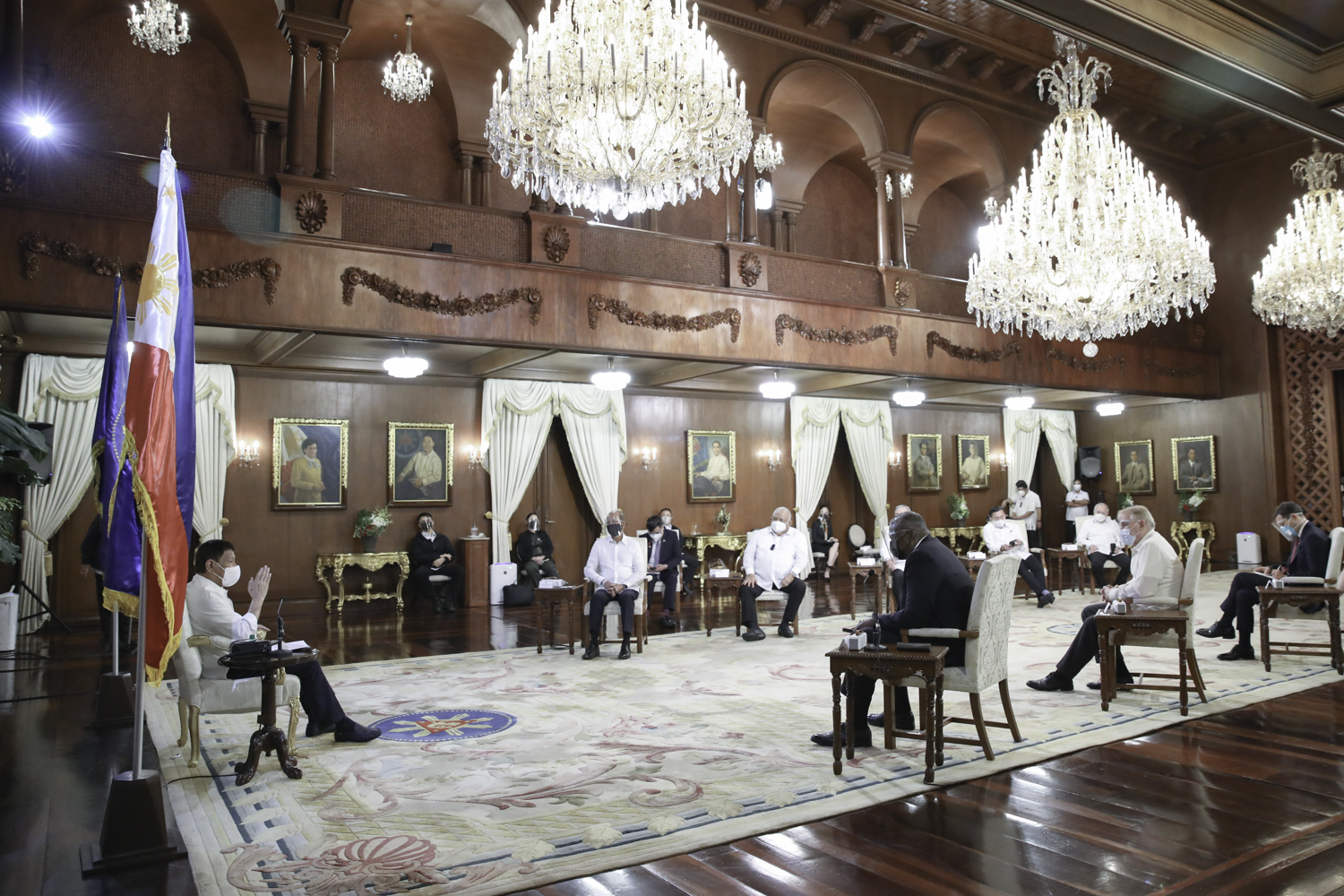 Duterte took the opportunity to thank the US for its donation of 3.2 million doses of Johnson & Johnson's single-shot coronavirus vaccine, the Philippines' biggest bilateral donation yet.
Despite the size of the US' donation, the Philippine leader did not personally welcome the shipments in July 16 and 17. He, however, had personally attended the arrival of vaccine donations from China and Japan.
Duterte and Austin spoke of other areas of cooperation.
"They agreed that the alliance can be further strengthened through enhanced communication and greater cooperation, particularly in the areas of pandemic response, combatting transnational crimes, including the war on illegal drugs, maritime domain awareness, the rule of law, and trade and investments," said the Palace.
The US defense chief "states that he has great respect for the Filipino people and that the US wants a strong relationship with the Philippines as an equal sovereign partner," said Malacañang.
Austin relayed US President Joe Biden's greetings to Duterte. Duterte supposedly reciprocated.
There is no official confirmation yet on whether Duterte and Austin discussed the fate of the Visiting Forces Agreement (VFA), which has been in limbo for over a year after the Philippine President suspended, for the third time, the termination process he had ordered in February 2020.
But a day before Austin met with Duterte, he said he was looking forward to talking about the possible extension of the VFA with Philippine officials.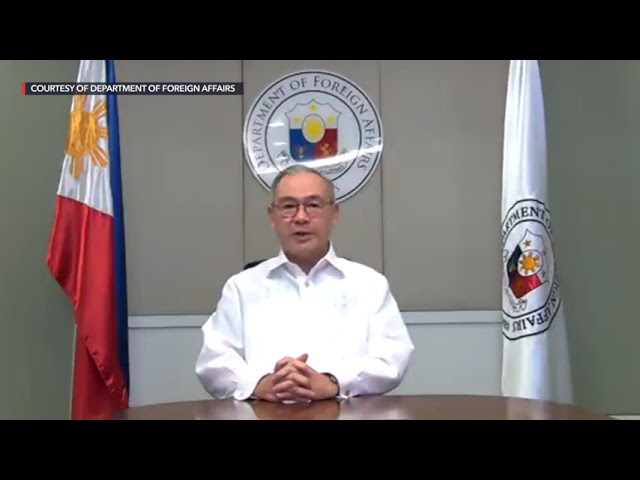 Filipino officials present at the Malacañang meeting were Executive Secretary Salvador Medialdea, Defense Secretary Delfin Lorenzana, Foreign Secretary Teodoro Locsin Jr., Senator Bong Go, and Philippine Ambassador to the US Jose Manuel Romualdez.
The US defense secretary was accompanied by US embassy Chargé d'Affaires John Law, National Security Council Senior Director Edgard Kagan, Department of Defense Chief of Staff Kelly Elizabeth Magsamen, and Defense for Indo-Pacific Security Affairs Assistant Secretary Ely Ratner.
Austin is set to hold meetings with Defense Secretary Lorenzana and Foreign Secretary Locsin. before he flies out of the country on Friday. – Rappler.com