'UP encourages critical thinking which, at times, may manifest as an attitude of dissidence and anti-authoritarianism,' says UP vice president for public affairs Elena Pernia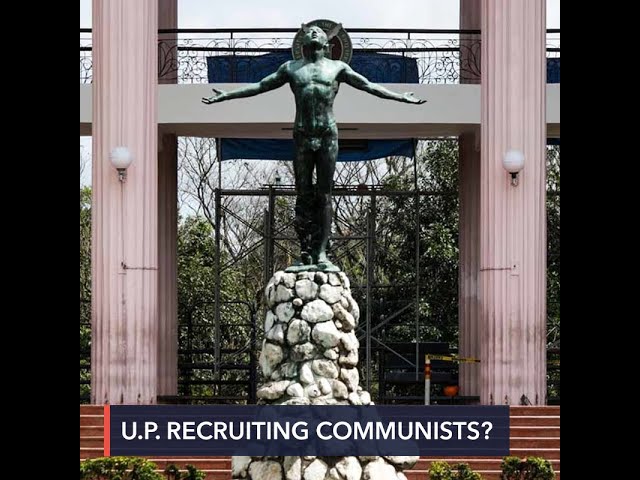 The University of the Philippines (UP) on Thursday, November 19, belied President Rodrigo Duterte's claim that the premier state university is "recruiting communists."
In an interview with ANC's Headstart on Thursday, November 19, UP vice president for public affairs Elena Pernia said that while the university has a long history of being activist, UP is "not anti-government." (READ: UP community slams Duterte over red-tagging, defunding threat)
"Ang UP 'di nagre-recruit (We don't recruit). We don't recruit for the Communist Party. We are an educational institution. We teach, we do research, we do public service. We don't recruit," Pernia said.
In a separate statement posted on its website, UP said that it values "the freedom to think, to speak, to study, to teach, and even the freedom to disagree."
"UP encourages critical thinking which, at times, may manifest as an attitude of dissidence and anti-authoritarianism," the university added.
In his late night address on Tuesday night, Duterte threatened to defund UP because the institution supposedly does "nothing, but recruit communists." (READ: Academic strike? Duterte threatens to defund UP)
UP noted that 15 members of the Duterte administration are UP alumni, including his spokesperson, Harry Roque, Tourism Secretarty Bernadette Romulo-Puyat, Education Secretary Leonor Magtolis-Briones, ScienceSecretary Fortunato dela Peña, and Higher Education Chairman Prospero de Vera III.
'Defunding will affect nationwide operations'
Pernia said that defunding the university will affect its nationwide operations, adding that UP has 50,000 to 60,000 students, 5,500 faculty members, around 5,000-strong academic staff in 16 campuses and 8 other attached units.
"We hope it will not happen. Any defunding will involve our students. This will affect our research projects. Many of these are in partnership with the government," Pernia said.
UP said it has contributed much in terms of research and technologies, using its "multidisciplinary research expertise to address multiple COVID-19-related imperatives."
"UP will continue to lead as a public service university by providing service to the nation including scholarly and technical assistance to the government, the private sector, and civil society," the university said. – Rappler.com