(UPDATED) The environment department plans to put white sand in the water to prevent black sand from washing ashore. An expert says 'this will most likely not improve the situation.'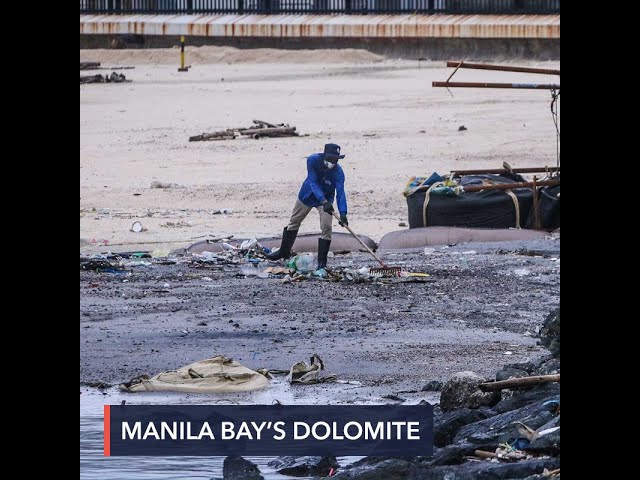 The dolomite sand dumped on Manila Baywalk is highly probable to drift to the sea, a marine scientist said, after an environment official claimed only 10% of the white sand was swept after recent weather disturbances.
In a recent report from GMA News, Department of Natural Resources and Environment (DENR) Undersecretary Jonas Leones explained on Monday, October 26, that black sand covered the white sand after heavy rainfall in Manila.
The baywalk shore is made up of both layers of black sand and white dolomite sand, Leones said. Beyond the project's site is the black sand which washed up on shore during the height of Typhoon Quinta, covering the white sand.
"'Yung water nagkakaroon ng malakas na wave, nadadala yung black sand, pumapatong doon sa dolomite," the DENR official said.
(When there's a big wave, the black sand is carried to the shore, covering the dolomite sand.)
UP Marine Science Institute director Dr Laura David said that the project's location is "a site of current convergence with high likelihood of erosion even during calm days." The site itself is prone to erosion, and David said, storm events will only aggravate the situation.
To fix the problem of erosion, the DENR plans to put dolomite sand in the water so the white sand would be washed onto the beach instead.
But, David said, placing sand in water "will mostly likely not improve the situation."
"Dolomite has relatively high density and would more likely settle at the bottom before getting washed out eventually," she said.
Meanwhile, UP Resilience Institute Director Mahar Lagmay all but agreed that these efforts to keep the dolomite on the shore was futile. "The force they are battling is as incessant as the waves that come to shore."
David added that while there are engineering interventions to keep the sand, "most of these would run counter to the intent of beautification of the area." (READ: 'No shortcuts': UP marine scientists says dolomite won't help solve Manila Bay's problems)
The department had mentioned engineering interventions before in their 2021 budget hearing, such as geo tubes. – Rappler.com