WHAT YOU NEED TO KNOW
President Ferdinand Marcos Jr. flies out of the country again to participate in the commemorative ASEAN-EU Summit in Belgium from December 11 to 15. This is his first visit to the European continent as President and his sixth foreign visit since he assumed the presidency six months ago on June 30.
Marcos will be speaking at the ASEAN-EU Summit, where members of two major regional bloc – the Association of Southeast Asian Nations (ASEAN) and the European Union (EU) – will be speaking. He will also be the closing keynote at the 10th ASEAN-EU Business Summit.
The President is also set to hold 10 bilateral meetings with key European countries, as well as the European Union, on the sidelines of the events.
Follow this page for updates and analysis from Manila and Belgium.
LATEST UPDATES
LOOK: Marcos meets Filipino community in Belgium
President Marcos kicks off Belgium visit by meeting the Filipino community here. Host promises to bring the Uniteam Rally experience to Filipinos gathered here today pic.twitter.com/XrxD4Dp2oh

— Bea Cupin (@beacupin) December 12, 2022
WATCH: Marcos breaks silence on Maharlika fund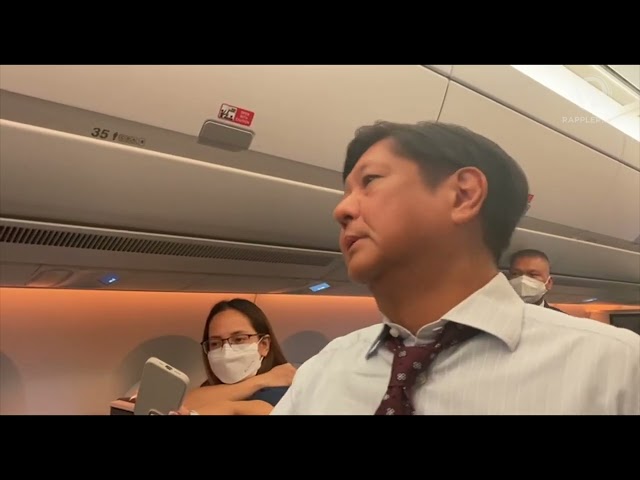 Read the full story here.
Marcos to bring up human rights in talks with EU
Philippine President Ferdinand Marcos said the country's human rights issues shouldn't be "related" to negotiations of trade perks with the European Union (EU).
"We'll bring it up with the EU. I don't think one thing should be related to the other but we'll see. We'll see. Yeah. We'll see," said Marcos on Sunday, December 11, during a short interview with media on board the presidential plane on en route to Brussels.
Read the full story here.
Marcos off to Belgium for ASEAN-EU summits, bilateral talks
President Ferdinand Marcos Jr. outlined what to expect from the Philippines' participation in the Association of Southeast Asian Nations-European Union summits in Brussels, Belgium, before he flew out of the country on Sunday evening, December 11.
The ASEAN-EU Commemorative Summit, to be held on Wednesday, December 14, celebrates 45 years of relations between the two blocs. In his departure statement, Marcos said the summit will involve "in-depth discussions on the most relevant issues concerning both regional organizations" such as global and regional security, sustainable development, and economic cooperation, among others.
Read the full story here.