WHAT YOU NEED TO KNOW
The world's most powerful tropical cyclone yet in 2020 battered parts of the Philippines with destructive winds and torrential rain.
Rolly (Goni) was a super typhoon as it made landfall in the region of Bicol twice on Sunday, November 1. It went on to hit land two more times in the region of Calabarzon as a typhoon, before rapidly weakening into a tropical storm over the West Philippine Sea.
Bookmark this page for PAGASA forecasts, updates in the wake of Rolly's onslaught, and the latest news on the government's response to the disaster.
LATEST UPDATES
EU pledges nearly P63 million for emergency relief
The European Union (EU) committed to provide nearly P63 million (€1.3 million) in rapid humanitarian aid funding to deliver emergency relief assistance to families affected by Rolly.
The EU said funds will support humanitarian aid groups already on the ground to provide emergency needs like shelter, food, and livelihood assistance, as well as access to clean water and healthcare.
"We stand by all those affected, and in particular express our sincere condolences to the families and friends of those who have lost their lives," said EU High Representative and Vice-President Josep Borrell and Commissioner Janez Lenarčič.
US to give P9.7 million in aid
The United States embassy in Manila said it would provide P9.7 million ($200,000) worth of aid to support government efforts to assist families affected by Super Typhoon Rolly.
Aid will be provided through the US Agency for International Development and will include food, emergency shelter, and cash assistance for 22,500 people in Albay and Catanduanes.
'Worst year for school children' in Rolly-hit communities – Educo
Super Typhoon Rolly made a difficult year even worse for students in the Bicol region, the area hit hardest by Super Typhoon Rolly.
"This is going to be the worst year for most of the school children in areas worst hit by super typhoon Rolly. [A month] since online classes resumed amid the COVID-19 pandemic, children are now back to zero in terms of distance learning. Aside from their homes damaged, they also lost most of their belongings such as printed learning modules and school supplies," said Shiena Base of Educo, an international child rights non-governmental organization.
Educo deployed an emergency response team to distribute relief supplies, hygiene kits, and other essential needs for families in hard-hit areas including Albay, Camarines Sur, and Catanduanes.
The Department of Education earlier reported that 226 schools were damaged while 869 schools were used as evacuation centers for families displaced by Rolly. Filipinos criticized Education Secretary Leonor Briones for advising schools to solve on their own the problem of damaged learning modules.
NGCP energizes parts of Bicol region hit by Rolly
The National Grid Corporation of the Philippines (NGCP) continues its restoration of transmission facilities affected by Super Typhoon Rolly, to bring back power services to the Bicol Region.
In a statement on Saturday, November 7, NGCP said it energized Sorsogon and parts of Albay through the Bacman Geothermal Power Plant on Saturday morning. The NGCP powered up the lines of Daraga-Bacman, Daraga-Legazpi, Daraga-Sto Domingo, Labo-Naga, Daraga-Sorsogon, Sorsogon-Balogo, and Sorsogon-Bulan.
The NGCP also advised its consumers that sources for generation capacity are still limited. "Additional loading will depend on the available generation capacity, as well as readiness of the distribution lines," the NGCP said.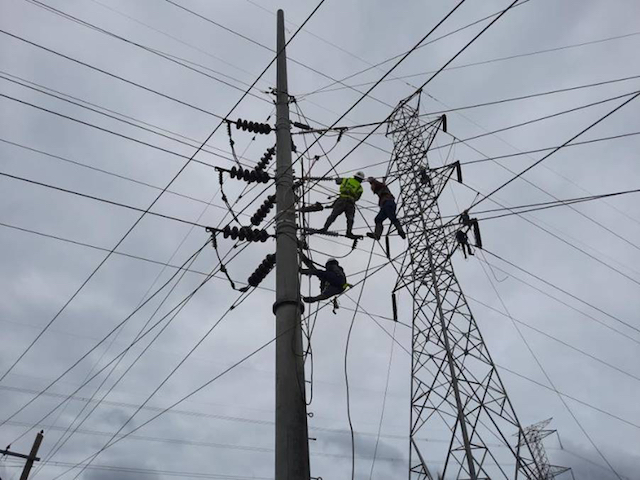 Mayor seeks suspension of quarrying operations in Legazpi City
Legazpi City Mayor Noel Rosal has asked Albay Governor Al Francis Bichara to suspend quarrying activities at the southeast quadrant of Mayon Volcano, following the avalanche of volcanic materials in Guinobatan town that buried the villages of San Rafael and San Francisco during the height of Super Typhoon Rolly,
In a letter sent to Bichara on Friday, November 6, Rosal said that the residents of the southeast quadrant covering 5 villages in Legazpi City expressed fear for their lives and safety. These are the villages of Mabinit, Matanag, Bonga, Buyuan and Padang – all at risk from lahar flow.
Bichara earlier suspended quarrying operations in Guinobatan town.
Save the Children distributes humanitarian aid to thousands of Bicol children
Save the Children Philippines on Friday, November 6, distributed humanitarian support to thousands of displaced children and their families in Bicol. 
Two truckloads of hygiene kits, family emergency items, and water kits were given out to families in Tiwi, Albay where Super Typhoon Rolly made a second landfall, as well as in Camarines Sur and worst-hit Catanduanes.
"Children from poor households, and those living in remote areas bear the brunt of the climate-related shocks. Its impact is killing our children, their loved ones, and ruining their homes and their chance to a future," said Atty Alberto Muyot, Chief Executive Officer of Save the Children Philippines.
Save the Children estimates that at least 1.3 million people, of whom 450,000 are children, were severely affected by Rolly.
Albay governor appeals for help: 'We're running out of funds'
Albay Governor Al Francis Bichara is appealing for help from the national government and international institutions, citing the dwindling calamity funds of the province which just got battered by two typhoons a week apart.
"We can no longer feed them [the people] because we're already depleted. We're running out of funds. We are appealing for help from national government and International institutions as well as private donors to help our constituents affected badly of the typhoon," Bichara said.
Read the report here.
DOH: 67 health facilities damaged due to Rolly
The Department of Health (DOH) said on Friday, November 6, that some 67 health facilities, including hospitals and rehabilitation centers, were damaged due to Super Typhoon Rolly.
In a virtual press briefing on Friday morning, Health Undersecretary Maria Rosario Vergeire said that the DOH is closely coordinating with affected local government units to fix the affected health facilities.