This is AI generated summarization, which may have errors. For context, always refer to the full article.
'Hindi tayo pabalikin, ah,' a Filipino passenger is heard saying in the video shared by National Security Adviser Hermogenes Esperon Jr.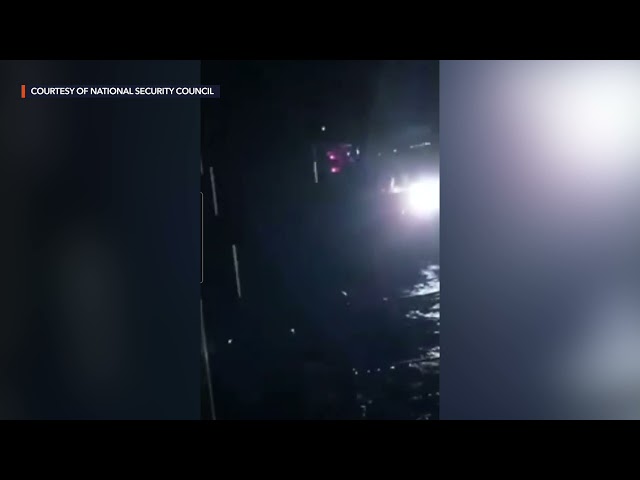 The Philippines' Department of Foreign Affairs (DFA) announced on Thursday, November 18, that three Chinese coast guard vessels blocked and used water cannons on Philippine boats en route to Ayungin (Second Thomas) Shoal on November 16. 
The Philippine ships are resupply boats that transport food supplies to military personnel assigned in the maritime feature, which belongs to the Philippines. Foreign Secretary Teodoro Locsin Jr. said no one was hurt in the incident, but the operation of the Philippine ships had to be aborted. 
Locsin condemned the incident and reminded China that it has "no law enforcement rights in and around these [West Philippine Sea] areas."
The incident was captured on video which National Security Adviser Hermogenes Esperon Jr. shared to reporters. 
In the footage, Chinese coast guard ships are seen firing water cannons on Philippine vessels. A Filipino passenger said, "'Di tayo pabalikin, ah (It seems they won't let us return)." 
Esperon said that prior to the incident, there were 19 vessels spotted near Ayungin Shoa. Earlier in 2021, over 200 Chinese vessels were spotted scattered in different maritime features within the Philippines' Exclusive Economic Zone (EEZ).
Ayungin Shoal, located 105 nautical miles off Palawan, is located within the Philippines' EEZ. Ayungin Shoal is where the Philippine Navy ship BRP Sierra Madre has been aground as a permanent outpost since 1999.
China claims the maritime feature without basis, except for its non-existent nine-dash line, which was already refuted by the 2016 Hague ruling. – Rappler.com