'The best way to protect domestic workers is to empower domestic workers,' says migrant workers' rights expert Carmel Abao
When news broke in October that former Philippine ambassador to Brazil Marichu Mauro had been recalled to Manila for allegedly abusing her household staff, migrant workers' rights expert Carmel Abao felt angered and worried, but not entirely surprised.
It was not the first time, after all, that Abao heard of similar news. Considering her years of experience working with and studying issues of overseas Filipino workers (OFWs), Abao knew of other cases of abuse that involved domestic workers employed by diplomats.
Like Abao, Center for Migrant Advocacy (CMA) Executive Director Ellene Sana is familiar with other Filipino workers sharing the same stories, having personally assisted some of them. 
It prompted them to ask: How one deal with cases like that of former Philippine ambassador to Brazil Marichu Mauro? How can this kind of abuse be prevented? 
"When diplomats are the abusers, that phenomenon should be a topic for public conversation and public concern because then the question arises – who will protect our workers when those duty bound to protect them are the ones abusing them?" Abao said in a recent webinar aired by Rappler. 
Abao is a political science professor and member of the working group on labor and migration at the Ateneo de Manila University (ADMU), as well as secretary of the CMA board of trustees.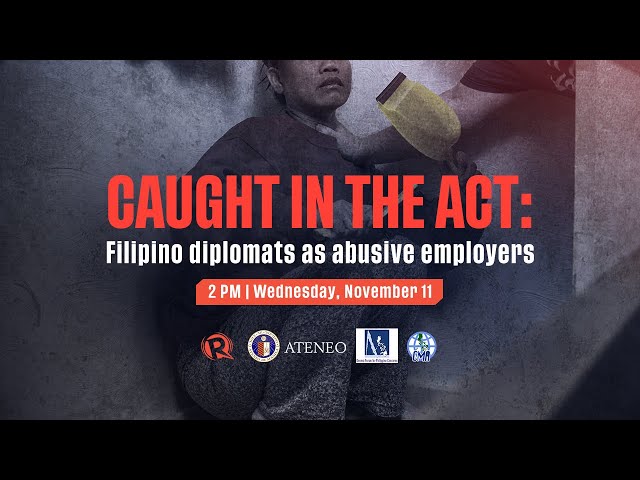 Mauro, who is being investigated by the Department of Foreign Affairs, has been formally charged based on civil service rules as a preliminary investigation found sufficient evidence of her maltreatment of staff. 
Sana said the case underscored the need to discuss the conduct of diplomats as employers on top of their roles as duty bearers to protect OFWs.
Together with Geneva Forum for Philippine Concerns chairperson Joseph Sycip and Ateneo political science professors Maria Elissa Lao and Oliver Quintana, they posed the following solutions to help protect overseas domestic workers: 
Ensure domestic workers employed by diplomats know their rights 
Establish guidelines to check and monitor the situation of domestic workers
Strengthen Filipino communities in host countries to serve as a check and balance on Filipino diplomats abroad 
If possible, hire domestic workers in host countries 
What can be done
"The best way to protect domestic workers is to empower domestic workers," Abao said.
In practice, Abao and Sana said this means ensuring that Filipino domestic workers who will be employed by diplomats also attend the Philippine Overseas Employment Administration's pre-departure orientation seminar that is supposed to inform OFWs of their rights and government services available to them.
Despite working with OFWs for over a decade, Sana said it was not clear if Filipino domestic workers working for diplomats overseas were required to attend this like other outbound OFWs.
"When it comes by domestic workers being employed by diplomats, that's a blank spot," she said.
Sana added clear guidelines with accountability for diplomats as employers should also be established to regularly check the situation of hired domestic workers.
Sycip, meanwhile, urged overseas Filipino communities to expand their engagement with Philippine diplomatic posts beyond consular services; they should also hold Philippine officials accountable. 
"I encourage there be a strong Filipino community presence because it can serve as a check and balance. We can maybe dialogue with embassy officials and sometimes it works," he said.
Meanwhile, human rights lawyer Jean Pierre Garbade of the Geneva Forurm said domestic workers who work for powerful officials like diplomats could also be left more vulnerable when abuse happened since their special working status made it difficult to find an alternative job.
More than this, Garbade said ambassadors' diplomatic immunity often made it difficult to seek justice for abused workers in their countries of destination. 
"Laws are beautiful…. But if you cannot go to the court, if with a diplomat you have no means to implement the laws, they are useless," Garbade said. "Naturally, you can go to the Philippines, but if you have a country like the Philippines with, let's say, a very weak justice system, it's almost impossible for them to seek justice." 
Aside from this, Abao also suggested that domestic workers can be hired in host countries.
"You can hire domestic work services on an hourly basis for example. The point is, it can be done," she said.
"We should also recognize domestic work is important to anyone. You go abroad and you become a foreign service officer, you become a diplomat, you have kids, of course you have to be able to raise your kids properly and etc. But the point is, it's not supposed to be an excuse to oppress somebody else," she added.
Foreign Secretary Teodoro Locsin Jr earlier said Mauro's case prompted the agency to review its policy of allowing Filipino diplomats to bring Filipino domestic helpers abroad, instead of hiring locally. 
Why it matters
Lao explained that diplomats' abuse of OFWs is a serious issue that called into question the very heart of a pillar of the Philippines' foreign policy – the protection of the rights and promotion of the welfare of Filipinos abroad. 
"It's difficult to accept, especially for those of us who watch foreign policy and are also concerned with the migrant sector, that we will have to deal with the people that we trust, in this particular case, the people that we trust are those who actually are the perpetrators. And that's really a call to action," Lao said.
Beyond the DFA's credibility to uphold its mandate, University of Groningen lecturer and migrant domestic work researcher Liberty Chee added that the Philippines' reputation abroad was also at stake since the country is considered a leader in migration policy. 
"If the Philippines is understood to be leaders [and] that translates to recognition…to influence…and this translates to actual resources…if we fail to address this issue full on and to get justice for the parties involved, what does this do to the role of the Philippines as a norm leader?" she said. 
Sana, for her part, expressed optimism in the DFA's actions so far. She said that compared to previous cases of abuse, "this is the first time that we've seen an SFA taking immediate decisive action on cases like this." 
Despite this, she asserted that the agency must ensure justice for abused workers, even if it involved those in their ranks. 
"I hope that our DFA and diplomats will not be left behind in all these steps going forward," she said. "You cannot be best if you have episodes like this." – Rappler.com