Wrong place, wrong time. This is the story of Oman Manaois, killed by unidentified gunmen and, his relatives say, wrongly tagged as a drug user.
Welcome to Newsbreak Reads – audio recordings of select in-depth stories and long form pieces from Rappler's investigative and research section. For the full text version of this story, visit rappler.com/newsbreak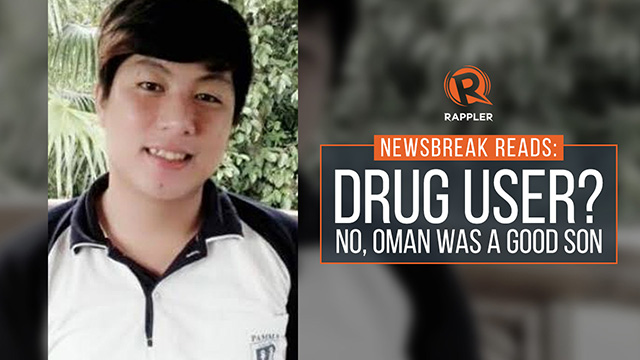 MANILA, Philippines – It was, his relatives say, a case of being at the wrong place at the wrong time.
Oman Manaois, a 20-year-old just a few months' shy of graduation, was shot dead by unidentified gunmen on July 19 in Dagupan, Pangasinan. He had been sharing a tricycle ride with a neighbor, Zaldy Abalos, who was allegedly notorious for being involved in the drug trade. 
Abalos was gunned down by the assailants, before turning to Oman and shooting him – twice.
While comments online branded Oman as a drug user, his relatives maintained that he wasn't using illegal substances. His case, they said, was just one of the other reported incidents of innocents caught in the crossfire as the bloody war on drugs continues. – Rappler.com
9-minute listen. Written by Jodesz Gavilan, read by Chay Hofileña, edited by Jaene Zaplan. Read the full text story here.