'We're talking about sovereignty here. We're not just talking about [the] economic provision per se,' says UP associate professor Herman Kraft
MANILA, Philippines – Crafting a framework with China for joint exploration in the West Philippine Sea is also about sovereignty, not just possible economic benefits, according to Herman Kraft, Political Science associate professor at the University of the Philippines. 
Asked if economic provisions in the constitution could be amended to make way for joint exploration in the West Philippine Sea, Kraft said the issue would still involve sovereignty. (READ: FAST FACTS: South China Sea dispute)
"The difficulty there (Charter Change), of course, is that's connected somehow with the issue of freeing up the economic provisions of the constitution so as to allow us more freedom in terms of allowing for foreign ownership, therefore allowing greater volumes of investments to enter the country. But we're talking about sovereignty here. We're not just talking about [the] economic provision per se," Kraft said in a recent Rappler Talk interview. 
Philippine President Rodrigo Duterte and Chinese President Xi Jinping recently gave the "go signal" to craft a framework for joint exploration in the West Philippine Sea.
The West Philippine Sea is the part of the South China Sea that belongs to the Philippines, but is claimed by China.
A 2016 Permanent Court of Arbitration (PCA) ruling invalidated China's claims in the West Philippine Sea. Duterte, however, has downplayed the ruling in exchange for economic benefits from China. (READ: Philippines wins case vs China) 
Resources for Filipinos
Kraft also explained that with the resources located in the country's exclusive economic zone, Philippine laws would have to apply to any agreement on joint exploration. 
"If we're talking about resources that are in our territory, our exclusive economic zone, then these are exclusively for the enjoyment of the Filipino people. Or if we happen to have an agreement with anybody, it's still Philippine laws that actually apply to such an agreement," Kraft said.
The West Philippine Sea is believed to hold vast amounts of oil and resources. For instance, the Reed Bank (Recto Bank) could hold up to 5.4 billion barrels of oil and 55.1 trillion cubic feet of natural gas, according to a report by the United States Energy Information Administration.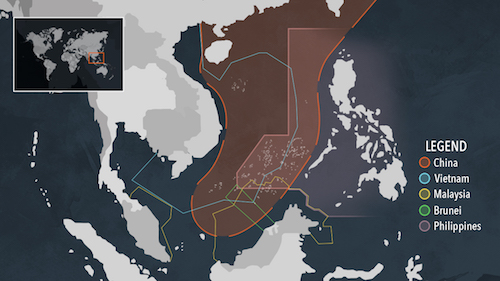 Rule of law
Kraft also said ignoring the 2016 ruling in the crafting of an agreement with China may hurt the Philippines' credibility.
"The fact that the decision is there, then any JDA (joint development agreement) should in fact take into consideration what the award contains, right? In other words, you just can't enter into any agreement that completely ignores the arbitral award because in doing so I think it lessens our credibility," he said. 
In the past, Duterte has said he would bring up the ruling "when the proper time comes." But despite this, Kraft pointed out there has been no mention of the arbitral ruling for over a year now.  
More than a question of timing, Kraft said considering the ruling when crafting a framework for joint exploration shows the Philippines' intention to work on the matter based on the rule of law.

"It's not a question of is it appropriate or the appropriate time now. No, we're talking about a decision that is now part of international law, regardless of whether China was part of that process, and therefore any agreement that we enter into with China should take that into consideration," he said.
Among China's 4 elements on "setting aside dispute and pursuing joint development" is that "sovereignty of the territories concerned belongs to China," according to a report on its Ministry of Foreign Affairs website.
"If we enter into a JDA without the JDA actually taking into consideration the contents of the arbitral award, then we are basically saying the arbitral award is not something we'd like to recognize," said Kraft. – Rappler.com