Feeling lazy? Unmotivated? Rappler compiles 5 quotes from Pope Francis as we return to the office after the holidays.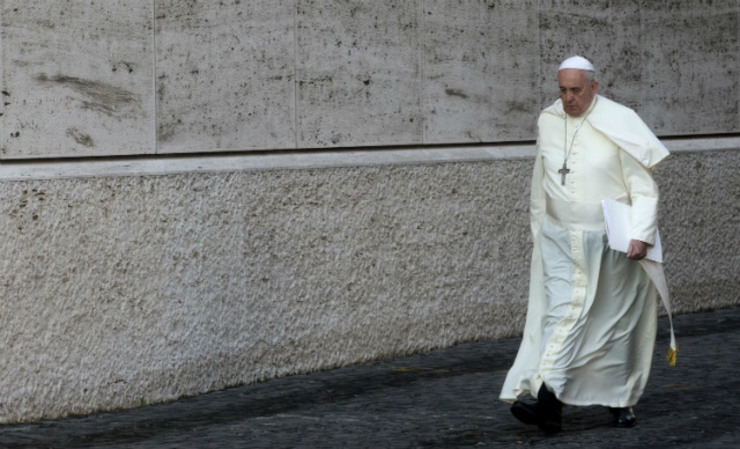 MANILA, Philippines – Filipinos go back to work this week after a long Christmas and New Year break filled with family reunions, parties, food, and sleep – lots of sleep.
Do you feel lazy? Unmotivated?
Well what's the value of work in the first place?
Pope Francis, the first Jesuit pontiff, teaches us about this because he himself became a laborer before he became a priest.
From 7 am to 1 pm every day, Francis worked in a laboratory when he attended a technical school that taught food chemistry decades ago. In fact Francis, known then as Jorge Mario Bergoglio, began to work part-time as early as 13 years old, because his father told him to do so.
Later in life, Bergoglio joined the Society of Jesus, the world's biggest male religious order that stresses the need to "find God in all things." Members of the Society of Jesus, better known as the Jesuits, also consider themselves "contemplatives in action." 
What can we learn from Francis as we go back to work? From his biography, El Jesuita (The Jesuit) by Francesca Ambrogetti and Sergio Rubin, Rappler compiles 5 quotes from Francis as we prepare to return to the office:
1. 'Dignity comes solely from work'
"The thing is, at the end of the day, work anoints a person with dignity. Dignity is not conferred by one's ancestry, family life, or education. Dignity as such comes solely from work. We eat with what we earn, we support our families with what we earn. It doesn't matter if it's a little or a lot. If it's more, all the better. We can own a fortune, but if we don't work, our dignity plummets."
 2. 'Work is a mandate from God'
 "Work opens a door to realism, and in itself constitutes a clear mandate from God: 'Be fertile and multiply; fill the earth and subdue it.' That is to say, be masters of the earth: work."
 3. 'Culture of work, not of charity'
 "What happens is that the unemployed, in their hours of solitude, feel miserable because they are not 'earning their living.' That's why it's very important that governments of all countries, through the relevant ministries and departments, cultivate a culture of work, not of charity."
4. 'Take time to relax'
"Leisure has two meanings: that of idleness, and that of gratification. Together with a culture of work, there must be a culture of leisure as gratification. To put it another way: people who work must take time to relax, to be with their families, to enjoy themselves, read, listen to music, play a sport. But this is being destroyed, in large part, by the elimination of the Sabbath rest day. More and more people work on Sundays as a consequence of the competitiveness imposed by a consumer society. In these cases, we can see the other extreme: work ends up dehumanizing people. When work does not yield to healthy leisure, to restorative rest, then it enslaves you, because then you are not working for dignity, but to compete."
5. 'Play with children'
"One of the questions I always ask young parents during confession is whether or not they spend time playing with their children. Sometimes, they're surprised; they don't expect this kind of question, and they admit they've never asked themselves that. Many go to work before their children wake up and come home after they've gone to sleep. And on weekends, overwhelmed by tiredness, they don't pay attention to them like they should. Healthy leisure means that both mother and father play with their children."
Do you want to read more nuggets of wisdom from the Pope? Check out "Pope in 140," Rappler's interactive platform that allows you to browse, choose, and share your favorite words from the Pope of Quotes. It's all written the Twitter way, in 140 words or less. Check it out by clicking this link.

Friends, have a blessed year at work! – Rappler.com