(UPDATED) Go clarifies on Saturday, September 15, that he invited them two weeks ago, way before Typhoon Ompong, and they proceeded with the trip despite his advice against it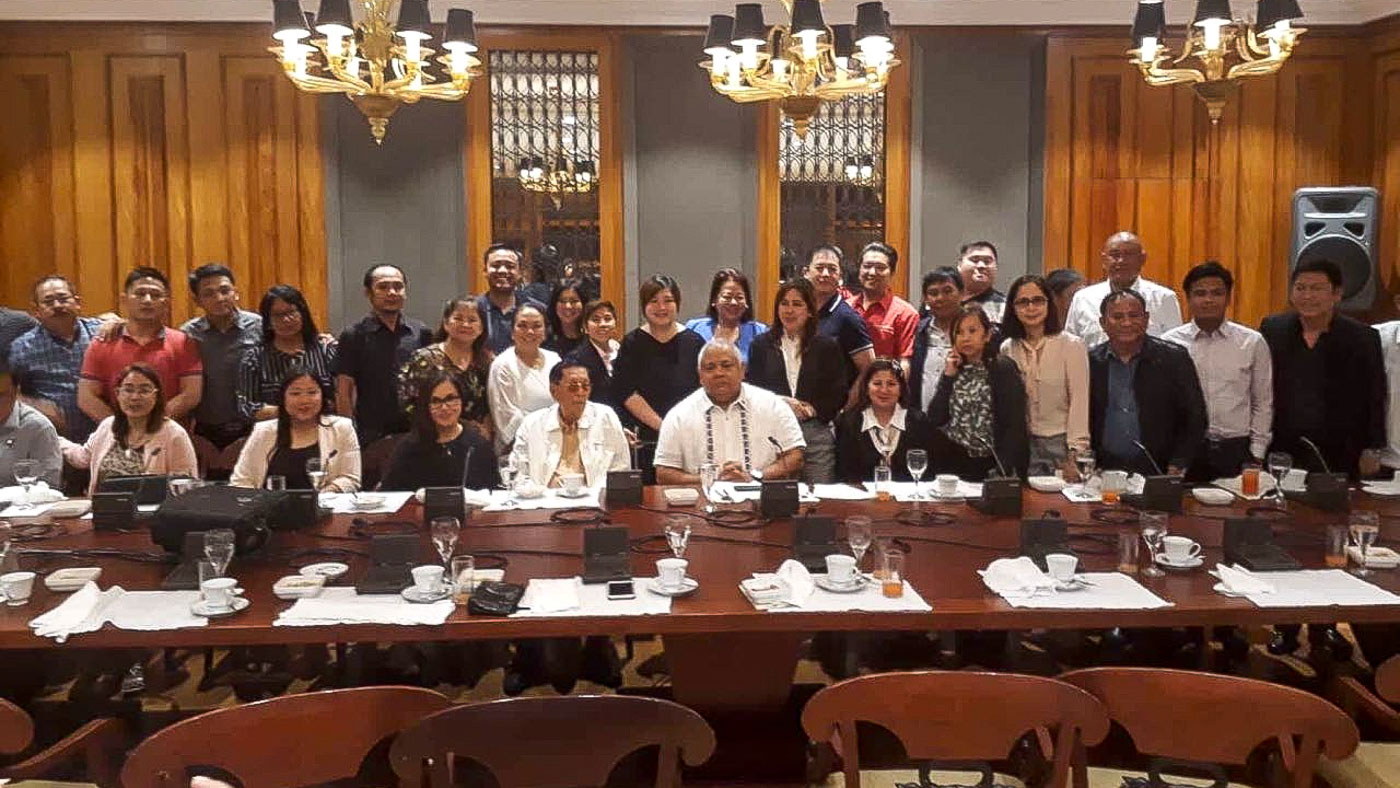 A day before Typhoon Ompong (Mangkhut) was set to make landfall in their province, Cagayan's vice governor, some mayors, vice mayors, and provincial board members were being given a tour of Malacañang.
They were invited there by no less than Special Assistant to the President Bong Go, according to two independent sources on Friday, September 14.
Go later clarified in a statement published Saturday, September 15, that the invite was extended to the local officials two weeks ago yet and that he advised them a few days ago against pushing through.
Photos taken on Friday and shared with Rappler showed them touring and taking selfies in Malacañang's Presidential Museum and Library. Also with them was former Senate president Juan Ponce Enrile, who hails from Cagayan.
The group even met Executive Secretary Salvador Medialdea after a lunch prepared for them. Rappler asked Medialdea about the visit at 11:30 am on Friday but he did not respond.
The following Cagayan officials were identified in the photos:
Vice Governor Boy Vargas
Piat Mayor Carmelo "Black" Villacete
Enrile Mayor Kim Turingan
Lal-lo Mayor Florante Pascual
Solana Vice Mayor Jojo Carag
Iguig Vice Mayor Judith Trinidad
Tuguegarao Councilor Maila Ting-Que
Sta Praxedes Vice Mayor Ester Aguinaldo
Provincial Board Member Vilmer Viloria
Tuguegarao Councilor Jude Bayona
Provincial Board Member Olivia Pascual
Provincial Board Member Perla Tumaliuan
Provincial Board Member Archie Layus
Provincial Board Member Cris Barcena
Provincial Board Member Karen Turingan
Association of Barangay Captains – Cagayan President Paul Vargas

Sanggunian Kabataan Provincial Federation 

President Alniñoson Kevin Timbas
Go himself never got to meet with the officials, however. But he confirmed to Rappler that such a visit was set to take place that day and that Medialdea was scheduled to meet them. He was evasive when asked if the meeting with Cagayan officials was in his schedule.
The officials were told there would be a meet-and-greet with Go but this was canceled at the last minute as he supposedly had to quickly fly to Davao City.
Malicious
On Saturday, in a story published by the state-run Philippine News Agency (PNA) at 11:20 am, Go described Rappler's report as "malicious."
In his statement quoted by PNA, Go clarified that he invited the officials two weeks ago, way before Typhoon Ompong, but they supposedly still pushed through with the visit despite his advice against it.
"Two weeks ago pa 'yan nakipag (they scheduled an) appointment sa'min ni (with us and) ES (Executive Secretary Salvador Medialdea) pero (but) three days ago we advised them not to proceed para attend nila lugar nila (their province)," PNA wrote, quoting Go. "Alam ni Vice Gov. Vargas pero tumuloy pa din sila with ES (Cagayan Vice Gov. Vargas knew this but they still pushed through)," he added, according to PNA.
The Cagayan local chiefs enjoyed their Malacañang trip as their province was placed under Storm Signal No. 4 due to Ompong. Because of the reported strength of the typhoon, President Rodrigo Duterte himself led a command conference on Thursday to make sure government disaster response operations were running smoothly.
This is the second-highest signal in the government's weather warning system and means that 171 km/h up to 220 km/h may be expected in at least 12 hours, according to the Philippine Atmospheric, Geophysical and Astronomical Services Administration (PAGASA).
Ompong is also projected to make landfall in the Cagayan-Isabela area early morning of September 15. For areas under Signal No. 4, their disaster risk reduction councils must be ready to respond to any calamity.
Local government officials are typically the government's frontliners when it comes to preparing and responding to typhoons and other calamities. (CHECKLIST: What mayors should do 48 hours before a typhoon makes landfall)
In fact, on September 12, the Department of Interior and Local Government (DILG) ordered mayors to be present in their respective local government units (LGUs) during the wallop of Typhoon Ompong.  
Go is said to have plans to run for senator in 2019. President Rodrigo Duterte himself announced this on September 7. (READ: Do Bong Go's billboards, donations violate government ethics code?)
The presidential aide has been active in recent months meeting with local government officials all over the country, honoring speaking engagements, and distributing assistance to those affected by calamities. – Rappler.com