1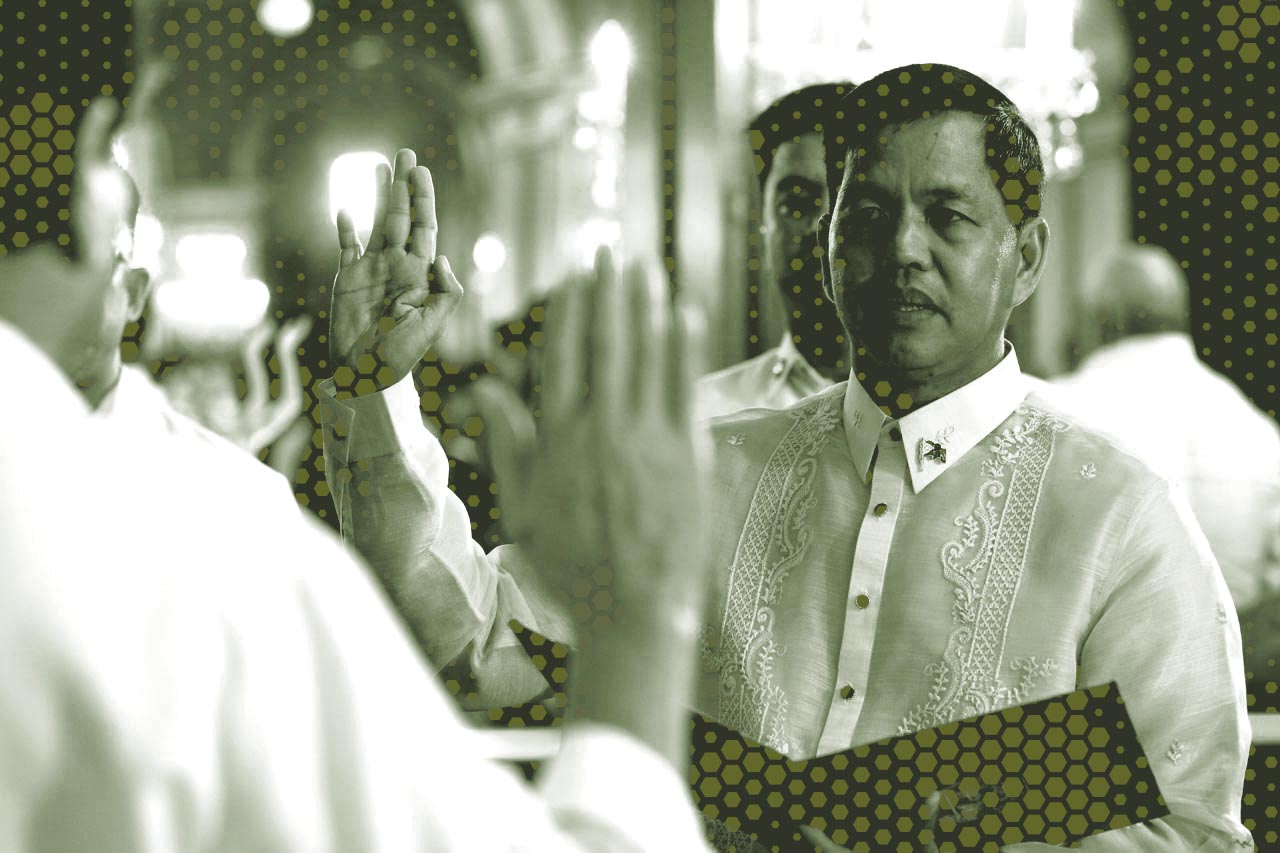 LIST: Duterte's top military, police appointees
desktop
Here are the former military and police generals appointed by President Duterte to key posts in government
---
MANILA, Philippines (UPDATED) – The year 2018 saw President Rodrigo Duterte appointing more and more former military and police men to key government posts.
Ex-military and police generals comprise a third of his Cabinet. Every Armed Forces of the Philippines chief of staff who has served in his presidency is awarded a civilian government position upon retirement. (READ: In 2018, Duterte turns to military for (almost) everything)
Rappler comes up with a visualized list of his military, police appointees. Twenty of those with the highest posts – Cabinet members and heads of agencies – are pictured below with information about their previous positions and their ties with Duterte or his allies.
Other appointees are listed below the visual list of 20.
21. Executive Director on Security, Justice, and Peace Cluster - Emmanuel Bautista
22. Philippine National Railways (PNR) chairman - Roberto Lastimoso
23. PNR director - Michael Mellijor Tulen
24. Light Rail Transit Authority administrator - Reynaldo Berroya
25. Environment undersecretary - Rodolfo C. Garcia
26. Defense undersecretary for civil, veterans, and retiree affairs - Reynaldo Mapagu
27. Bureau of Fisheries and Aquatic Resources national director - Eduardo Gongona
28. Director of the Office of Transportation Security - Gerardo Gambala
29. Philippine National Oil Company (PNOC) president and CEO - Reuben Lista
30. PNOC-Exploration Corporation director - Oscar Rabena
31. PNOC director - Benjamin Magalong
32. PNOC director - Adolf Borje
33. Development Bank of the Philippines director - Miguel dela Cruz Abaya
34. Clark Development Corporation (CDC) director - Francisco Villaroman
35. CDC board of directors vice chairman - Benjamin Defensor
36. Bases Conversion and Development Authority (BCDA) director - Ferdinand Golez
37. BCDA director - Romeo Poquiz
38. Philippine Veterans Affair Office administrator - Ernesto Carolina
39. Philippine Sugar Corp director - Raul Urgello
40. National Defense College of the Philippines president - Roberto Estioko
41. Civil Aviation Authority of the Philippines director-general - Jim Sydiongco
42. JHMC director - Eduardo Davalan
43. NIA deputy administrator - Abraham Bagasin
44. Rene Glen Paje - Social welfare undersecretary
45. Allen Capuyan - National Commission on Indigenous Peoples chairman
46. Ricardo Morales - Metropolitan Waterworks and Sewerage System Board of Trustees member
– Rappler.com
Header image of former Army chief Rolando Bautista taking his oath as Social Welfare Secretary from Malacañang's Presidential Photographers Division