Their friendship and shared interests have clearly followed them from Davao City to Malacañang
One just has to look at Chinese businessman Michael Yang to see what one can get from a close relationship with President Rodrigo Duterte.
Yang's lasting influence and power is clear: Duterte appointed him presidential economic adviser in 2018 despite being a foreigner; his businesses expanded during Duterte's presidency; and a young company that he sponsored and funded bagged multi-billion-peso pandemic contracts. All these while the President dismisses intelligence reports of his alleged involvement in the illegal drug trade.
Duterte and Yang reportedly first met in 1999, and their friendship and shared interests have clearly followed them from Davao City to Malacañang.
1999 – Duterte meets Yang in Davao City
Michael Yang is introduced to Davao City Mayor Rodrigo Duterte by a certain Randy Usman, a Maranao tribe deputy mayor.
In a speech on March 27, 2019, Duterte recalled Yang asking permission to start a business in the city.
"Ipinakilala sa akin na gusto magpasok dito, pabili sa mga cellphone, consign lang maski 10 pesos a day…. Nagbaha ng cellphone na mura dito," he said in Koronadal City. "Nagtayo siya ng DCLA mura at may trabaho ang mga tao."
(He was introduced to me, saying he wanted to come in here to sell mobile phones, on consignment, even for just P10 a day. Then the city was flooded with cheap phones. He built DCLA mall, [with] cheap [goods] and provided jobs.)
November 2015 – Duterte visits Yang in his company headquarters in China
Mayor Duterte visits Yang's company headquarters in Xiamen, China, around the time Duterte declares his presidential bid.
Photos of Duterte's visit were posted in several Chinese online pages. The photos show the future president being toured by Yang, and another one with them in the building's lobby, together with company president Zheng Bingqiang.
October 2016 – Duterte dines with Yang and other Chinese businessmen in China
Yang is one of the people Duterte has lunch with during his state visit to China, joining members of the Friends of the Philippines Foundation and then-Chinese Ambassador to the Philippines Zhao Jianhua.
Photos and videos show Yang beside Duterte at some points, as they walk along a busy street to a Peking duck restaurant in Beijing, China. Inside the restaurant, Yang sits one person away from the President. (IN PHOTOS: Duterte walks through Beijing street to resto)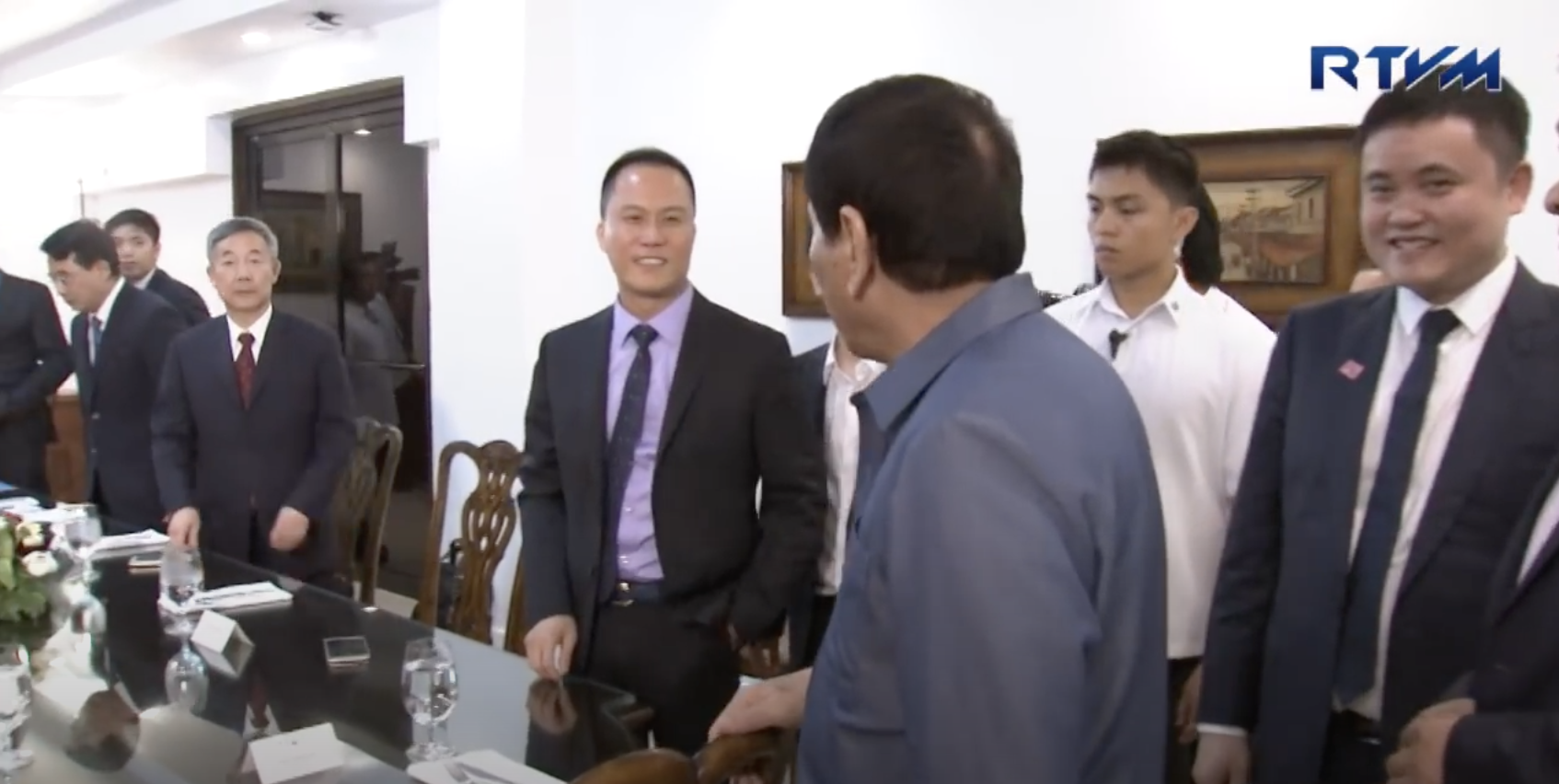 March 2017 – Duterte and Yang meet with Pharmally International
Duterte holds a meeting with Yang in Davao City. Yang appears to introduce executives of Pharmally International Holdings to the President.
Huang Wen Lie, the chairperson of Pharmally International Holdings present in that meeting, is the father of Pharmally Pharmaceutical Corporation co-owner Huang Tzu Yen. In 2020, the younger Huang's company bagged the biggest amount of pandemic supply contracts from the Duterte government, amounting to at least P8.68 billion that year. It has since bagged at least P2.3 billion worth of new contracts in 2021.
January 2018 – Yang starts his stint as presidential economic adviser
Yang enters into a contract to be Duterte's economic adviser, despite being a foreigner. He holds this position throughout 2018.
Duterte denied that he tapped his Chinese businessman friend, but Rappler obtained copies of the contracts which showed that Yang indeed held the position.
Yang's calling card even shows the presidential seal, while he also maintained a Makati office for this position, according to a Rappler report in 2018.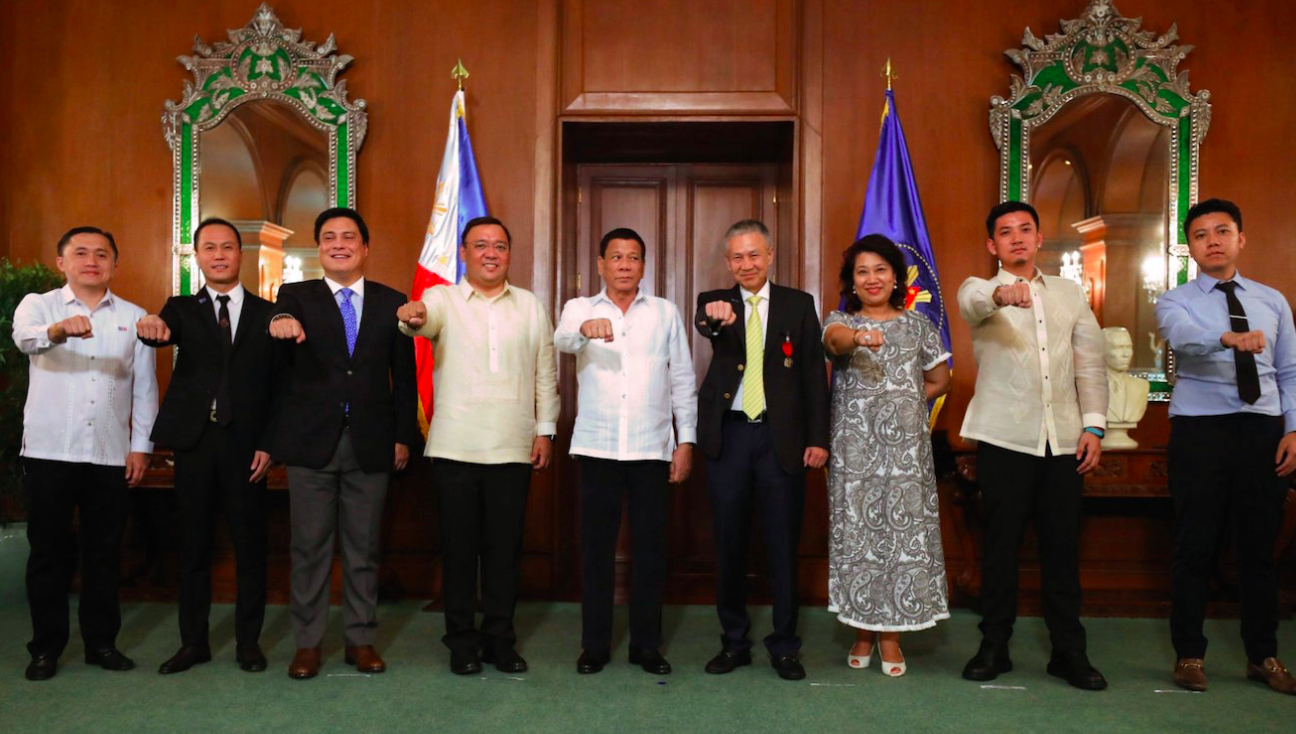 May 28, 2018 – Yang attends a Malacañang ceremony
Yang attends a ceremony in Malacañang, where President Duterte awards Chinese businessman Jose Kho the Order of Lapu-Lapu, a merit award created by Duterte in 2017 and given to individuals who render extraordinary service or contribution to the President's causes.
Photos from the ceremony show Yang in between then-special assistant to the president and now-Senator Christopher Bong Go and Senator Juan Miguel Zubiri.
Real estate tycoon Kho is the man behind the Soledad College, named after Duterte's mother, in China's Fujian Normal University. His Friends of the Philippines Foundation also donated a P500-million drug rehabilitation facility in Bukidnon that was inaugurated in August 2018.
October 4, 2018 – Duterte clears Yang of illegal drugs links
In a speech, Duterte dismisses allegations of Yang's involvement in the illegal drug trade. He says the accusation is "nonsense," and that the businessman's connection to the Chinese government was enough reason for him not to get involved with drugs.
"Hindi 'yan totoo, matagal na 'yan sa Davao," Duterte said at the time. (That is not true, he's been in Davao for a long time.)
The President was reacting to an intelligence report by veteran anti-drug operative Eduardo Acierto. Months after, in 2019, Acierto publicly claimed that Duterte and other law enforcement agencies ignored his findings. (READ: Duterte to police, military: Why is Acierto still alive?)
November 20, 2018 – Yang joins state banquet for Chinese President Xi Jinping
Yang is one of the guests at the state banquet held for Chinese President Xi Jinping in Malacañang. Other attendees include Filipino-Chinese businessmen and Chinese nationals, such as Kho and Dennis Uy, among others.
August 2019 – Yang hosts lunch for Duterte in China
Yang hosts a private lunch for Duterte, select members of his Cabinet, and other officials during a visit to China.
According to a Rappler report, this engagement did not appear in the President's official list of activities in China.
April 14, 2020 – Pharmally Pharma gets first pandemic contract
Pharmally Pharmaceutical Corporation obtains its first pandemic-related supply contract from the government for 2.4 million pieces of surgical masks, amounting to P54 million, or P22.50 per mask.
The company would later obtain the multi-billion contracts from the Duterte administration – amounting to almost P9 billion – despite being "least qualified" among all pandemic suppliers. It was also favored over local manufacturers.
Rappler later discovered in August 2021 that Yang is connected to Pharmally Pharma. Two close associates of Singaporean Huang Tzu Yen, owner of Pharmally Pharma, also works with Yang in other businesses. (READ: Biggest pandemic supplier has links to ex-Duterte adviser Michael Yang)
Tzu Yen's father is also the chairperson of Pharmally International Holdings, the company Duterte and Yang had a meeting with in 2017.
In a September 10 Senate hearing, a Pharmally director admitted that Yang acted as financier and guarantor for Pharmally Pharmaceutical Corporation.
August to September 2021 – Duterte defends Yang again and again
Duterte is quick to come to Yang's defense amid criticism of his involvement in the multi-billion pandemic contracts. (READ: #DuterteDefends: What Duterte has said about Michael Yang, Lao on anomalous contracts)
On August 30, Duterte says Yang is a "paymaster" or "financial sponsor" of Chinese businessmen who want to start businesses in the country.
On September 8, the President again defends Yang, describing him as a "middleman" who lays the groundwork for China deals. He insists that Yang has no criminal record.
Malacañang, meanwhile, denies that Yang is the reason behind the contracts given to Pharmally. – with reports from Pia Ranada/Rappler.com