The UFL Elite Eight is on this weekend, and one match stands out as a tasty derby contest: Kaya versus Loyola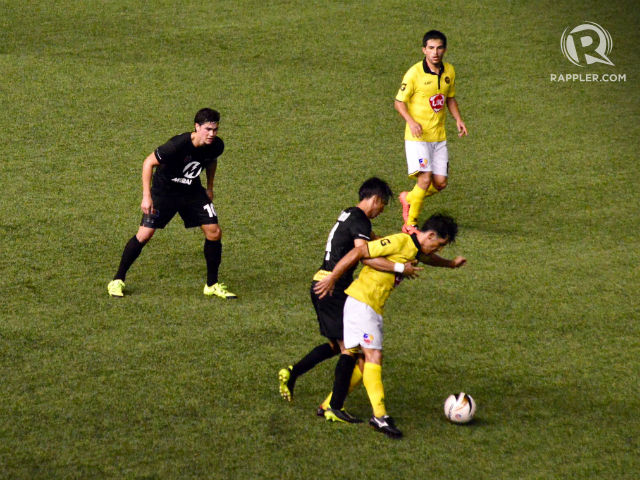 UFL Cup Quarterfinals
Rizal Memorial Football Stadium
Saturday, April 2
5:15 pm : Stallion vs Green Archers United Globe
8:15 pm : Loyola Meralco Sparks vs Kaya FC
Sunday, April 3
5:15 pm : Global vs JP Voltes
8:15 pm : Ceres-La Salle vs Forza
This weekend will see the return of the UFL Cup after a long break due to international matches for both club and country. (Apart from the two Azkals matches, Kaya and Ceres also represented the country in the AFC Cup over the last few weeks.)
The group stage is done, now on to the knockout stage. Well, the sort of knockout stage. In a new wrinkle, the quarterfinals losers will still play in another competition afterwards – the UFL Plate.
Ceres will be favored in their quarterfinal against Forza. Ceres could have some trouble in the early going, but it's likely that the Busmen will prevail.
Global versus JP Voltes could be competitive, especially if Masaaki Yanagawa, the ex-Global centerback of JPV, can head another goal in.
Another tantalizing contest is the clash between Stallion, who won all 5 assignments in the group, and the Green Archers, who were in the "Group of Death" with Loyola, Global, and Ceres and finished fourth. GAU played Ceres and Global very tough and could trouble Stallion, who are led by their sensational Ghanaian striker, Jordan Mintah.
This game is notable due to the presence of many homegrown stars, like Balot Doctora and Fitch Arboleda of Stallion, and Jimuel Ariola and Chieffy Caligdong of the Archers.
But by far the most eagerly anticipated match is Loyola – Kaya. It would be a proper derby.
In the British sense, the word, pronounced "darby," means a rivalry between two teams that share a geographic link. There is the Manchester Derby (Man Utd vs Man City,) the Merseyside Derby along the Mersey River (Everton and Liverpool), the North London Derby (Tottenham and Arsenal), and the South Coast Derby (Southampton and Portsmouth.)
There are other derbies all over the UK and the world. One of the most heated is the Old Firm derby between the Rangers and Celtic in Scotland, which is traditionally split on religious lines. Catholics support Celtic and Protestants favor the Rangers. Once, the Rangers hired a Catholic player and some Rangers fans angrily returned their season tickets.
The Uruguayan Clasico between Nacional and Penarol is also a big one. This game is split on class lines, with one team representing the masses and another the working class. There is a similar story in Egypt, where Al Ahly and Zamalek contest the Cairo Derby, which has a history stained with violence and bloodshed.
North America's most heated rivalry is the one between Pacific Northwest teams Portland Timbers and Seattle Sounders. Their enmity predates the Major League Soccer competition where they both play, and fans of both sides can get vitriolic in their disdain for another as Sports Illustrated's Grant Wahl reports in this great piece. 

Sample song by Seattle fans:
Port-scum, Port-scum,
Seedy little city on a river of piss,
We'll drink your beer and shag your sis!
The world's most famous derby is probably the El Clasico contested between Real Madrid and Barcelona.
For the Philippines, the biggest derby is the one that exists between the Loyola Meralco Sparks and Kaya FC. Like any big rivalry, there is a history of memorable games.
The one that stands out for me is the UFL Cup quarterfinal (or was it semifinal?), way back in 2011 when Kaya took a 3-0 lead at the half. Then Kaya coach Juan Cutillas, thinking that goalkeeper Saba Sadeghi was hurt, replaced him with the youthful Chris Camcam. That sparked a torrent of 5 second-half Sparks goals, one of which was won from a penalty off a blatant James Younghusband simulation. A late Nate Burkey consolation made it 5-4 at the final whistle to Loyola.
In 2014, the teams met in the League Cup quarterfinals with Loyola winning 2-1 with a Phil Younghusband strike. It was a nasty, testy encounter which saw Loyola's Simon Greatwich get sent off. I recall one Kaya player telling me he thought one of the members of the other camp was a "lowlife."
Then Loyola dealt Kaya a blow in the Smart–PFF national championship in 2015. A 2-2 group draw eliminated Kaya from quarterfinal contention.
Comeuppance would come in the UFL League in June when Loyola, thanks to two blunders by Anton Del Rosario and goalie Tommy Trigo, wasted a 2-1 lead to lose 3-2.
But it's not just history that fuels the fire. It's also a real enmity. Let's just say that certain members of both clubs are not exactly scouring the back shelves of National Book Store in search of the best Christmas card to send to certain members of the other team come December.
"Individually, they are great," said Kaya's Kenshiro Daniels of the Loyola players. "But as a team… I just don't like them."
"For me, it's the biggest rivalry," added the striker.
One of the great drivers of a derby is when one player switches sides. Eddie Mallari, a longtime Kaya fullback, transferred to Loyola in 2014.
"I left Kaya because football in this country is becoming more and more professional and I felt like it was the right move for my future career," said the Filipino-American.
"I wouldn't say it's animosity," he continued. "More just competition and rivalry. Of course we all want to win on the pitch but off the pitch everyone is cool."
That might not be the case with Loyola's manager, Armand Del Rosario. He was a longtime Kaya stalwart who shifted to the Sparks first as a player then as a manager. His brother Anton also made the switch.
Armand and current Kaya coach Chris Greatwich, Simon's elder brother, are not friends, and Del Rosario said they once clashed in a derby game a few years back when Greatwich was still playing.
"Chris was talking a lot of smack so I head-butted him and he fell like a girl."
I asked if I could indeed write that for this story.
"Sure, go for it."
Del Rosario was quick to balance that anecdote with a more respectful appreciation of the Kaya coach.
"As a coach you can't deny his ability. He has done a great job over there this year. You see a very well-coached and organized team."
(I did not receive a response when I messaged Chris to comment on the rivalry.)
Armand has fond memories of derby matches from both sides.
"Each and every game was intense. Cards were given like crazy and tackles flew around recklessly. I had my fair share of cards. But my favorite moment will be my last game versus Kaya. While I was on the field we were leading and I get subbed off. Immediately, Kaya ties the game. In the last minute of the game Joaco Canas goes forward and scores the winning goal. I went out a winner and versus my old beloved club nonetheless."
Of course fans stoke the flames as well.
"Honestly, this Manila El Clasico is the spice of the UFL scene," said Loyola superfan Carson Gutierrez, who helps organize the Sparks Squad supporters group.
"We hope Kaya FC gets more wins in the AFC cup but it doesn't mean they can always have their way against the Sparks."
Kaya's group of supporters is known as the Sons of Mighty Kaya or SOMK. Their official statement on this derby is a thing of beauty. Several ladles will be needed to catch the sarcasm that drips from it. They reserve their choicest work for the Sparks Squad and Loyola coach Simon McMenemy.
"They (Loyola) are one of the best clubs in the Philippines, with a very rich and colorful history and glory. They have the best player in Philippine football history in the person of Simon Greatwich.
From Oranje (sic) Army(?), Sparks Squad, Sparks Army, to Ultras Loyola, obviously with so many name changes they are the most organized group of supporters with the help of course of the San Beda Red Lions Pep squad whatever they are called… they are the most intimidating and passionate supporters in the country right now.
Just like Kaya FC we don't take our rivals lightly. If we may add, with McEnemy (sic) in the sidelines which many consider as the Messiah for bringing the Azkals to the Renaissance Age, he's the best coach ever next to Michael Weiss and Tom (sic) Dooley."
Incidentally SOMK, also known as the Ultras Kaya, have a song for Chris Greatwich, to the tune of "Achy Breaky Heart." It of course mentions the younger Greatwich who plays for Loyola.
We've got Greatwich 
Christopher Greatwich 
I just don't think you understand 
He's Super Santi's man
He's better than Simon
We've got Christopher Greatwich
So there is no shortage of color with this fixture. But on a more serious note, derbies are vital to the growth of football.
"My view on the rivalry is that it's good. I think helps us with motivation," said Charlie Beaton, an ex-Spark now with Kaya.
"It's never hard to get ready for a game against your rival team, being in my case against my old club, so I'm very excited for the game."
"Rivalries are 100% good for the sport," Del Rosario also said. "They get players excited to play, get players playing at the best of their ability."
Del Rosario is definitely pumped for Saturday's game.
"Kaya are playing where we want to be, in the AFC Cup. For us to get there we need to go through them. We have a good coach and hungry players. I like our chances for this game. It won't be easy but I guarantee you we will work hard till the very end. It will be a fun, fiery game to watch, that's for sure!" – Rappler.com
* * *
There will be no TV coverage of this weekend's matches, so fans are encouraged to watch the game live and in person. Highlights will be posted on the league's YouTube channel.
Follow Bob on Twitter @PassionateFanPH.