The country's new top-tier league is underway. Here are the reasons why we should all be excited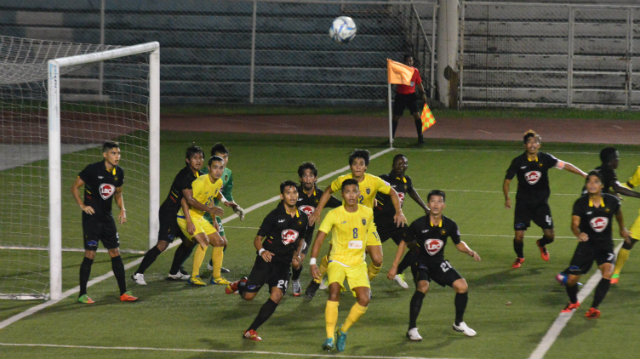 Three weekends of action have gone by since the inaugural Philippines Football League kicked off. There have been teething pains, no doubt. Not all the matches have been televised, there have been changes in schedules, and 3 of the 8 teams have stadium issues.
But the football has been terrific. Here are some of my thoughts as we enter a fourth week. 
There is more parity among teams than ever before. In the previous top level competition, the UFL, blowouts were depressingly common. That was understandable since fully professional outfits like Global, Ceres, and Kaya regularly faced low-budget semi-professional clubs who could not possibly match them in terms of fitness or technical skill. 
But not with the PFL, where all 8 clubs needed to pass stringent Asian Football Confederation club licensing standards. Thus plenty of financial backing was a prerequisite for joining. Even the two new clubs, Ilocos United and Davao Aguilas, are well-funded. There are no cream puffs in this league, either on or off the pitch. 
In the first weekend Stallion Laguna fell to Meralco Manila 5-1. That has been the biggest rout of the league. The next most decisive victories were the 2-0 home win of Kaya over Davao last Sunday and Kaya's 3-1 loss to Global on Wednesday night. Every single other match has been either a draw or a 1-goal win. 
Stallion team played Global last Sunday and walked off the Biñan Football Field pitch with a point after Matt Nierras salvaged a 1-1 draw deep into second half stoppage time. Yes, a team in the AFC Cup playoffs was unable to beat the PFL club that at the time was holding up the table.
Ceres Negros and Global Cebu are considered to be the strongest teams on paper. But the Negrenses were held to a 1-1 standoff in Makati on Matchday One and Global has not looked like a dominant force in their three matches, two wins and a draw. 
No one wants the Philippines to be like Scotland, where Celtic is a cut above the rest year-in, year-out, or like Germany, where Bayern Munich are once again Bundesliga champs. A level playing field guarantees close, entertaining, unpredictable games that fans can appreciate. Thankfully, that's what we have here. 
The local players are shining. Most of our national team has been born and raised abroad. That might fuel the assumption that this is a game that Philippine-born players cannot excel in. But a bunch of outstanding homegrown players in the PFL are disabusing that notion in a major way. 
Last Sunday when Global traveled to Biñan to face Stallion, the home side started 7 homegrown players and brought on two more as subs, Jhan Jhan Melliza and Nicolas Ferrer. And mighty Global could not get a win.  
Global saw second-year pro Darwin Regala stationed at right back and understandably picked on him for much of the second half. But the Masbateño out of National University didn't blink, and performed admirably against Global's quality lefty winger, Filipino-Japanese Hikaru Minegishi. 
Two other homegrown Filipinos scored great goals in week two. Jake Morallo of Bacong, Negros Oriental headed in the game winner when Manila beat Ilocos, and San Carlos City native Boyet Cañedo produced one of the most technically amazing goals of the season when his JPV side beat Davao. Cañedo curled in a free kick into the top corner at 1:12 of this clip. It was utterly world-class. The Morallo goal comes earlier.
There are other Filipino-bred players of quality in this league. Kaya's Zach Banzon, a goalie who has been with the youth teams of the club for a while, is doing well despite never playing in the UAAP or NCAA at senior level. On Wednesday Eric Giganto, a prolific striker in the UAAP with FEU, came in for an injured Woody Ugarte halfway through the first half and put in a very decent shift. Giganto, who hails from Compostela Valley in Mindanao, has plenty of pace and is a lethal finisher when given a chance. 
Davao has Alexis Cabistante, a midfielder who grew up in Tagum, where the Aguilas play their home games. JPV Marikina has goalie Nelson Gasic, who, for me, has played himself into contention for an Azkals call-up. The Baguio product stoned Alvin Sarmiento and Jim Ashley Flores in their loss to Meralco last Saturday. Plus you must mention Global's iron man, Jerry Barbaso, a Dipolognon who became Global's right back sometime around 2010 and has been immovable in the start sheet ever since. 
Of course we all love the overseas-born Filipino footballers. But the players from here can inspire young Filipino players in a special way. Players like Morallo, Nierras, Cañedo, and homegrown Azkals like Amani Aguinaldo, Daniel Gadia, Pat Deyto and Fitch Arboleda are living proof to the idea that a Pinoy kid with some talent, hard work, dedication, and a great attitude can make it to the top. You don't necessarily need to come from abroad. 
Seeing these players perform well can only motivate young players to aspire to play in this competition one day. Their success can also stimulate interest and excitement in the league all over the country.
Watch out for the big derbies. Right now FC Meralco Manila is atop the league with 3 wins from 3 games. But many will rightly believe that Global Cebu and Ceres Negros are still the teams to beat. 
Save the date for June 3. Panaad Stadium should be rocking when the busmen entertain the defending champions in a televised match at 4 pm. Ceres vs Global has the makings of a great rivalry, or in English football parlance, a "derby." 
This fixture is an important one for the PFL. The bulk of the Azkals come from these two sides, ensuring a high-quality match every time they cross swords. But there is more to this game than that. 
We already know that Ceres has a pretty strong following in Bacolod thanks in large part to the team's comprehensive promotional efforts. Global is playing its home matches in Rizal Memorial temporarily, but will eventually decamp to the Queen City, probably the University of San Carlos Stadium, once it is ready. 
Cebu is a city with a large middle class and a pretty well-developed football ecosystem. Those two factors equal a decent pool of folks who can fork out money for a match ticket. Global games in Cebu are likely to be well-attended, just like previous Azkals matches held there.
Plus Bacolod and Cebu are near each other geographically, and have had a historic rivalry in other areas, including sports. Remember the Cebu Gems and Negros Slashers in the old Metropolitan Basketball Association? A game between the two teams in the Southern Conference semis in 1999 was once halted because of fan misconduct. If we can get that kind of vibe, (sans the violence), this could be a proper regional derby played in front of large and enthusiastic crowds every time. 
While those two tussle for dominance in the Visayas, FC Meralco Manila and Kaya Makati can battle for bragging rights in the capital on June 17. This is a rivalry between two teams that already have a history of not particularly caring for one another.
Each league needs two or maybe three major rivalries, and we have two natural ones right now. I hope the matches get the attention and pre-match hype they deserve. 
The PFL is certainly still a work in progress. Many wrinkles still need to be ironed out, especially on the marketing and promotional side. But the league is in full swing and it's definitely something all Pinoy football fans should support. 
PFL Schedule this weekend
Saturday, May 27 
4 pm
JPV Marikina vs Kaya Makati
LIVE on PTV 4
Venue TBD
7 pm
Stallion Laguna vs Ilocos United
Venue TBD
– Rappler.com
Disclosure: Bob Guerrero is the media officer for FC Meralco Manila.