Alvin Pasaol turned what was supposed to be a throwaway match into the game of his life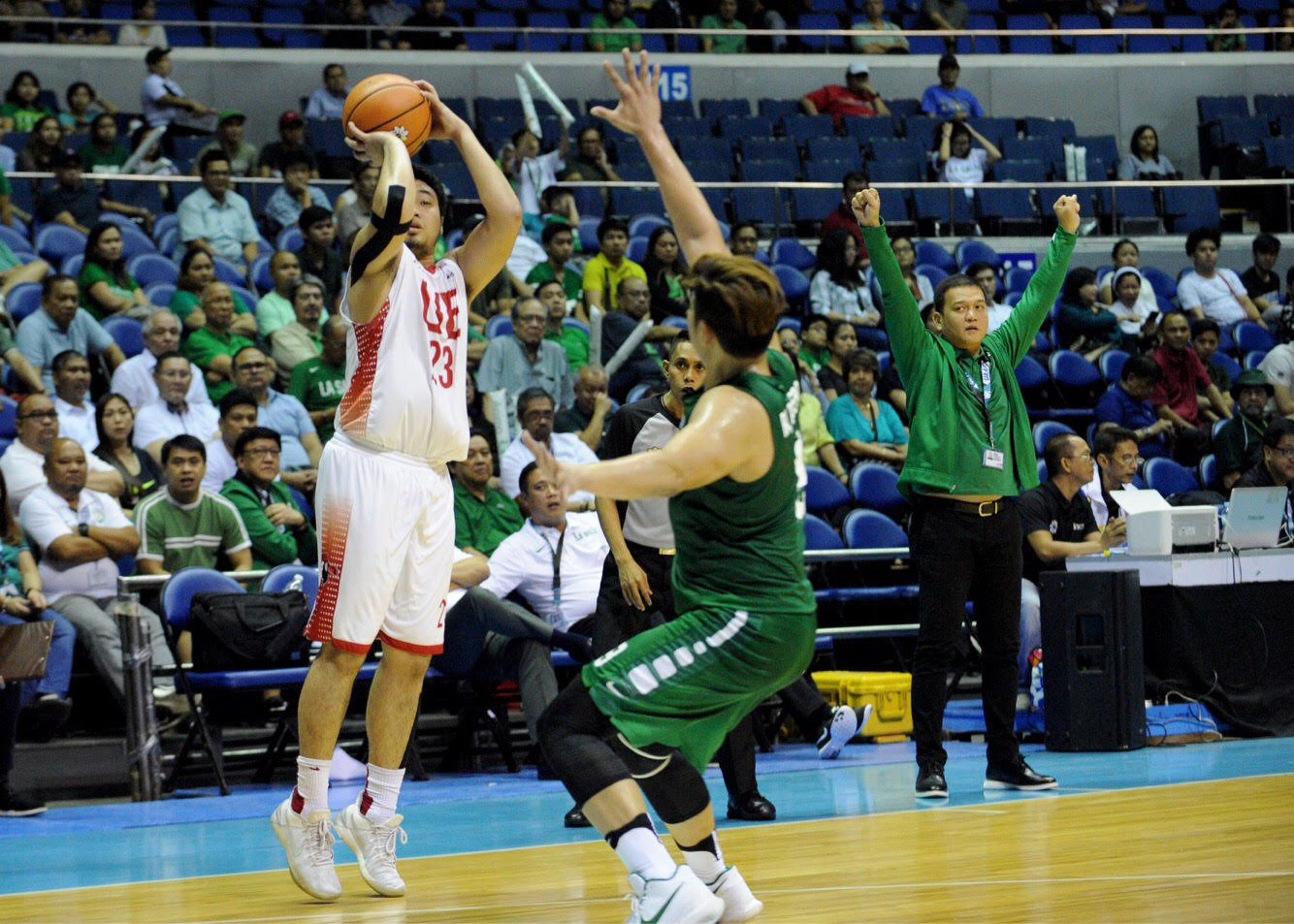 MANILA, Philippines – It was supposed to be a throwaway match.
On paper, a matchup between the defending champion DLSU Green Archers and the winless UE Red Warriors is a no-brainer. After all, DLSU had just previously walloped the also-winless UST Growling Tigers by 29.
There was no buzz in the air. It's a Wednesday, which meant that seats would be almost completely empty for a mandatory display of basketball humiliation. There was no rivalry between the two teams headed in opposite directions in the standings. Save for a few Ben Mbala highlights, there was simply nothing to get excited for in this game.
From tipoff, it seemed that the status quo would be upheld. UE fought back offensively, sure, but they were just playing into La Salle's fast-paced style of play. Against a team allowing an opponent average of 91.2 points, a high-scoring game is all part of the plan.
By halftime, the Archers' lead had risen to 12, 54-42. UE's halftime pep squad performance was a sad sight, as only their own pep squad co-members were applauding their crisp stunts from the stands. La Salle didn't even bother to bring their own cheerdancers. Obviously, they have to save a routine for Sunday against Ateneo.
No one probably even noticed, or cared enough, that UE captain Alvin Pasaol already had a career-high of 24 points, with 17 coming in the second quarter alone.
WATCH: Every basket from UE Red Warrior Alvin Pasaol's 49-point performance! #UAAPSeason80 pic.twitter.com/ex1APbmqre

— ABS-CBN Sports (@abscbnsports) October 4, 2017
The third quarter came and went – 80-63 for the Archers. On any other night, another 10-minute quarter is a mere prolonging of the agony for everyone involved.
But this wasn't any other night, this was Alvin Pasaol's night, and he wasn't ready to throw it the towel just yet. With 4 minutes left before the proverbial death sentence, La Salle led 100-75. What happened next probably could not even be replicated in a video game.
Pasaol tacked on a few more points. He already had 33 after the third, but he wasn't done. Soon, the tally climbed – 35, 37, 39. The few brave souls who were left started to realize what was happening. More importantly, the Warriors started to realize they were only down by a manageable margin. Even they started to click. All of a sudden, the Archers were in a fight to the finish. Pasaol, heaving and tired, still sank bucket after bucket. The whistling and cheering had grown into a crescendo.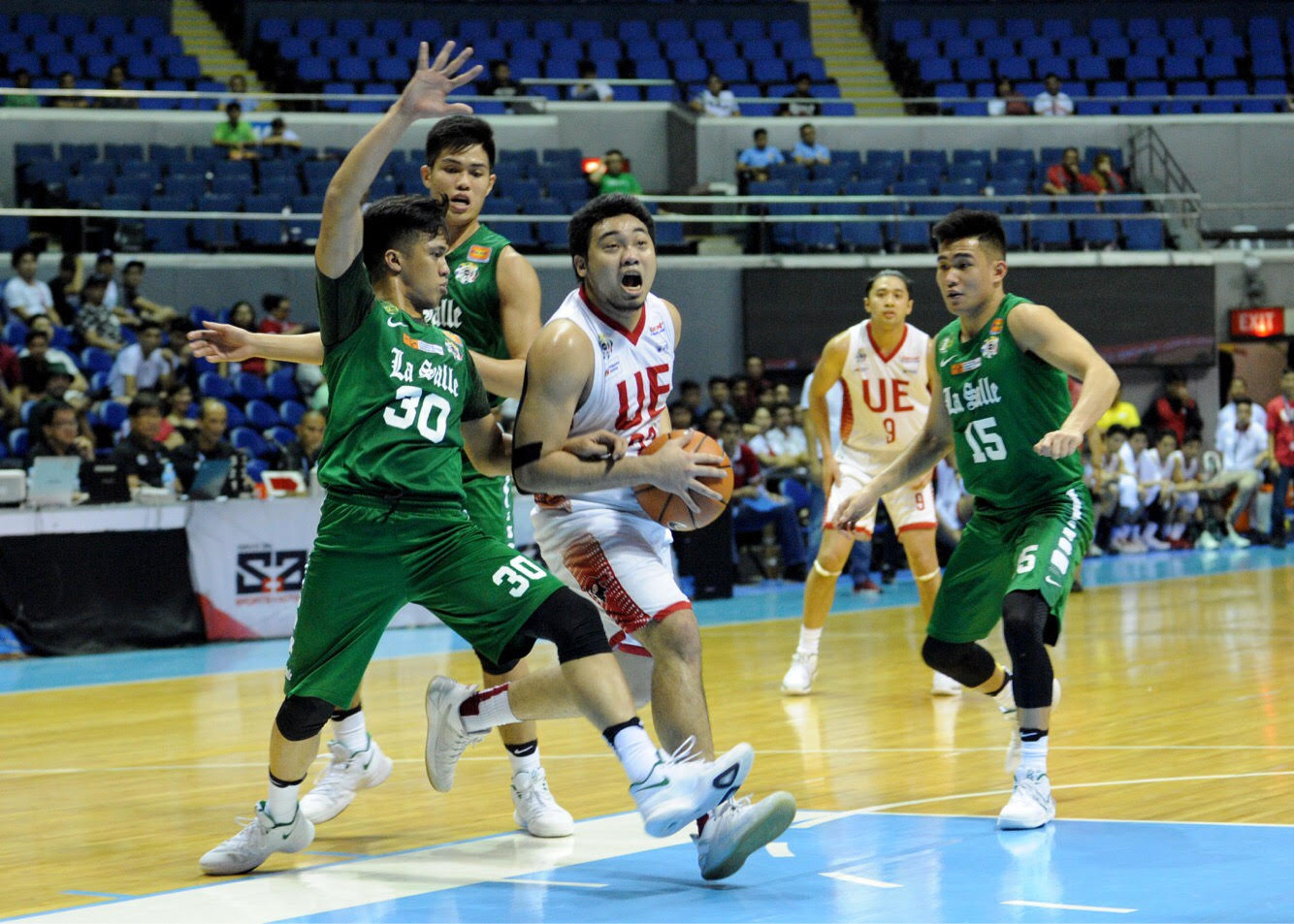 And then it was over. La Salle absorbed an inspired 25-6 run by the Warriors and escaped, 106-100. In 32 minutes of action, Pasaol was one point shy of 50. He had just recorded the first 40-point game in the UAAP since 2002, 15 long years after the 43-point outburst by former NU Bulldog and current Letran head coach Jeff Napa.
Two quarters ago, it was Mbala overshadowing Pasaol's career game. Now, it was Mbala's career-best 39-point performance that was pushed out of the spotlight. Pasaol and UE head coach Derrick Pumaren were even invited into the press room for a special conference – an act unheard of for losing teams.
In his finest hour as a player, Pasaol remained humble, even with Mbala and Pumaren already singing his praises for him.
"Siguro mas maganda yung execution namin ngayon," he said. "Tsaka, sa mga teammates ko rin, di ko naman makukuha yung 49 points ko kung wala 'tong mga teammates ko." ("Maybe we had better execution today. Also, to my teammates, I wouldn't have gotten my 49 points without them.")
"Wala rin akong masabi," he added between laughs. "Siguro nilaro ko lang talaga yung best ko na hinihiling ni Manong sa'kin." ("I really couldn't say anything else. Maybe I just played the best Manong [Coach Pumaren] is asking of me.")
When asked what he felt after missing the free-throw that would have clinched 50 for him, he just said while laughing, "Wala na po, pagod na rin ako eh. Na-injure pa ako nung first quarter." ("Nothing, I was already tired. I even got injured in the first quarter.")
Soft "wow"s could be heard from the media. Here it was revealed that Pasaol had basically scored 49 against top defenders of the reigning champions with an ankle injury. Coach Pumaren said that Pasaol wanted to keep going, so he let him.
"He's a player you will underestimate," said the longest-tenured coach in the league today. Then he started to joke, "Parang medyo malusog – ayoko sabihing chubby, malusog lang. Medyo maraming relaxed muscles, pero kaya niya. ("He's a bit healthy – I don't want to say chubby, just healthy. He has quite a few relaxed muscles, but he can really play.")
After the special conference, a limping Pasaol still had the time to take selfies with a few fans who stayed. He has sometimes been heckled at by opposing fans for shooting too much, but tonight, there was only respect and admiration around him, and deservedly so.
After 6 losses, UE still has yet to notch a win, but Alvin Pasaol went home already a winner. – Rappler.com