(UPDATED) Houston will take on the winner of the Utah-Oklahoma City series, where the Thunder close in at 3-2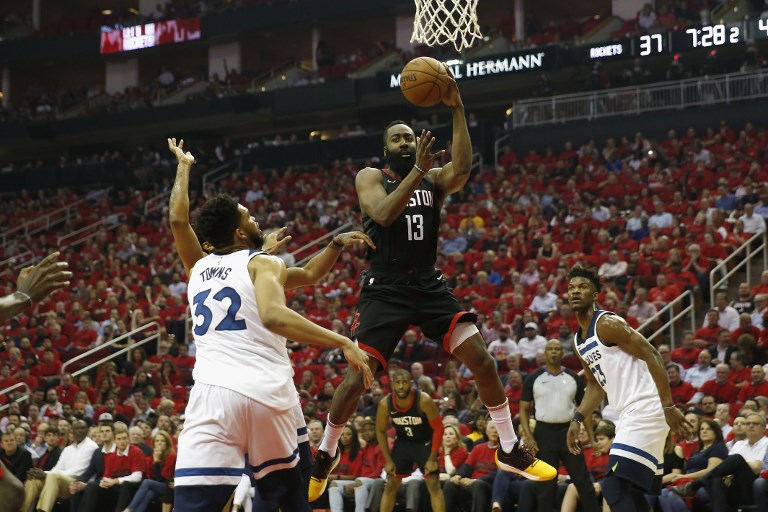 HOUSTON, United States (UPDATED) – James Harden scored 24 points as the Houston Rockets booked their spot in the second round of the NBA playoffs by crushing the Minnesota Timberwolves, 122-104, in Game 5 on Wednesday, April 25.
Clint Capela scored a team-high 26 points and had 15 rebounds for the top seeded Rockets, who pulled away in the third quarter to win their series four games to one.
"When I get that confidence from my teammates there is no limit to what I can do," said Harden.
"We knew how tough this game was going to be. We wanted to continue to grind it out and came out with the win. In the second half we picked up our intensity and won the game."
Houston will now play the winner of the Utah-Oklahoma City series, which the Jazz now lead 3-2.
The Rockets are off to the second round for the second year in a row after eliminating the eighth-seeded Timberwolves.
After scoring 22 points in Houston's 50-point third quarter in a game four rout on Monday, Harden tallied half of Houston's 30 points in the third quarter on Wednesday to give Houston the lead for good.
Karl-Anthony Towns led the Timberwolves with 23 points and 14 rebounds, and Jamal Crawford added 20 points off the bench.
Houston's series clincher highlighted the Western Conference matchups but James provided the night's biggest individual fireworks.
Thunder up
In Oklahoma City, Russell Westbrook scored 45 points and the Oklahoma City Thunder came back from 25 points down in the second half to fight off elimination and beat the Utah Jazz, 107-99.
The Thunder fended off elimination on the back of their superstar Westbrook, who scored 20 of his 45 points in the third quarter.
Westbrook also had 15 rebounds and seven assists. Paul George added 34 points and eight rebounds.
"All pride, all pride," said George. "We're not gonna lose here. 
"He was special," George said of Westbrook. "A lot of what went on in that third quarter was because of him. His energy was everything."
Westbrook registered back-to-back three-pointers, then made a layup with five minutes left in the third quarter to cut Utah's lead to 73-60.
Westbrook's drained another three-pointer tied the game 78-78 heading into the fourth quarter.
"Just picked my spots and tried to be aggressive," Westbrook said.
Utah takes a 3-2 lead back to Salt Lake City for Game 6 on Friday. – Rappler.com