The Cleveland superstar plays his first-ever deciding game in the first round of the playoffs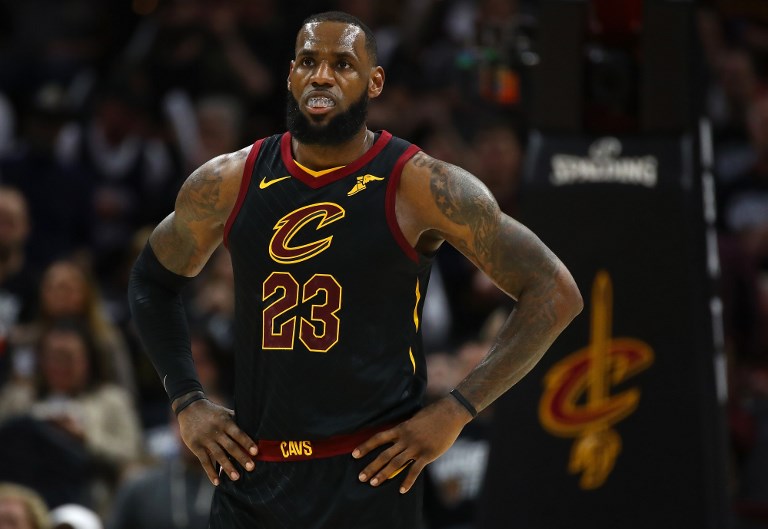 LOS ANGELES, United States – It's one NBA first that LeBron James could perhaps have done without, but the Cleveland Cavaliers superstar is embracing his first-ever Game 7 to come in the first round of the playoffs.
The Indiana Pacers forced Sunday's Game 7 decider in their Eastern Conference series with a dominant 121-87 victory over the Cavs on Friday, April 27.
Although James has never before faced this particular challenge so early in the post-season, he is 4-2 all-time in Game 7s, most recently in the last game of the 2016 NBA Finals when the Cavaliers triumphed over the Golden State Warriors.
"Game 7, I always said, is the two greatest words in sports," said James, who has averaged 33.2 points in all the Game 7s he has played. "Us having a Game 7 on our floor, our fans are going to be truly excited to be a part of that.
"And hope our guys are excited about that as well, and understand that (you) just don't take those moments for granted."
A Cavs team that struggled for consistency all season still hasn't quite put it all together against the Pacers.
Cleveland didn't take a lead in the series until a Game 5 triumph in which James's 44 points included a buzzer-beating three-point game-winner.
That put the Cavs up 3-2 in the series, but Indiana then snapped Cleveland's streak of 13 consecutive triumphs in potential series closeout games.
Now a Cavs team that featured in the last 3 NBA Finals is fighting to make it to the second round.
James himself has been to 8 NBA Finals, including the last 7.
He reached the championship series 4 times, earning two titles, while with the Miami Heat before his return to Cleveland, his hometown team, as a free agent.
Now the possibility that he could again forsake Ohio looms large with the Cavs facing an early playoff exit.
The 33-year-old has said as recently as September that he plans to retire as a Cavalier.
But that hasn't dampened rampant speculation that he will forego a $35.6 million player's option on his contract, become a free agent on July 1 and depart. The Los Angeles Lakers and Philadelphia 76ers have been mentioned as potential destinations.
James insisted he won't be thinking that far ahead on Sunday.
"No. No," he said. "The thought of if we don't play well it will be my last game of the year, that will probably hit my mind, but I haven't thought about that," James said when asked if he'd considered that Sunday could mark his last game with the Cavs. – Rappler.com