'I don't wanna put the blame on whoever was making those rules. We're just here to follow them but I just hope there's gonna be consistency,' says Robinson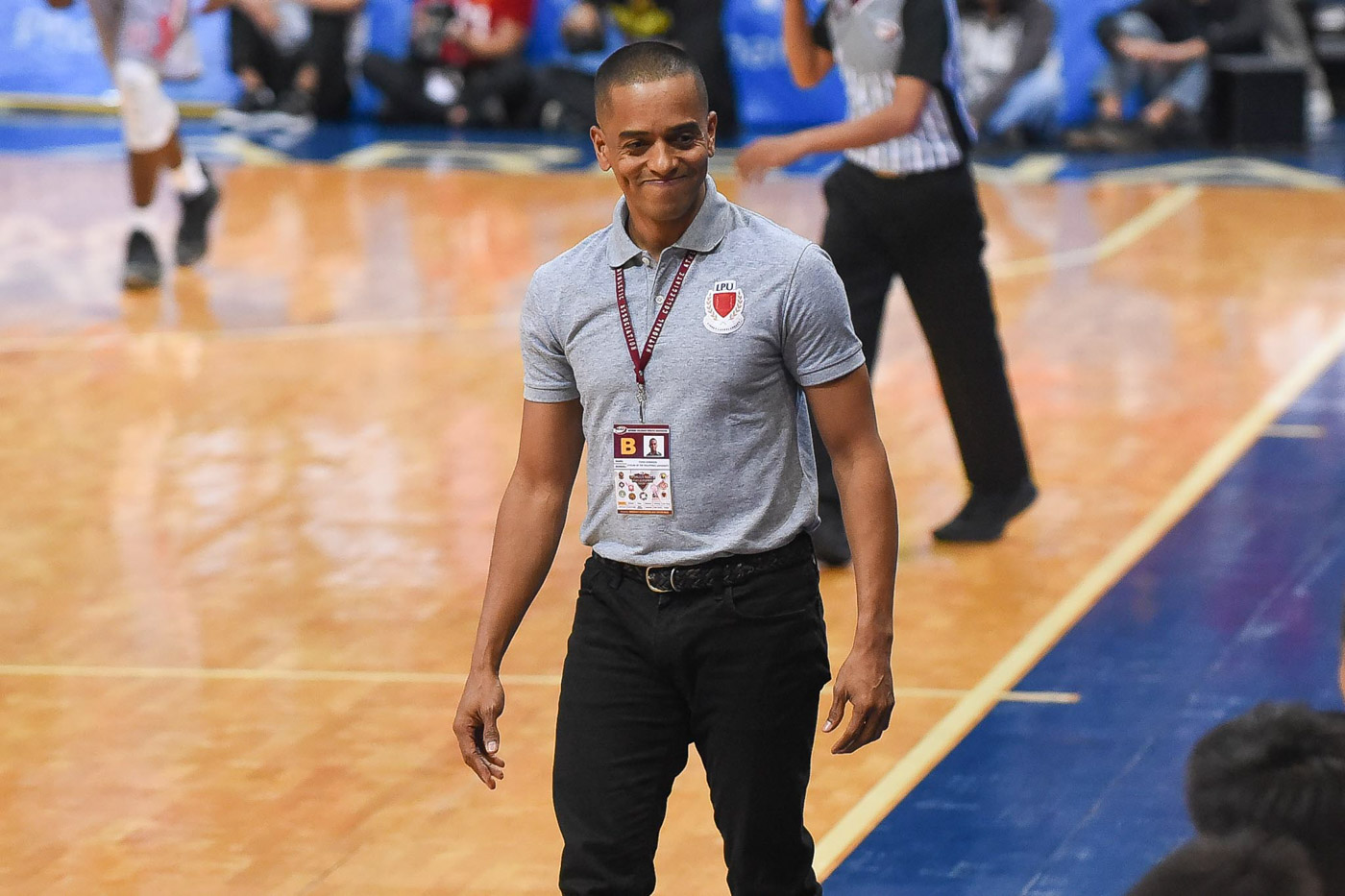 MANILA, Philippines – When Lyceum head coach Topex Robinson arrived at the Mall of Asia Arena press room after their 60-73 loss  in the NCAA Finals Game 1 against San Beda, he revealed a side of him that not many have seen.
The usually amiable tactician still wore a smile, but his words told a very different a story regarding the one-game suspension of his prized star CJ Perez.
"The reason it's painful for us is CJ didn't do anything wrong," he fired off after the game. "Di siya naglarong-labas. Kung naglarong-labas sana siya at nahuli, I would accept that (He didn't play in an outside league. If he played outside and he was caught, I would accept that.) Kid didn't do anything wrong. Could've been a better Finals. I mean, no guarantee that we're gonna win but you want your best player in the game." 
Perez was officially handed a one-game suspension by the NCAA one day before Game 1 for failing to formally inform them of his intentions to apply for the upcoming PBA draft. As a result, the Pirates were overmatched against the defending champions and went down by as many as 27 points on Tuesday afternoon.
"He deserves to be there. That's just how I feel," he continued. "I'm speaking on my behalf, not of the school. I'm speaking as a father to a son that lost an opportunity to play in the Finals. I don't know how you call it but life is really unfair."
Because Perez was born in Hong Kong, the PBA classified him as a Fil-foreigner which meant that he had to submit his requirements by October 29, as opposed to the December 3 deadline of homegrown players. Exactly a week later, the league had arrived at a resolution after discovering that Perez's camp didn't formally inform them of their move, resulting in the crucial one-game ban and disqualification from individual awards.
In comparison, the CSB Blazers officially asked the NCAA to look in the "ligang labas" (outside league) issue of some Perpetual Help players last October 12.
Exactly two weeks later after CSB's request, however, the Altas got off with a "stern warning" despite the league admitting that Perpetual "deviated from the best practice of NCAA member-schools in informing the league prior to joining a non-NCAA league." As such, no games were forfeited and Perpetual got to face San Beda in the Final Four on October 26.
Robinson did not state specific situations but still criticized the league regardless.
"Me, personally, I'm here to coach the team, I'm here to really make sure the boys are ready," he said. "We're all about doing the right thing. Those are the rules, it has to be the rules. Iyon lang naman ako eh. Wag yung pabago-bago." (That's just my stand on it. Don't flip-flop.)
"I don't wanna put the blame on whoever was making those rules. We're just here to follow them but I just hope there's gonna be consistency," he continued. "If there were players at fault, let them face it. Huwag na lang itago yung mali na nagagawan ng paraan. (Just don't hide the mistakes which can be remedied in some way.) I'm speaking on my behalf again. If they're gonna hate me on this, so be it. I just feel the pain that he has to go through. He's there helplessly watching the game from wherever. Kung may ginawa sanang mali eh. Iyon lang naman sakin eh. Kung nag-drugs yan or gumawa ng kalokohan. (If only he did something wrong. That's just my take on it. If he did drugs or did some other foolish acts.)
Lyceum now has to win two straight upon Perez's return to stop San Beda's three-peat campaign.
"Again, rules are rules. It's there written in the rule book but rules are meant to be broken, I guess," Robinson quipped. "I've always been quiet. I've always respected the league but ano ba 'yung liga na to, para sa ano o para sa bata?" (I've always respected the league, but what is this league, for the kids or for something else?) – Rappler.com