In each of the last 9 years, a college freshman has been selected first overall. Will that streak continue?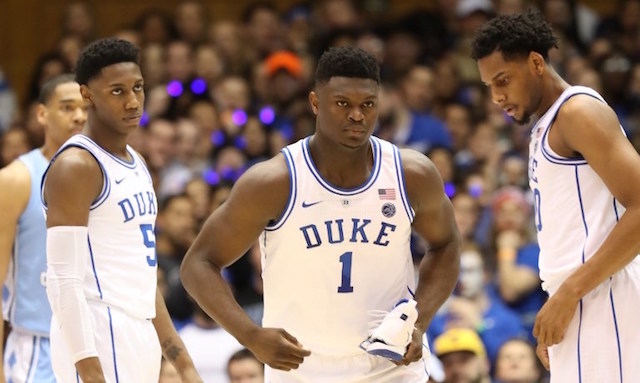 MANILA, Philippines – A crop of young but promising basketball players will enter the next stage of their careers in the 2019 NBA Rookie Draft on Thursday, June 20 (Friday, June 21, Philippine time). 
Here are some fast facts before the draft: 
Top pick
– The New Orleans Pelicans are set to pick first for the second time in franchise history, and incidentally, it will come at the wake of the trade of their 2012 top draftee Anthony Davis to the Los Angeles Lakers.
Picking after the Pelicans are the Memphis Grizzlies, the New York Knicks, the Lakers, and the Cleveland Cavaliers. 
– In each of the last 9 years, a college freshman has been selected first overall, with Blake Griffin being the last non-freshman to be nabbed No. 1. 
Zion Williamson and RJ Barrett of Duke University – two of the consensus top 3 picks – look to extend that streak while Murray State University sophomore Ja Morant eyes to change the tide. 
– University of Kentucky has the most first overall selections in the common draft era (since 1966) with 3 in John Wall (2010), Davis (2012), and Karl-Anthony Towns (2015).
Duke, which had Elton Brand (1999) and Kyrie Irving (2011) as first overall picks, can match that feat with Williamson and Barrett expected to land in the top 3. 
– First overall picks are touted to be franchise-changers, but since the NBA Draft Lottery began in 1985, only 4 have won an NBA title with the team that drafted them.
Those players were David Robinson (San Antonio Spurs, 1987), Tim Duncan (Spurs, 1997), LeBron James (Cavaliers, 2003), and Kyrie Irving (Cavaliers, 2011).
Family ties
– Barrett seeks to follow the footsteps of godfather Steve Nash, a two-time MVP and eight-time All-Star. 
– Bol Bol of University of Oregon is the son 7-foot-7 big man Manute Bol, who played 10 seasons in the NBA. 
– Hall of Famer Dikembe Mutombo, a four-time Defensive of the Year, has nephew Mfiondu Kabengele of Florida State University joining the draft.
– Los Angeles Clippers' Shai Gilgeous-Alexander soon may either team up or go up against cousin and rookie hopeful Nickeil Alexander-Walker of Virginia Polytechnic Institute and State University. 

Going global
–  There have been 13 international players drafted first overall, namely, Deandre Ayton (Bahamas, 2018), Ben Simmons (Australia, 2016), Andrew Wiggins (Canada, 2014), Anthony Bennett (Canada, 2013), Kyrie Irving (Australia, 2011), Andrea Bargnani (Italy, 2006), Andrew Bogut (Australia, 2005), Yao Ming (China, 2002), Michael Olowokandi (Nigeria, 1998), Tim Duncan (U.S. Virgin Islands, 1997), Patrick Ewing (Jamaica, 1985), Hakeem Olajuwon (Nigeria, 1984), and Mychal Thompson (Bahamas, 1978). 
Barrett (Canada), Sekou Doumbouya (France) of Limoges, Rui Hachimura (Japan) of Gonzaga University, Brandon Clarke (Canada) of Gonzaga, and Luka Samanic (Croatia) of Olimpija are among those who can add to that list. 
– Hachimura is poised to become the first Japanese player selected in the draft.
Only two Japanese-born players have ever set foot in the NBA, namely, Yuta Tabuse and Yuta Watanabe. – Rappler.com