Petron and Cignal slug it out in the Philippine Super Liga semifinals.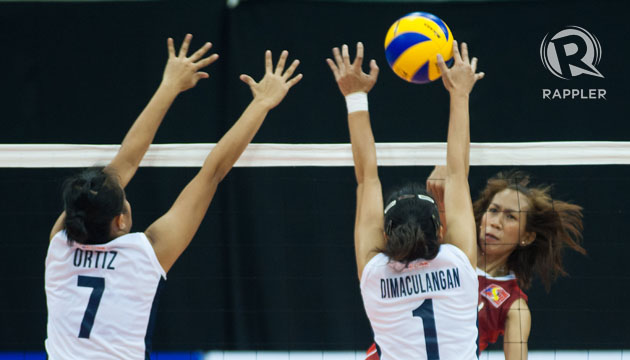 MANILA, Philippines — The first time that Cignal and Petron faced each other in the Philippine Superliga, former UST Tigress Venus Bernal and the rest of the HD Spikers emerged victorious with a rather easy 3-set win, 25-22, 25-17, 25-23.
This loss by the crowd favorite Lady Blazers came as a surprise to the thousands who attended the opener at the PhilSports Arena. With volleyball stalwarts like Aiza Maizo, Angge Tabaquero, Maika Ortiz, Rhea Dimaculangan, Charo Soriano and Fille Cainglet at the helm, they were poised to trample the underdog team and go home with a win but to no avail.
Lady Blazers: A tale of chemistry and rusty defense
When you put volleyball superstars from two different powerhouse collegiate teams, University of Santo Tomas and Ateneo de Manila University, your initial reaction would be "This should be explosive!" What we didn't expect is the possibility that the team may lack chemistry. Perhaps due to limited time to train together, the spikers were not able to connect well with setter Dimaculangan as well as people expected.
Jessica Curato, perhaps the most steady libero UST has produced in recent years, was the starting libero during that game. Spectators believe her reception was shaky and she was pretty much not in the best playing form. That is probably the reason why the crowd kept chanting "Gohing!" badgering Coach Vilet Ponce De Leon to use the then-not lined up defense specialist Melissa Gohing.
HD Spikers: Easily exceeding expectations
This team came into the picture with very little expectations from the fans. With skipper Venus Bernal and libero Jen Reyes as the only notable players when the line ups were released, it was easy to underestimate this squad and relax, which is exactly what happened to the Lady Blazers.
Lefty Danika Genrauli and middle hitter Honey Royse Tubino fired off 12 and 11 points, respectively, catching Petron's defense off guard. As the Lady Blazers focused too much on Bernal's offense and Reyes' defense, these two had a field day in spiking.
It is inevitable there would be a rematch. And this time around, the stakes are higher as these two teams are in the semis and will battle it out for a chance to be in the first Philippine Super Liga finals.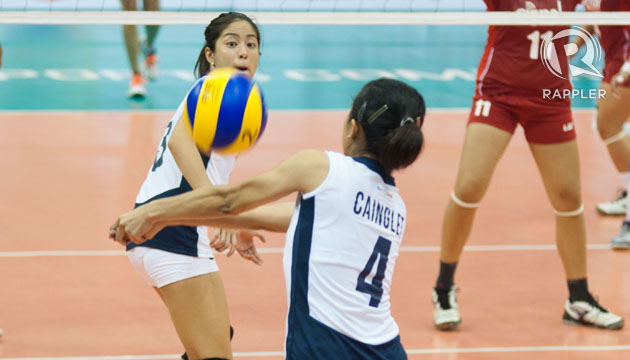 What Petron needs to do:
Start strong. This team is notorious for having a slow start and catching up in the end. They have been successful so far but it would be a lot easier if they show their full capacity right at the start of the game.
Use Liss Gohing as the main libero. Come on! You are going up against a Jen Reyes. To be the best, you have to use the best.
Blocking must be spot on especially against Bernal and Gendrauli. If Petron can neutralize at least one of these two, they have a high chance of going into the Finals.
What Cignal must do:
Frustrate Maika Ortiz by providing good net defense. Letting Ortiz score point after point with her running hits will be a big headache for the HD Spikers but if they become aggressive early on with their blocking, they might be able to negate her output.
Setter Argarin needs to continue doing a great job with her ball distribution. Remember to utilize Mitch Datuin, Gendrauli and Tubino but do not forget that for crucial points, never hesitate to give it to Venus Bernal.
Jen Reyes' digging would prove to be highly necessary for this game. Going up against power hitters from Petron would be a lot easier if her defensive skills would be business as usual.
Prediction:
Now that Petron's chemistry issue has already been addressed and Liss Gohing has been added to beef up their already strong squad, I see a 3-4 sets victory for the Lady Blazers. – Rappler.com