FEU and Ateneo figure in an all-important clash in UAAP Season 76.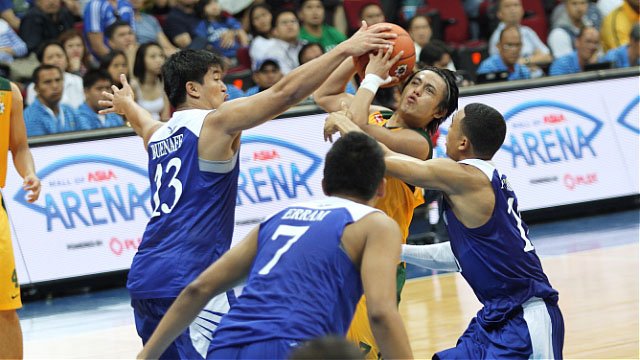 MANILA, Philippines — One team is fresh off a hard-earned double overtime win. The other is off and running enjoying a 4-game streak.
When Far Eastern University and Ateneo de Manila University take on each other again, pundits will be divided on who they think will come away with a victory. One thing is for sure: it's going to be a tough battle.
First round meeting: FEU (79) – (75) Ateneo
Terrence Romeo: 21 points, 9 rebounds, 3 steals
READ: FEU hands Ateneo 2nd straight loss
Why FEU will win: After a one-game suspension for incurring two unsportsmanlike fouls this season, RR Garcia will be back in the Tamaraws' fold. Even minus Garcia, the Tamaraws pulled off a huge come-from-behind win over the inspired Red Warriors on weekend. While they needed two extra periods to dispatch UE, there were some positives they could get from the game.
Firstly, Terrence Romeo was finally able to bounce back from rust as he scored a career-high 30 points. More than the figures however, it was him who sank the crucial baskets in winning time to power FEU over the Red Warriors.
The Tams' second stringers also did well in their last outing with Gryann Mendoza and Mike Tolomia contributing 15 and 13 points respectively. With Garcia back, Ateneo will be busy guessing over who to defend with so many scoring options the Morayta-based side has.
Another good thing they can get from their double overtime win against UE is that it was a test of character. Down against the Red Warriors in the homestretch, the Tamaraws showed resilience as they came back from the grave to turn the tables over. It was a huge trial for the squad and they overcame it.
Why ADMU will win: They are hot. They are rolling. They are on a 4-game winning streak and they smell blood.
In the first round, Ateneo almost relegated themselves out of the Final Four race as they lost game after game. To make matters worse, Kiefer Ravena suffered an injury when his team needed him most.
After the mid-season break though, it was a totally different Blue Eagles squad that showed up in the hardcourt.
With Ravena regaining his fitness and the rest of the team getting its groove, Ateneo is back to being a legit post-season contender. Against FEU in the first round, a Ravena-less Blue Eagles almost 'upset' the Tamaraws. Ryan Buenafe picked up the spoils for the Katipunan five as he finished with a career-high 29 markers, but it was not enough as FEU took a 4-point overtime win.
In their second meeting, Ateneo now has a bigger chance of winning one against the Tams. They have Ravena and Buenafe playing at the same time now and after FEU's tiring down-the-wire battle with UE, the Tams might just be short of air coming into Wednesday's game.
Key matchup: Kiefer Ravena vs RR Garcia
Ravena might be struggling thus far; Garcia might be piling up big numbers in the statsheets. But when two teams with such a storied rivalry face each other, the game tends to go down to who has the bigger heart.
Garcia racked up 13.9 ppg, 3.9 rpg, and 1.2 spg in his first 7 games while Ravena, who had 18 points in their win over Adamson, has shown that you can never underestimate the heart of a champion.
X-factors: Terrence Romeo and Ryan Buenafe
Leading the league in points and steals while placing 5th in the assists department at the end of the first round, this might just be Romeo's season. However, Buenafe is also putting up good numbers so far in Season 76 with averages of close to 12 points per game on top of 8 rpg, and 3.4 apg. Also, Buenafe has a knack of playing well against FEU. Remember his career game versus the Tams in the first round? – Rappler.com