JJ Atayde, who was the subject of Ateneo coach Bo Perasol's ire, says he is ready to say sorry.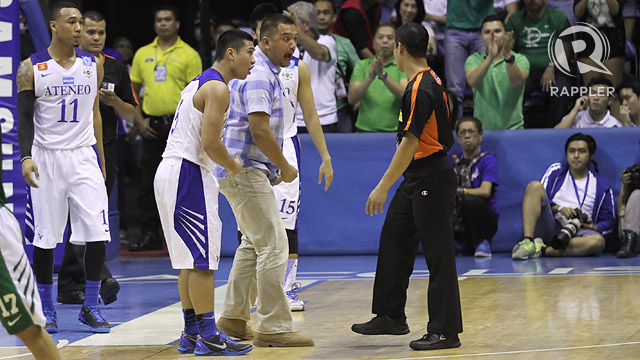 MANILA, Philippines — What he considered as good, old Ateneo-La Salle ribbing got out of hand for JJ Atayde on Sunday night, September 1, when Blue Eagles coach Bo Perasol charged into the stands after persistent heckling by a group of La Sallians.
"They were on the way out and I was shouting: Perasol, salamat sa pagpapanalo mo sa amin," (Perasol, thanks for making us win.) Atayde told Rappler in a phone interview. 
Atayde, who graduated from La Salle in 1985, said that he wasn't alone in heckling at Perasol after the game, but was surprised when Perasol singled him out and almost attacked him.
"What he told me was: Wag ka magpapakita sa akin," (Don't show yourself to me.) he said. "He was already hot on the court. Maling tiyempo lang siguro." (It was wrong timing.)
Perasol was called for a technical foul with just one minute left in the match after confronting a referee in the middle of the court.
Ready to apologize
Atayde, who added that he has a good number of friends from Ateneo and that Ateneo School of Government Dean Tony La Viña is his brother-in-law, insisted that the cheering and jeering in the second round matchup between the bitter rivals is nothing new.
"Fun kantyawan lang yun," (The heckling was all for fun.) he quipped. "Yung sinugod ako, medyo ibang usapan na yun." (But to charge at me, that's a different story.)
Nevertheless, Atayde stressed he is ready to apologize to Perasol.
"I didn't mean to insult him personally," he said. "If he felt he was insulted by what I did, then I'm sorry." – with reports from Marga Deona/Rappler.com