UST hopes to fan its Final 4 hopes when it battles UP.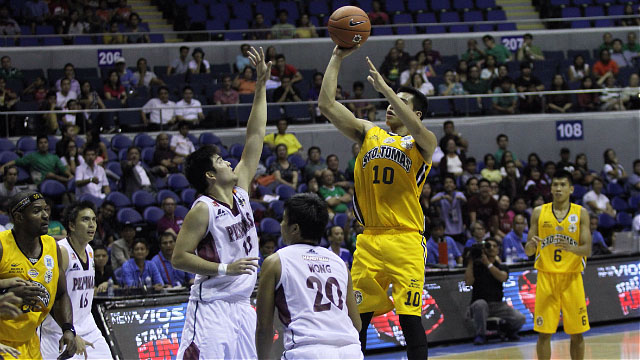 MANILA, Philippines — University of Santo Tomas tries to step closer to the playoffs as they tangle with winless University of the Philippines this Saturday, September 7 at the Mall of Asia Arena.
UST Growling Tigers (6-5) vs UP Fighting Maroons (0-11)
Game time: 2:00pm
First round meeting: UST (79) – (69) UP
Kevin Ferrer – 16 points, 10 rebounds
READ: UST bounces back with win over UP
Why UST will win: The Growling Tigers try to follow-up their double-overtime win over FEU with another victory today to have a firm grasp of the 4th spot in the team standings. Leading their cause is the big 3 of Karim Abdul, Aljon Mariano and Kevin Ferrer who played well against the Tamaraws. With the absence of Jeric Teng, Kim Lo and Clark Bautista have also stepped up to provide some spark for the Espana crew.
Why UP will win: The Fighting Maroons are starting to get quality production from their bench players, especially Paul Desiderio, Kyles Lao, and even JR Gallarza. Their main duo of Raul Soyud and Sam Marata still won't back down as UP searches for its maiden victory of the season.
Key Match-up:
Aljon Mariano (12.6 PPG, 7.2 RPG) vs Chris Ball (6.3 PPG, 8.6 RPG)
It's offense against defense as Mariano and Ball take on each other today. Ball need not to score much but his length will definitely play a big role in trying to stop Mariano and the rest of UST's bigs. Mariano on the other hand, can score from anywhere on the court, which is one big problem for UP. It would be better for the Diliman crew if Ball shuts down Mariano's offense.
X-Factors:
UST: Kim Lo
While Jeric Teng is still recuperating, Lo has taken over the shooting guard spot and he's living up to his duties. He must be well-equipped again to help the Tigers inch closer to a playoff spot.
UP: Henry Asilum
Henry Asilum struggled against NU and was held scoreless in 21 minutes. That's just unacceptable if you're the Fighting Maroons' premier point guard. He needs to keep up with the opposing backcourt and facilitate offense.
What this game means: With a win today, the UST Growling Tigers will improve to 7-5 and gain solo 4th in the team standings and half-a-game ahead of the Ateneo Blue Eagles. Coach Pido Jarencio's boys can't afford to lose this assignment because they will be facing stronger foes Ateneo and La Salle in their final two elimination games. – Rappler.com