Arthur Villanueva is one of the brightest junior bantamweight contenders in boxing today. Before that, his battlefield was a chess board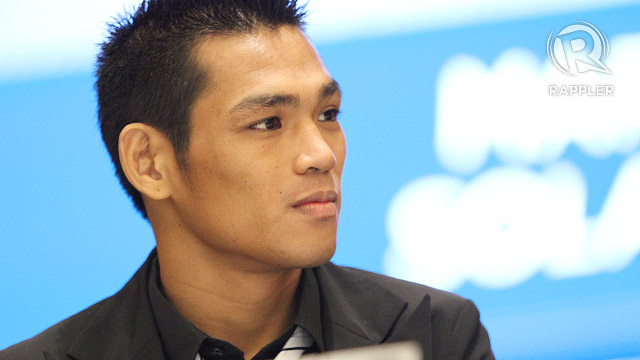 MANILA, Philippines – Arthur Villanueva isn't your typical prizefighter. His destiny wasn't carved out from a birthright, nor was he the product of an angry upbringing that forced him to the ring to vent.
Villanueva's first battlefield wasn't the gym or the schoolyard, but rather the chess board. 
In the days before he was rated the no. 3 contender in the world at junior bantamweight by the World Boxing Organization, Villanueva was a constant fixture at inner-city chess tournaments in the Negros Occidental town of Bago City, Philippines. Villanueva competed from elementary to high school, winning four medals.
His greatest achievement, he says, was coming in second place in a tournament in 2004 against the best the city had to offer. "I trained for so many months for that tournament," said Villanueva, as he cooled down from a gym session Wednesday afternoon at Elorde Gym along Gilmore in San Juan, Manila.
His first role model wasn't "Flash" Elorde or Manny Pacquiao, but rather Russian chess grandmaster Garry Kasparov, whose Sicilian defense methods Villanueva tried hard to emulate.
Villanueva, now 25, is the second youngest of 12 children, and when his father died in 2004 leaving his homemaker mother to raise the family, Arthur had some tough decisions to make.
To finance his schooling, Villanueva began driving a tricycle at the age of 12, making as much as 100 pesos ($2.50 USD) a day for books and lunch money. And as the realities of poverty began to sink in, boxing seemed like a more plausible way to make ends meet.
"It's very hard in chess compared to boxing," said Villanueva (24-0, 14 knockouts),  who fights Fernando Aguilar (9-6, 1 KOs) of Mexico City on Saturday night at Solaire Resort in Pasay City, Philippines. "There's so many masters in chess, so I can't think I can be a world champion in chess. So I changed my profession."
Villanueva picked up boxing at the age of 16, losing just 7 of his 50 or so amateur bouts. He attended post-secondary briefly, majoring in AB Mathematics before turning pro as a boxer at the age of 19 as a sophomore.
Boxing, it turns out, wasn't that big a transition for the aspiring grandmaster. Aside from the obvious difference in danger involved, chess and boxing are both about strategy and thinking quickly while under attack, and most importantly, neutralizing the king.
"In chess, you need to defend, you need to attack and you need to sacrifice," said Villanueva. "Sometimes you need that inside the ring. Sometimes you need to attack, defend, and sometimes you need to sacrifice."
'I wanted the belt'
Villanueva, who now trains out of the ALA Boxing Gym in Cebu City, opened his career against a who's who of quality Filipino journeymen like Rey Megrino, Mark Anthony Geraldo and Jeffrey Cerna. It wasn't until he had his first fight abroad – a 2012 war with Taiki Eto in Japan – that people began to take note of his fighter's heart. 
With the vacant Oriental Pacific Boxing Federation (OPBF) 115-pound title on the line, Villanueva was sent down in the first round, but rose to knock his foe down in the fourth. With the fight in the balance, Villanueva was dropped for a second time in the ninth round, and with three more rounds to survive, could've easily given up.
Instead, he fought like a champion. 
"I wanted the belt," said Villanueva. "I always put it in my mind 'I can win this fight.' I was hurt, but I thought positively.
"I was also very proud to represent the Philippines outside the country in Japan. I'm very proud at that time when they're singing the Philippine national anthem. I feel the blood of a Filipino." 
Villanueva's trainer Edito Villamor said he never had any doubts that his fighter would emerge on top. "When I see his eyes, I knew he would win," said Villamor, himself a former two-time world title challenger.
Villanueva won that fight by decision, and in his next fight set out on the country's top-rated contender in the fellow-unbeaten Marco DeMecillo. The Iligan City native DeMecillo, who entered the bout last April unbeaten at 18-0-1 (14 KOs), had a significant edge in power, and has just previously knocked out the highly-regarded prospect Marvin Mabait.
Like a true chess player, Villanueva employed strategic gambits, risking little from behind his high guard to set up big combinations of his own in the endgame.
The victory earned him a spot in The Ring magazine's junior bantamweight divisional ratings, where he now sits at no. 7.
Twenty-fifth pro fight
Saturday's fight, scheduled for 12 rounds, will not be televised as part of Pinoy Pride XXIV, which is headlined by fellow unbeaten Negros native Genesis Servania (23-0, 9 KOs) against former world champion Alexander Munoz (36-5, 28 KOs) of Venezuela.
Villanueva's original opponent – former world title challenger Juan Hernandez – pulled out a little over two weeks ago citing a motorcycle accident, and the less-heralded Aguilar stepped in to fill the void.
Still, Villanueva isn't taking him lightly. To do so would be a major Fingerfehler in the chess game that is his boxing career.
"I don't know him, but if he's a Mexican then he must have a heart of a Mexican," said Villanueva. "They're very brave inside the ring, like a Filipino also. I expect this to be a war inside the ring. I've prepared for this fight for almost three months and I have nothing to worry about. I'm very ready." – Rappler.com
Ryan Songalia is the sports editor of Rappler, a member of the Boxing Writers Association of America (BWAA) and a contributor to The Ring magazine. He can be reached at ryan@ryansongalia.com. An archive of his work can be found at ryansongalia.com. Follow him on Twitter: @RyanSongalia.