'The sport of basketball is huge here. Puso. It's the heart of (Filipinos) and I love basketball,' said Blatche of his connection with the Filipino people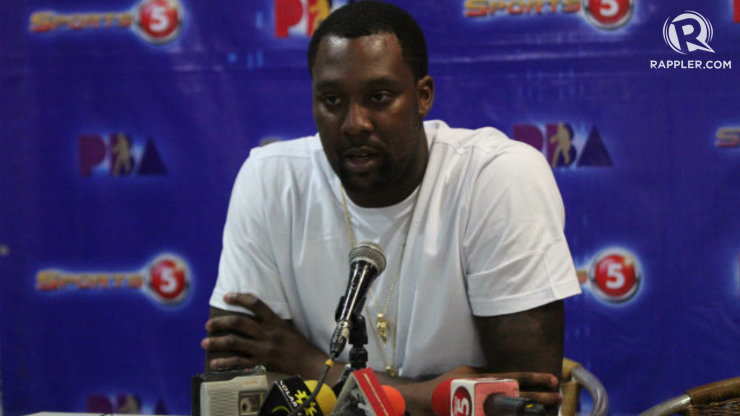 MANILA, Philippines – Andray Blatche, a naturalized player for Gilas Pilipinas, declared that deciding to come and play for the Philippines "wasn't a tough decision" at all on his part.  
Speaking at a press conference on Tuesday, June 10 at the Smart Araneta Coliseum, the 27-year old Brooklyn Nets big man bared that playing for a national team is a dream come true.  
"The opportunity that I'm receiving to come out here to the Philippines is something that you're going to wish for. When they asked me to come I was excited." 
The 6-foot-11 NBA cager is expected to suit up for Gilas Pilipinas, the national men's basketball team, as they make their way to Spain for the 2014 FIBA World Cup in August. 
Blatche, who is still awaiting the final signature of President Noynoy Aquino to finalize his naturalization, said that he consulted his mother and close friends before making a final decision.  
"They had my back 100 percent," he said. "I just wanted to be here." 
Blatche arrived on Sunday, June 8 for a short trip to the country, which consisted of having lunch with Gilas players Jimmy Alapag, Larry Fonacier, Jayson Castro, and Ranidel de Ocampo.  
According to Blatche, he immediately connected with his future teammates. 
"I met them at lunch and we sat down with them for like 15-20 minutes. We talked about basketball," Blatche shared.  
"I could tell by our conversation that we're all on the same page. Our vibe is clicking." 
Getting ready 
Blatche's visit to the Philippines also served as a brief orientation for him – both on Filipino culture and his role for Gilas.  
While Gilas head coach Chot Reyes hasn't nailed down the specifics just yet, Blatche said Reyes has given him an overview.  
"Not much yet but we've been talking about how the offense works." 
With the Philippine Basketball Association (PBA) slated to wrap up on July 9, Gilas Pilipinas won't be able to convene for practice until then. 
As it is, Gilas' once-a-week practices have been put on hold, according to Reyes, due to the compressed PBA schedule for the season-ending Governors' Cup, which features 6 game dates a week. 
But that won't stop Blatche from doing his part in preparing for the World Cup. 
As Blatche returns to the United States Tuesday night, he will be working individually and keeping in good shape until he returns to the country in July.  
One of the things he specifically wants to do is get adjusted to the official FIBA basketball.  
"I got the FIBA basketball so I'm gonna start working with it so I can get adjusted with the ball," he said. 
Samahang Basketbol ng Pilipinas Executive Director Sonny Barrios jumped in saying, "He personally asked for a Molten ball to familiarize himself."
Blatche explained that it would help him play his game more comfortably. 
"I dribbled around and had a feel for it. It's a little different but it's not like a game-changing difference. It's something that the more you shoot, the more you practice with it, the more you get comfortable with it." 
Height is might
When Blatche was asked what he could bring to the table for Gilas, he summarized it in one word: "Height." 
Indeed, Blatche is set to strengthen a Gilas frontline currently flanked by naturalized player Marcus Douthit, Japeth Aguilar, Marc Pingris, June Mar Fajardo and De Ocampo, with Beau Belga also in the pool.  
But he also stated he's ready to do whatever the team needs.  
"I'm just gonna play my game. I'll come out and be an offensive threat, energy, run the floor, protect the paint, create shots for my teammates – I hear we got amazing shooters on our team." 
The 49th overall pick in the 2005 NBA Draft, Blatche is an NBA veteran with nearly a decade of experience. And he doesn't anticipate any adjustment period on his end as he goes up against fellow NBA players in the World Cup. 
"I've been playing against them (NBA players) for the last 10 years of my career. I don't feel like it's gonna be a hard adjustment for me," he said.  
A connection with Filipino people 
For now, Blatche's commitment to Gilas includes the World Cup and the Asian Games in Korea right after. After that is still up in the air. 
And although he has barely explored the Philippines, Blatche said he is already feeling the warm welcome. 
Aside from the hospitality he received everywhere he went, he also watched Tuesday night's PBA games and caught a glimpse of Philippine basketball.
"I can see players play with a lot of heart. It's really physical." 
Blatche may not get enough time to truly immerse himself in Philippine culture before the World Cup, but he certainly sees at least one strong connection with Filipinos, and he is more than willing to hold on to that. 
"The sport of basketball is huge here. Puso (heart). It's the heart of (Filipinos) and I love basketball. So there's a similarity." – Rappler.com