In an unprecedented deal, the Manny Pacquiao vs Floyd Mayweather fight will be televised in the Philippines by all three major TV networks across multiple platforms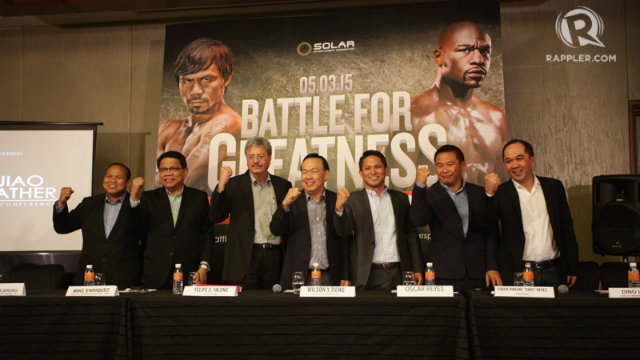 MANILA, Philippines – HBO and Showtime aren't the only rival networks working together to bring the Floyd Mayweather vs Manny Pacquiao fight to the television screen.
Solar Sports announced on Thursday, March 26 that the May 2 mega fight will be televised on the 3 major networks in the Philippines – GMA-7, ABS-CBN and TV5.
The unprecedented multi-platform, multi-network deal was revealed at Solaire Resort, with Solar CEO Wilson Y. Tieng; ABS-CBN Head of Integrated Sports Dino Laurena; Vincent "Chot" Reyes and Oscar Reyes of TV5; GMA-7 executive vice president Felipe Yalong and GMA Radio head Mike Enriquez; and SM Leisure and Entertainment president Ed Tejerero in attendance.
Solar, which won the Philippine broadcast rights for the sum of $10 million, announced that the fight will air live on pay-per-view through Cignal and Sky Cable for 2,000 PHP per unit, with free-to-air being shown by ABS-CBN, GMA-7 and TV5, plus Solar Sports on cable beginning at 10 a.m.
Pacquiao's last fight against Chris Algieri in November was sold for a pay-per-view rate of P750-1000 through Cignal.
GMA will be the exclusive radio blow-by-blow broadcaster.
Yalong says that GMA-7 waived their exclusive television deal with Pacquiao to bring the fight to the largest possible audience at the request of Manny Pacquiao, who took phone calls from his training camp in Los Angeles until 1 a.m.to facilitate the deal. 
"The important thing is that Manny himself played an important role in putting this thing together," said Tieng.
Tieng said that the deal was a "joint selling" between Pacquiao's promoter Top Rank and Mayweather. "So the approval has to come from Mayweather as well."
For closed circuit, Tejerero said SM will dedicate all 300 of its screens nationwide "including Mall of Asia Arena, SMX and other SM venues nationwide to make sure the Manny Pacquiao fight will be accessible to most Filipinos.
Theaters tickets, typically priced from P400-750, will go on sale March 27 and will be priced between P600-1000 for high definition, said Tejerero.
"Being the only non-media network at this table, let me assure you that we will have the biggest screen for the Manny Pacquiao fight."
On the digital front, TV5 said it will use its digital platforms through Cignal, PLDT or Smart to broadcast the fight live online and through smartphones and tablets for P500, and will be unveiling a new feature called the Front Seat Experience, "which everybody will be able to view it as if they were in the front seat," explained Oscar Reyes. – Rappler.com