Manny Pacquiao says his killer instinct and motivation has returned for the Floyd Mayweather fight, but that doesn't mean he won't share the Gospel with his foe afterwards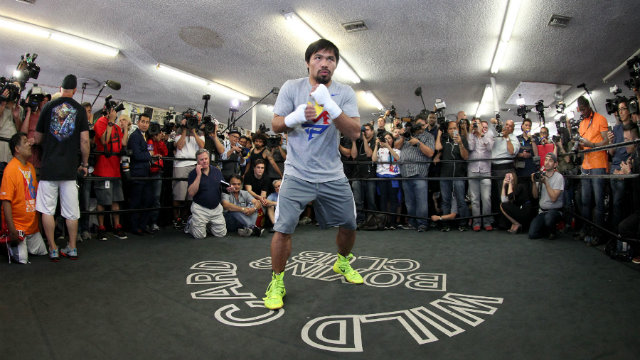 HOLLYWOOD, USA –One day after indomitable foe Floyd Mayweather gave an appetizer via his Las Vegas media workout, Manny Pacquiao did the same in Los Angeles on Wednesday when he hosted his own training session for their May 2 blockbuster showdown at the MGM Grand. 
The mild-mannered Filipino didn't delve into tactical plans or any of the headline-grabbing braggadocio Mayweather did the day before when he went as far as labeling Pacquiao's fighting style as "very, very reckless."
"Reckless fighter? That's how people like me and love me, because they like an exciting fight," Pacquiao countered from the Wild Card Gym as he talked about the most significant bout of his Canastota-bound career.
(READ: Roach: KO loss to Marquez tough lesson for Pacquiao)
"We call this boxing, (and) boxing is more punching. We talk about punching.
"My determination to win has never been higher than for this fight. My killer instinct is back."
Pacquiao's smoldering speed and power will be met with Mayweather's immaculate defense and counterpunching skills. But if Pacquiao has it his way, they'll be engaged in a brawl. 
"If he (does) that, that's good for me," Pacquiao said. "I like that. We'll see. That's what I want, and that's definitely what the fans want – action."
On Tuesday, Mayweather said "Pacquiao is strong and solid but I don't know if he can make adjustments like I can."
Pacquiao also focused one sizable portion Wednesday discussing the watershed moment of his career – his first amateur fight when he earned 200 pesos as a 12-year-old prize fighter to help provide for his family. The inflection in his voice suddenly changed when he recalled how his humbling youth made it possible to bank-in on the richest payday of his 36-year life today. 
"Somebody told me and my friends some fights were being put on in the town," he recalled. "I did not know what boxing was but they said they you got a prize whatever the result. 
"So we went and I won. I took the (money) and gave them to my mother so she could put more food on the table. But when she asked where I got the money I didn't tell her it was for fighting.
"Now we have one of the biggest fights in history. But it's not about how much we will be paid. Whether it's two dollars or a hundred million dollars – it's what you do with it."
Pacquiao will earn 40% of the purse, or about $80 million, compared to an upward of $120 million for Mayweather. 
Now a Congressman with a platform  and with plans to run for President after he turns 40, Pacquiao plans to help his extended family – the Philippines – by allocating a sizable portion of his payday by continuing charitable work in the country.
"I cannot see them being hungry and not helping them," Pacquiao said. "I'm not materialistic. … I have to use it for the glory of the Lord, and also for my family and for helping people.
"Boxing is still my passion. I do it to please the fans, to give them excitement in return for their support."
The Filipino pound-for-pound great – who's the only pugilist to win world titles in eight weight divisions – later engaged in a light orchestrated workout with trainer Freddie Roach for the roughly 300 members of the assembled international media.
Pacquiao was confident and relaxed for most of the frenzied afternoon, and the energy was palpable at Wild Card seventeen days away from the opening bell. 
"When this fight is finished I would like us to sit down quietly together to talk (with Mayweather)," Pacquiao said. "I want to speak to him about the Gospel of the Lord and how everything we get is a gift from God. How we are the stewards of this blessing and should use it for good."
First however, both fighters must let the fists do the talking.
The world waits. 
Manouk Akopyan is a member of the Boxing Writers Association of America (BWAA). He can be reached at Manouk.Akopyan@gmail.com. An archive of his work can be found at ManoukAkopyan.com. Follow him on Twitter @Manouk_Akopyan