A measure that first rolled out in the US in June 2020 now applies to Philippine pages
Facebook started tagging Facebook and Instagram pages of government media organizations as "state-controlled media," Philstar.com first reported on Thursday, June 17.
Pages including PTV, IBC TV 13, Radyo Pilipinas, Philippine News Agency (PNA), and Radio Television Malacañang (RTVM) now carry the label "Philippines state-controlled media" on their posts and the Page Transparency section.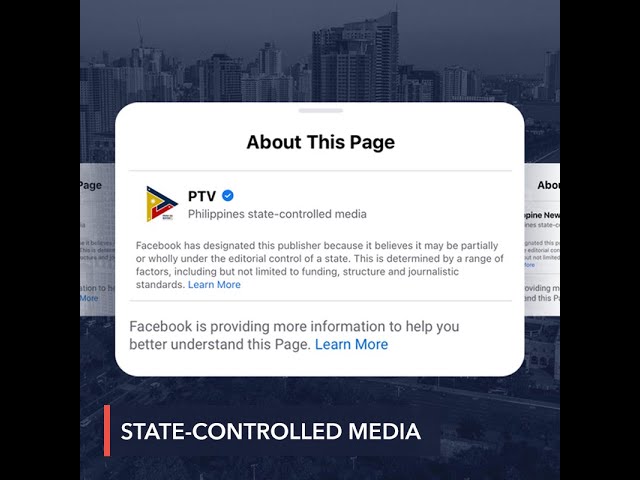 Facebook explains the labeling in the Page Transparency section: "Facebook has designated this publisher because it believes that it may be partially or wholly under the editorial control of a state. This is determined by a range of factors, including but not limited to funding, structure and journalistic standards."
Organizations are given the designation when Facebook determines under their criteria that they are under partial or whole editorial control of the government, as explained in their support page here.
Some of these traits that Facebook looks at include:
Mission statement, mandate and/or public reporting on how the organisation defines and accomplishes its journalistic mission
Ownership structures (e.g. disclosure of ownership structures such as information on owners, stakeholders, board members, management, government appointees in leadership positions, disclosure on direct or indirect ownership by entities or individuals holding elected office)
Editorial guidelines (e.g. transparency around its sources of content, independence and diversity of sources)
Information about newsroom leadership and staff
Sources of funding and revenue
Governance and accountability mechanisms (e.g. internal accountability mechanisms, correctional policies, procedure for complaints, external assessments and oversight boards, rules governing their composition and appointment procedures)
Country-specific factors such as level of press freedom, and research conducted by academics and experts are also considered.
Experts consulted include Reporters Without Borders, Center for International Media Assistance, European Journalism Centre, and the Oxford Internet Institute, to name a few from the 65 expert bodies Facebook has had help from to define their labels.
Tagged pages can appeal online on this page, but the form can only be viewed by a labeled account's administrators.
Facebook began rolling out the labels a little over a year ago on June 4, 2020, although the announcement for the said plans came earlier in October 2019 in preparation for the US 2020 elections.
The measure started rolling out internationally in May 2021.
Philstar quoted Presidential Communications Operations Office (PCOO) Secretary Martin Andanar as saying, in response to Facebook's move, "This matter should not be a source of contention in the first place, as we continue to uphold and promote media freedom and freedom of speech as an integral part of our democratic system."
YouTube also includes labels for state-controlled or state-funded media organizations, which it started doing in February 2018. Twitter started its own labeling campaign in August 2020. At the time of publication, state-controlled PTV has a label on YouTube but none on Twitter. – Rappler.com