Rappler talks to IBON Foundation Executive Director Jose Africa on the 2014 SONA and the picture it paints of the Philippine economy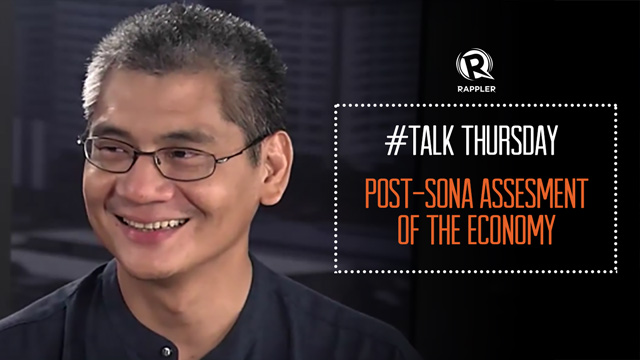 MANILA, Philippines – On July 28, President Benigno Aquino III delivered his 2014 State of the Nation address (SONA) – his 5th since taking office.
He said data from the National Economic Development Authority show that the "27.9 percent poverty rate during the first semester of 2012 went down to 24.9 percent for the same period in 2013. These three percentage points are equivalent to 2.5 million Filipinos who have crossed the poverty line."
Under his administration, a budget that focused solely on the needs of Filipinos was passed on time 4 years in a row. He said, "We were able to save because of prudent fiscal management. We were able to expand the coverage of essential services without raising taxes, apart from Sin Tax reform, whose goal is to reduce vice in society."
He added the government worked hard to fund the projects by strengthening tax collections and improving debt management by decreasing the debt-to-GDP ratio. In 2013, for the first time in history, the Philippines was upgraded to investment grade status by Moody's, Fitch, and Standard and Poor's—the 3 major credit ratings agencies in the world. While 42% of total investments in the Philippine Economic Zone Authority came in during the 4 years of his administration, Aquino said the remaining 58% took 15 years for past administrations to accumulate.  (READ: PH wins investment grade from Moody's)
Apart from fostering an improved business climate, relations between labor and management have improved. Aquino said that since 2010, the number of strikes per year has been limited to less than 10.
The President also cited achievements related to infrastructure. He said the loopholes in the old system of the Department of Public Works and Highways (DPWH) have been plugged. Likewise, from December 2011 to June 2014, the government has awarded and signed off on 7 Public-Private Partnership projects, with a total value of P62.6 billion. He said his team surpassed the combined output of 6 PPPs of the past 3 administrations.
His economic team, according to Aquino, turned into reality infrastructure projects that long ago had been promised by past administrations. (WATCH: AS IT HAPPENS: Aquino's 5th State of the Nation Address)
IBON Foundation Executive Director Jose Enrique Africa shared his assessments of Aquino's SONA. Are these numbers half-truths or do they paint an accurate summary of the economy? IBON Foundation is a non-profit development organization specializing in research and education in the area of socieconomics.
– Rappler.com